For the coaches out there I think we can all relate to the problem of not being available to serve all the people you want to help. As an individual you can only do so much and take on a certain amount of clients — but what if you could reach the masses? No, I'm not saying you have to start public speaking or jet setting to every business conference in the U.S., I'm talking about creating a course. It's not as scary as you'd think and today I'm going to teach you how to turn your coaching into an online course. 
OK, so there is a big difference between coaching and selling a course.
With individual-based coaching, it's obviously one-on-one. You're speaking to that one individual client, you're helping them with their specific struggles in their lives and businesses and answering their questions. In this process, you maybe bring them through a process that you're familiar with, but you customize the entire process for them. Frankly, it requires a lot of time and effort. 
After doing it this way for a while, once the thrill of even getting clients starts to fade, you realize that you've got to start leveraging your time.
When I first started I realized that I could only take on about three clients every eight weeks if I was going to produce the experience and results they deserve. I was also charging about $800 a client. Thinking that I could probably take on about 40 clients in an entire year… I quickly saw that I wasn't going to hit the financial goals. 
What I did from here was I went through this process of first raising my rates with one-on-one clients.
In this process I really wanted to make sure that my clients were getting really great results, making sure that I was actually helping people, and that I knew very clearly who my ideal client was and how I can help them.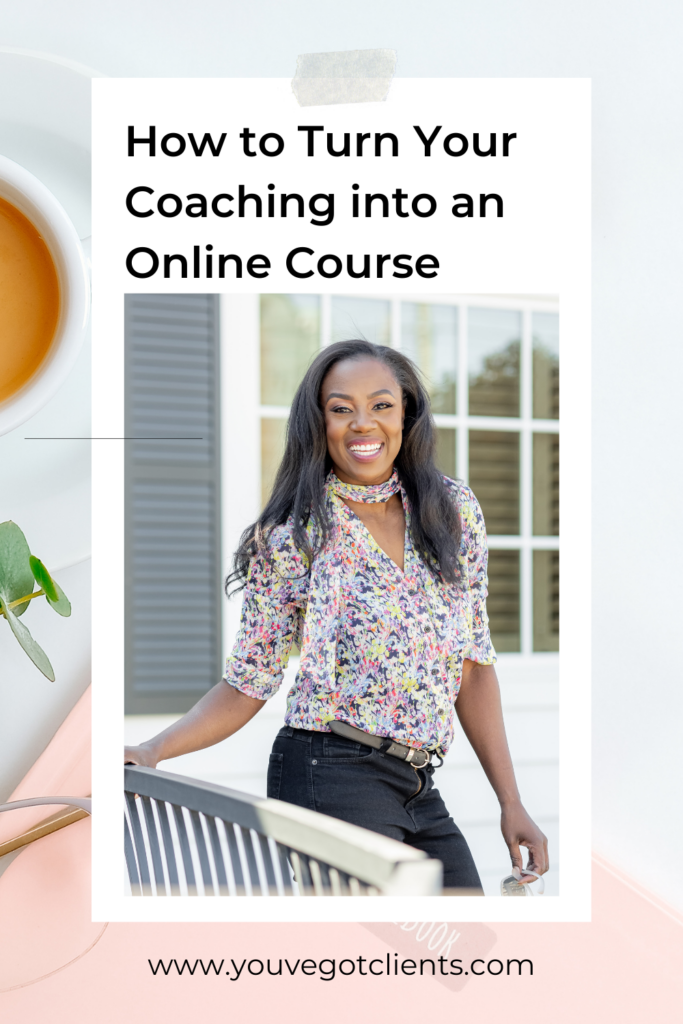 Determining my ideal client: Now that I was well into my coaching journey I knew exactly who I wanted to work with and how I could help them.
I was getting great testimonials and great results from my clients and I started moving into group coaching programs. From there I would start saying, "If this is the result that you want, then this is the group coaching program you need", and I could start figuring out what my ideal clients were looking for. 
Group Coaching: The group coaching program included calls.
Sometimes I would teach everything live on the calls, then they would be able to ask their questions — I would provide feedback and basically, that was it. What I realized was that if I was going to be repeating myself over and over again inside of the group coaching program, I could just record them. From there I could essentially turn them into modules and then all I would have to do is show up for a Q & A call. When I started doing that, I gradually started moving into the process of creating an online course. 
At the time I didn't really know what I was doing, but this created the opportunity to create passive income I could create one time, and also be able to charge more for my group and one-on-one coaching.
Online Courses: Today that's essentially what my online courses look like, only now they're a hybrid between one-on-one coaching and group coaching.
They have pre-recorded videos and modules, and sometimes even worksheets and exercises that my clients do. Then I show up for a Q & A call and I'm able to answer questions for them. Some of my courses don't come with a live component. Some of the courses just have a Facebook group and then some courses don't have a Facebook group or live component at all. I have course options that are literally just self-study. You can download it, or you log into my Thinkific platform and you're able to watch the course and study yourself from there. 
Adding courses to my coaching program was a very profitable choice because I was able to only show up for a couple hours during a Q & A call during the entire experience. I can sell the course over and over again, in my sleep, and be able to focus on scaling my business without worrying so much about trading time for money.
OK, now that you know the whole story here is my action plan to turn your coaching into an online course. 
How to turn your coaching into an online course: The Breakdown
The first step is to get really clear about who your ideal client is.
Obviously we know this for our coaching programs and working with clients one-on-one, but this is detrimental for your online courses because they kind of need to sell themselves. You want to create them based on who this client is, what they need, and why you're the best person out there to help them.
The next step once you're clear on who that best client is, then you've got to get really clear on that transformation.
What is the outcome for the course? 
When you work with someone individually, they might have several things that they'd like to work on and maybe they have several different outcomes. When I used to work with clients one-on-one, sometimes we would determine that they needed help growing their email list or they needed help with branding or they needed help with, you know, some other aspect of marketing. Then we would work on all of those things during our eight weeks together.
It was very customized and they were very happy with their results, but it started to burn me out. I felt like I had to create customized plans every single time I worked with a client. With your course or group coaching offer that's more course-based, where you have pre-recorded videos and modules, you're determining the outcome for every client that opts-in.
For example, I have a course on how to create a high ticket coaching offer, called Package and Profit. Every single client that comes through that course knows that they're getting the details on how to create a high ticket coaching offer.
It's very structured self-study with worksheets. It's something where you can just purchase it, watch the videos, go through the worksheets and you'll have your high ticket coaching offer planned out. That's the expectation and the result I determined for the course.
There's controversy surrounding online courses because many people feel like they end up wasting their money.
When there's no clear outcome it can feel like just a bunch of general information that you probably could have looked up on Google. This is why it's so important to stand out from the rest and make sure your clients have clear expectations of what they're paying for and getting into. 
The next step on how to turn your coaching into an online course is to take a couple of clients through that program in a live fashion in a group coaching format.
I did this for the very first time with one of my courses in sharing with people how to create their webinars and a system to bring coaching clients automatically. How this all panned out is that I took some people through it on an individual basis, then a group format, and once I was satisfied with the recorded videos I created worksheets and action plans and turned it into a full-blown course! 
Now it sells without me having to repeat myself over and over again. This can also really work when selling workshops.
Sometimes coaches feel like they don't have something they want to make a whole course out of, but there has to be at least one topic you find yourself repeating. If you can find one, it's OK to do a short little training, or a one-hour workshop to teach one specific piece of the puzzle. This can then lead to helping clients know, like, and trust you and even jump into your higher ticket offers. 
When going about things this way I recommend pre-selling before officially making the content. Letting everybody know, "Hey, this is what I'm going to teach," opening the doors, and allowing them to purchase. Then you set a date for your training and host it live. You never really know what people are willing to open up their wallets for, so this allows you to make the money first before you invest all of your time and effort.
This also gives you a change to co-create.
I personally think this is the best way to create online courses because your clients are going to ask questions and you're going to get lots of good feedback throughout the process. This allows you to fine-tune your work, and make worksheets and additional resources addressing the interests of the people who have already invested their time, money, and energy into you and the topic. 
Lastly, when considering how to turn your coaching into an online course is that we sell it over and over and over again using a very simple sales funnel. This leads me to invite you to the 4 step client gaining system that turned $10,822 into $102,953 … plus … how to replenish (and manage) a steady new flow of fresh, pre-sold applicants … allowing you to finally sell your coaching services more frequently and with ease!
This is a free training session where you will discover…
How to package & sell a five-figure coaching package (and where to find the clients ready to pay!) – or how to just double your current coaching rates to start.
 Why discovery calls end with "I can't afford it" and the effortless marketing upgrade that captivates high-ticket clients ready-to-pay. 
The "Popcorn" method that led to $44,000 in revenue with zero sales calls
Once you discover this you'll never have to use sales call tactics again.
Case studies of successful students who used our system to book their own coaching clients faster than they thought possible, and create a sustainable income as a result