Are you ready to make more sales without being sleazy, scammy, or salesy? Today I am walking you through my 3 keys to making all the sales you want. These are tips, tricks, and strategies I use in my own multiple 6-figure coaching business. Coming from a known introvert — I promise they work.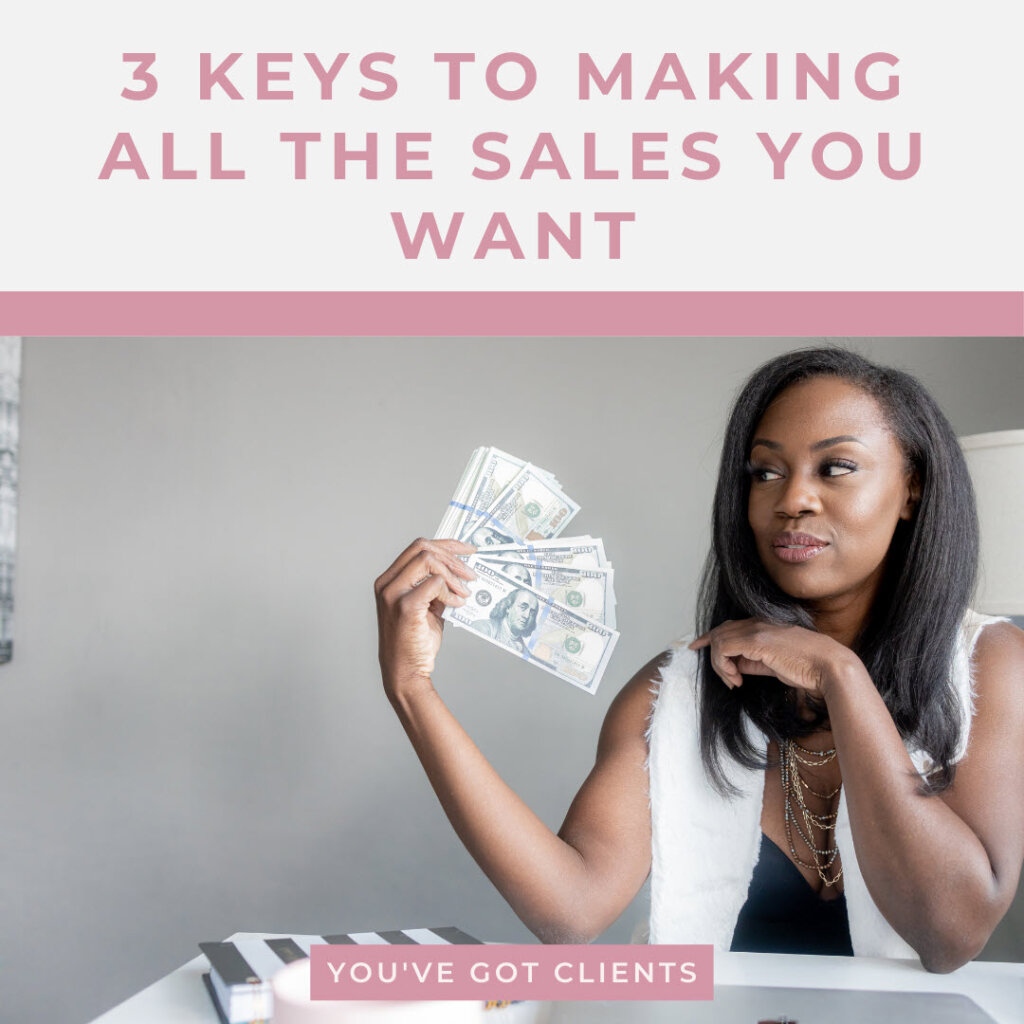 I find that a lot of my clients get tripped up on the concept of selling overall.
They find themselves feeling really frustrated because they know they have what their ideal client needs. They know how to help them but can't seem to make that connection and get those clients to say, "yes". In most cases it's not your product or service that's the issue, it's your approach. This is why I am sharing my 3 keys to making all the sales you want no matter what business, or product you offer.
The first key to making all the sales you want is confidence.
This means that you've got to be 100% clear on the outcome that you're providing. You also have to know how to communicate that to your ideal client. If you're not clear on the outcome or the transition then your client won't be either.
A confused mind always says "no".
If your ideal client is confused and they're not clear on why they should work with you then they're likely going to say, "no".
When you get clear on your outcome and transformation then you can have a clear marketing message to attract your ideal clients. This brings me to the second part of the confidence key: get clear on your marketing message.
The first thing that you've got to do is determine what outcome you want your ideal clients to have.
When they come through your program, what should they have achieved as a result of working with you? Part of creating a solid coaching program is knowing how you're going to help your ideal client and the outcome that you expect them to achieve. You can do this and really get clear on this in a couple of different ways.
At first, it's just asking what do I want them to achieve? Write down exactly what they should expect as a result of working with you.
If you are a wellness coach for example, and you want to help your ideal clients who have a better relationship with food. You want your clients to be able to move more, be more relaxed about not worrying about the scale, and inches, and pounds, and all of that. In this scenario one of your outcomes for your coaching program might be that this client is no longer stressed at looking at the scale.
That's just one example/outcome. You should be able to write several of them and that should sum up into one single outcome. Going back to our example, if you're several outcomes for you as a wellness coach are:
Not being stressed about looking at the scale.
No longer binge eating.
Choosing foods that they love and make them feel good.
In summary: My ideal client now chooses foods that they love and they now don't have to worry about looking at the scale. They will be confident about their body, be confident in their mind and be confident in their spirit.
Whatever your tagline is, you should be able to sum up your outcomes in one single sentence.
Another piece of this is getting clear on that ideal client and knowing how to communicate this clear marketing message to them.
Your ideal client is going to speak about their problem and they might speak about it a little bit differently than how you would.
For example, you might say something like, "have a better relationship with food", but your ideal client might say something like, "I just want to be able to enjoy food without stressing". Those two statements mean the same thing, but if you don't know how your ideal client speaks about their desired outcome, you're not going to effectively communicate to them.
If you want the marketing message to be clear, you want it to be very direct towards them and utilizing their vocabulary.
The more you understand who you're selling to the more confident you will be with your offer.
The second key in the 3 keys to making all the sales you want, is creativity.
This means creating an offer that actually speaks to your ideal client. It's something that's exciting, something that your ideal client wants to jump into, that they hear it and think, "Wow, that's exactly what I need, where do I sign up?"
You want to be so creative in your offer that your customers are practically throwing their credit cards at you. But before we really get into how to do this, let me explain what an offer really is. Telling someone you're a coach and to sign up with you is not an offer.
The easiest example I can give is a McDonalds Happy Meal. This is more than just a burger and a toy. McDonald's guarantees your child's happiness with this meal. They promise that your child will be satiated and entertained with this happy meal, and it will be packaged and targeted to make your kid happy.
They aren't selling the food, they're selling the experience.
That's what you want to do with your offer. It's not enough to say you're selling a course or mini session, or training. You need to get creative and sell them the Happy Meal. This goes back to your research like figuring out who your ideal client is, what they're excited to purchase from you, and how they speak about their problem.
Determine what they specifically want, and create a juicy offer they can't refuse.
The final key in the 3 keys to making all the sales that you want is closing skills.
Closing is really a long process that actually happens over a number of steps. If you're marketing is good, your marketing will be closing that ideal client every step of the way. The idea behind closing and actually making a sale is that every "yes" that you can accumulate contributes to that final "yes" at the end.
Author, Robert Cialdini, talks about how people are driven to be persistent in all areas of their life. Meaning if you say "yes" one time to one person, and they ask you something again, it's likely that you're going to say "yes" again.
For a personal example, I'll tell you about when I was renewing my OMCP certification.
I am an online marketing certified professional and every year the certification has to be renewed. You can either renew it with doing professional development units, or you can retest. This time I decided to do some professional development units. I took a couple of classes and I submitted my passing scores for those classes so they could update my certification.
After I did all of this I got an email alert saying it was time to renew my certification after I already did it. I emailed back and I said, "Hey, I think I'm pretty sure that I've already done my renewal credits. I did them back in January, could you just double-check?" She did, and replied, "Oh yeah, you're absolutely right, I went ahead and renewed it. You're good for another year."
When I replied, "OK, great", she got back to me with a small ask. I think she asked me to share my thoughts on the process of renewal. I said "yes", because it was a small ask and I was happy to do it. Then she came back again and said, "I really appreciate you sharing this with us. Would you mind if we shared it with our community?" Again that was a small ask, so I said, "yes". Then after that and I'd shared my website information, I got an email from the company president saying, "Hey, I love your response. My team has been speaking with you. We're wondering if you wouldn't mind doing a short video."
By this point, I had already said, "yes, yes, yes", so this final, "yes" was a no-brainer.
Like I said, when your marketing is really good, you're closing your ideal clients every step of the way. For a coach, the first step is getting the ideal clients to say "yes, I'm interested in learning from you." You give them that piece of learning content and then they say, "yes, I'm interested in speaking to you." Then you invite them to a phone call and they say, "yes, I'm interested in working with you" — and then they sign up.
Now there are a lot more fine-tuned details to this process, of which I talk all about in my signature course, The Path to 6-Figures.
This is a highly detailed, curated system that allows you to create an environment where clients aspire to work with you.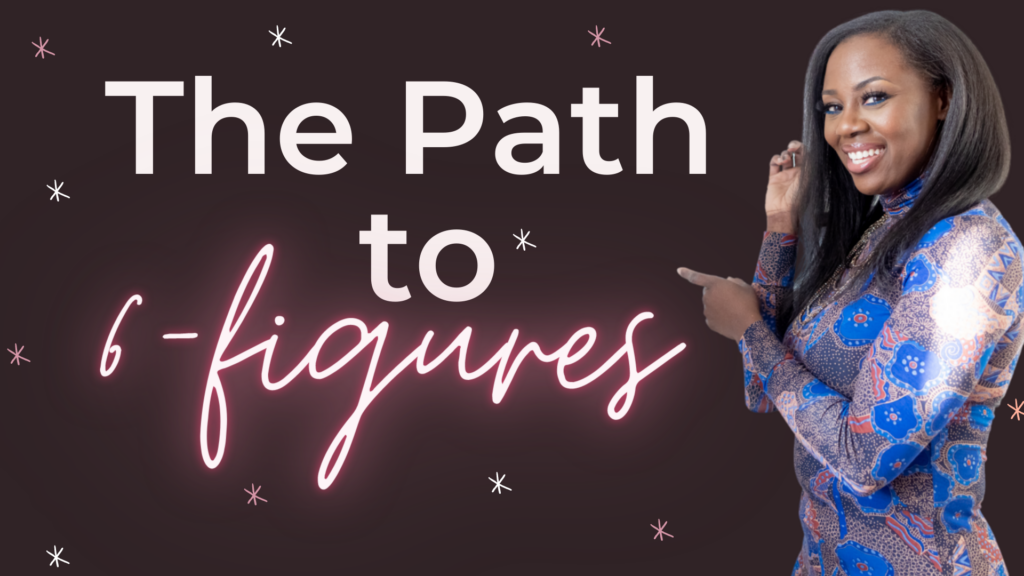 Where they are naturally attracted to your brand, and seek out your services.
Can you imagine not having to cold-call or pitch yourself to anyone ever again?
>>> This is the system that created my multiple six-figure coaching business.
>>> The formula my clients have used to turn $10,000 into $100,000 within their own businesses.
>>> The strategy that gained the attention of Forbes and Business Insider.
All here, mapped out, for YOU.
The first step is to invite you to the 4 step client gaining system that turned $10,822 into $102,953 … plus … how to replenish (and manage) a steady new flow of fresh, pre-sold applicants … allowing you to finally sell your coaching services more frequently and with ease!
This is a free training session where you will discover…
How to package & sell a five-figure coaching package (and where to find the clients ready to pay!) – or how to just double your current coaching rates to start.
Why discovery calls end with "I can't afford it" and the effortless marketing upgrade that captivates high-ticket clients ready-to-pay.
The "Popcorn" method that led to $44,000 in revenue with zero sales calls
Once you discover this you'll never have to use sales call tactics again.
Case studies of successful students who used our system to book their own coaching clients faster than they thought possible, and create sustainable income as a result