As an entrepreneur/coach how many times have you been asked to let someone "pick your brain" for free? For many, this can be a regular occurrence that's not only sucking up your time but draining your energy in the process. Knowing when it's time to charge for your content is crucial for anyone in the knowledge business. This is why today I am talking about: How much information should I share, and can I pick your brain?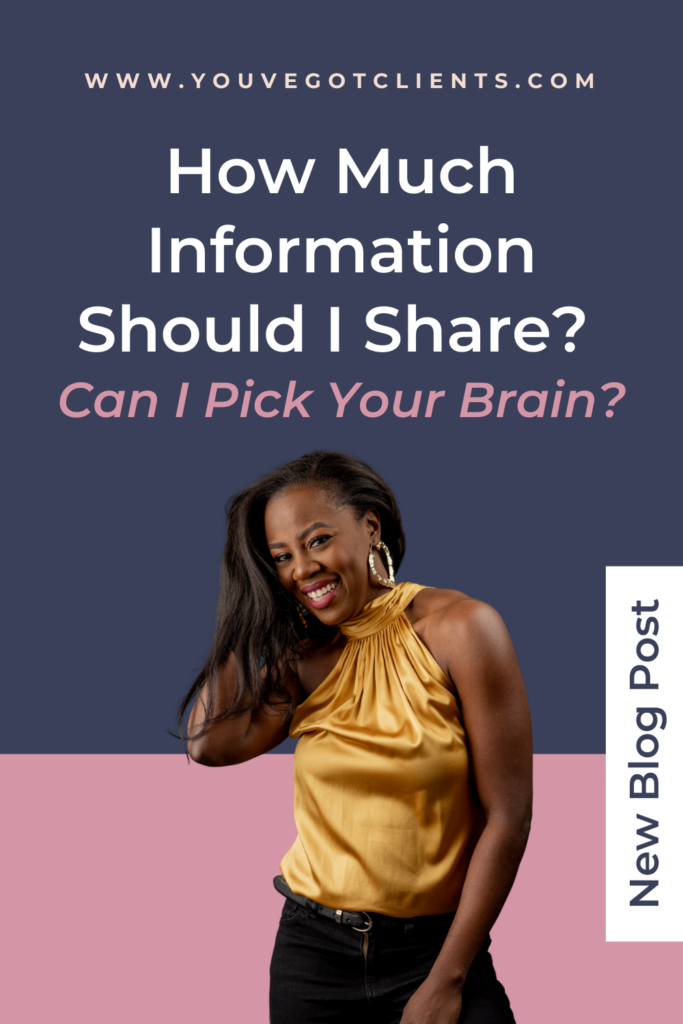 For me throughout building You've Got Clients, this has been a common occurrence.
It started happening a couple of years into my blogging career when I first started getting some notoriety. People were sliding into my DMs and inbox asking what I'd done, how I got there, and how they could do it too. In other words, people kept asking, "can I pick your brain?"
Note that I'm not opposed to helping people, or opposed to answering questions (and I'm sure you're not either). However, there comes a point when you realize that you feel a little bit taken advantage of.
So what do you do when someone wants to pick your brain or someone wants to ask you questions and you feel a little uncomfortable?
A few years back I had a reader who reached out to me and said, "Hey, I'm interested in starting a blog. I want to do exactly what you've done, and I would love to ask you some more questions about how you did it." At this point, I was tired of the free sessions so I hatched a plan to make myself excited about helping someone out. I went on a website called Clarity (I honestly don't know if they're still open). With this service, I was able to set a per-minute price for a call.
For this specific situation, I charged $1/minute and this person had taken up 23 minutes.
By the end of the call, he felt excited about the information I gave, and I was excited that I made $23. Funny enough this was the launch of my coaching business. This person became my first client and he went on to make $1000 with that 23-minute phone call.
The thing is that he was more than happy to pay for my time, and I was much more forthright and energetic in my delivery because I felt compensated.
From there, I set up a page on my website called, "Pick My Brain". On that page, I shared all the ways that you can get help from me. There was the option to watch all of my YouTube videos and read all of my free blog content. You could submit a question that I would consider answering on a YouTube LIVE stream or video. Or, finally, if you want a chance to chat with me one-on-one — then you can book a clarity call. This was a dollar-per-minute call for you to ask whatever questions you'd like.
This gave my audience and me a lot more direction because there was literally a "pick my brain" option, and I felt a lot more confident sending my DMs and email Qs over to that page.
It lifted a lot of weight off of my shoulders because it made me feel like I was still helping people, but I was also protecting and valuing my time.
If you're running into the, "How Much Information Should I Share? Can I Pick Your Brain?" questions then I have a few notes of advice I would love to share with you.
The first thing is to remember that what comes easy to you doesn't always come easy to other people.
Answering a question for someone may only take you a minute or two, but that doesn't mean it's not valuable. Your time that you've put in to learn that skill and grow your expertise is what you're charging for. You're charging for your history, your expertise, for all the things that you did wrong so that you know not to do them again. Just because it's something that you know, that you're good at, or familiar with — doesn't mean that it's not valuable.
The second thing to remember is that your time is valuable.
You only get 24 hours in a day. Every single one of those minutes is precious and if you want to spend all day answering questions or responding to emails, you don't have to. If you want to continue to grow yourself and do the things that you want to do, then you've got to put a system or a process in place. At this point I don't do per minute, I charge $400 for a block of my time. It's up to you however much you want to charge, just as long as you have a plan.
This brings me to the third point, which is to charge what you want to charge.
There was an article, I believe it was in Forbes where they talk about a "happy price". They were talking specifically for freelancers saying that you can charge a good, middle of the line or even low rate. A rate you think you should charge, but then you also have your happy price. Your happy price is the rate where you're just ecstatic to do the work. You're willing to put everything else to the side because you feel so compensated and valued.
So those are my tips when people are asking to pick your brain, but what about knowing how much information is too much information to give away for free?
Sometimes it's scary to share everything that you do, right? If I tell people, "hey, this is exactly how I help you turn your skill into an income." Am I scared that someone is going to take those instructions and go do it on their own?
I mean, they might, but I don't care. Let me tell you why.
When you work with someone and you can help them get a result faster than what they can if they were to do it on their own — that's your value proposition. My value proposition is not the information I can share with you, or the tips and the advice, and the tricks and all of that. It's that I know how to tweak the input to accelerate the output so I can help you get results faster than you could on your own.
Don't be afraid about giving away the "secret sauce" because if you're really an expert on what you speak on or teach, then you really can't give away too much information for free.
Now, do you want to know how to share that information with your potential clients in a way that's direct, personal, and insanely valuable?
This is a free downloadable guide that includes: 
4 Step Email Funnel Workshop so you'll know exactly how to set up an email funnel in 4 simple steps
A PDF Guide so you can follow along step-by-step as you set up your email funnel
Resource Guide with links to all the tools and resources you need to get started
Click-by-Click Tech Videos so you never get stuck on the tech you need to get your email funnel going
Email marketing is the most highly converting online marketing tactic. With the right strategy, it can skyrocket your client reach.
Click here to download the toolkit now!