Ready to sell a group coaching program so you can make more money, save time, and help clients get even better results? This post shares how to sell group coaching. I'll also share how my client was able to sell $18,000 worth of a group coaching program in less than two weeks.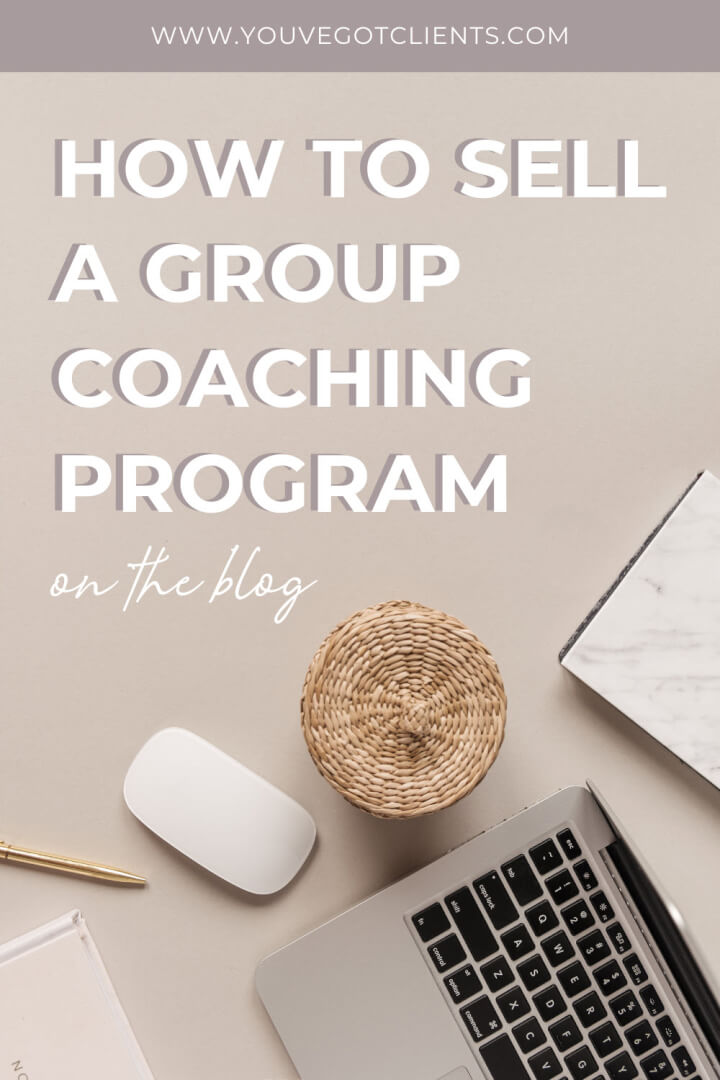 Selling Group Coaching Step 1: Make it Standard
Group coaching is typically more structured than one-on-one coaching. There are no rules when it comes to which you choose to host. You can start with one-on-one coaching or starting with group coaching. It doesn't matter, but what matters is that you understand that when you're bringing individuals into a group coaching scenario, it's not as customized or personalized –unless you provide a VIP option. That's why, in group coaching, each of the clients you enroll needs to have a similar problem so that you can help them get results.
When creating a group coaching program, you should already know what the process is from A to Z in order to help them get the end result. With a group coaching program you're creating a standardized process. You can use videos, worksheets, checklists to help each client go through that standardized process.
What I like about group coaching versus one-on-one coaching or courses is that group coaching is essentially a hybrid of the two. One-on-one coaching is highly customized but it can be draining and it requires more time because you're only doing that one-on-one coaching. One the other hand, courses provide much more leverage.
You can reach more people, but it might not be as impactful because people tend to quit courses, which makes it harder for them to get the same results as someone could get with one-on-one coaching.
*A course with a VIP option is also a nice alternative to help clients get results.
That's why I love group coaching because it's an intersection of the two. There's the standardized format of a course, but it also includes some sort of coaching component.
That's exactly what my client set up. She had a $1,500 group coaching program, which was essentially an on-demand course that also came with group coaching calls.
Clients were able to come to the calls, get their questions answered, and interact with their peers. Often group coaching can be even more powerful than just in one-on-one coaching because of the peer encouragement.
In order to create your group coaching program, figure out the common element and make sure that is standardized.
Selling Group Coaching Step 2: Make it High-Ticket
Secondly, if you're going to do a group coaching program, it makes sense to create a high ticket offer because it's a happy medium between a course at a lower price point and one-on-one coaching at a higher price point.
Because it's going to require your time and your effort and you're really helping them get customized results inside of that group coaching program, then it makes sense to offer it at a high ticket price.
My personal preference is a price point of around $1,000 to about $3,000 for your first group coaching program and then you can increase your rates from there.
That brings me to the question that started this post. How was my client able to sell over $18,000 worth of her group coaching program in under two weeks?
Selling Group Coaching Step 3: Make it Easy to Sell
Before we worked together, she was already selling the program via email funnel using a launch method in order to do that. She would get subscribers on her email list then send a series of emails to encourage them to purchase.
When we started working together, we created a very highly targeted, highly converting sales-generating webinar. We also created ads in order to generate cheap webinar registrations. When she presented that webinar to her audience, she was able to sell over $18,000 in just two weeks. I caught up with her a little bit later and found out that she had sold over $23,000 in group coaching during that launch period, with just about a $300 ad budget.
I was totally blown away because these results are not common. However, she was able to create those results unlike what she had done before because she created a webinar. The webinar did the selling for her, even convincing new people who didn't know her yet – they simply watched the webinar and quickly got to know her.
In the span of a 1 hour webinar they liked her, they trusted her, they purchased, and they started getting results inside of her group coaching program.
I believe the best way to sell a group coaching program is to sell it via a webinar where you can explain the transformation, give the potential client a chance to get to know you, and then make them an offer.
You can use a webinar if you sell your group coaching program through phone calls. At the end of the webinar, you simply invite them to a phone call. There is definitely a strategy when it comes to doing this and I share that with you in my latest training. If you need help with your webinar, then I'd like to invite you to join me for the You've Got Clients training.
I'll take you through the process of how we're booking coaching clients via webinar, how to write your webinar so that it's a very persuasive piece of content, and also how we're getting webinar registrations for very cheap so that it makes the return on investment that much higher.
In order to register just go to. Youvegotclients.com/anti-webinar.