Email, and specifically an email funnel to get coaching clients, is one of the most powerful tools in your marketing toolbox. This 4 step email funnel is the same one I've used to generate clients inquiries on a daily basis. If you know you need to grow your list, but you're not sure how that will translate into sales, I can understand.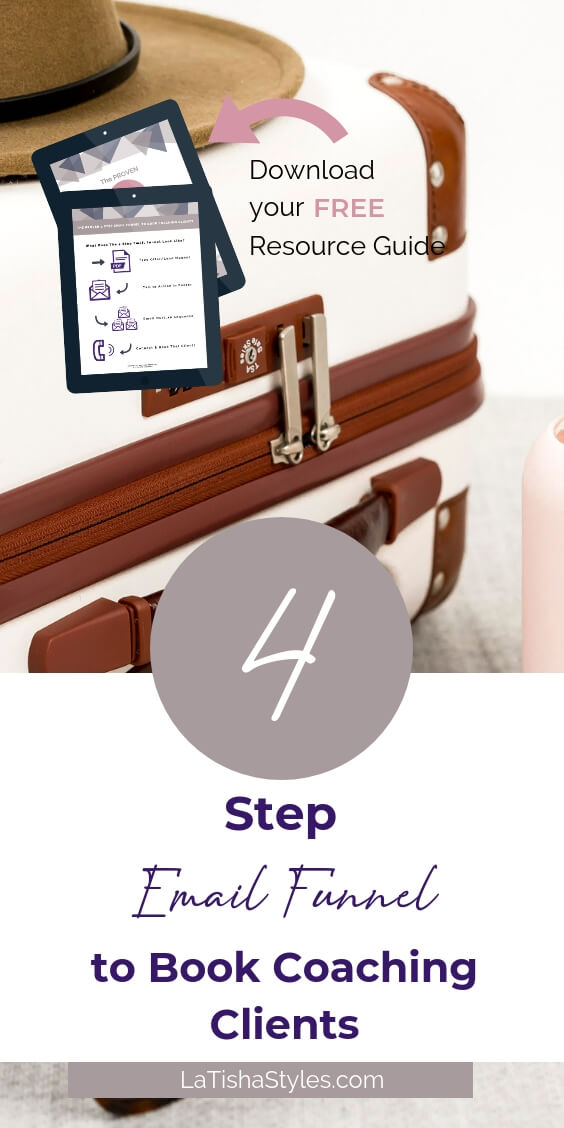 I used to send barely one email per week, because I didn't really understand email marketing. These days I send an email 4-5 times per week.
And I often get responses similar to this.




Want to get coaching clients? Join us in the Get Coaching Clients Community by visiting LaTishaStyles.com/community
These responses are not only from people in my audience who enjoy my emails, but often they become clients and friends. Pair an email funnel with a webinar funnel to get coaching clients and you're on the right track.
Sidenote: I grew a brand new coaching business from essentially zero dollars to $65,000 my very first year. At the time I had a brand new email list of zero subscribers. In just a few months, I grew that email list to about 800 email subscribers. But more exciting than the total list size are the clients I gained through email. I'm going to share with you not only how to grow your email list, but also how to get coaching clients using this simple email funnel. And if you'd like to take this further, then you should grab the course Create & Fill Your Coaching Program. It shows you exactly how to monetize your email list.
Before you can start with an email funnel, you have to have an email list. The first step covers how to get email subscribers, steps 2 through 4 will cover the rest of the email funnel.
Email Funnel Step 1: Create a Lead Magnet
A lead magnet is a free gift that you give in exchange for an email address. Ideally, this lead magnet is highly valuable and something that you could even sell. This is the entry point to your email funnel. The best lead magnets are quickly consumable and provide highly targeted information for a specific pain point.
Examples: Checklist, Quiz, Short Video Series, Mini Self-Led Assessment
The first few people who join your email list will likely be those you meet at an event or while networking.
(After attending hundreds of networking events seeking to book coaching clients, I finally created my own "introvert-friendly" strategy that doesn't involve energy draining networking events. See the full training with details at YouveGotClients.com/anti-webinar)
After an event, send a quick follow up email from your personal account. My email usually mentions a bit about our conversation and then I share a link to my lead magnet.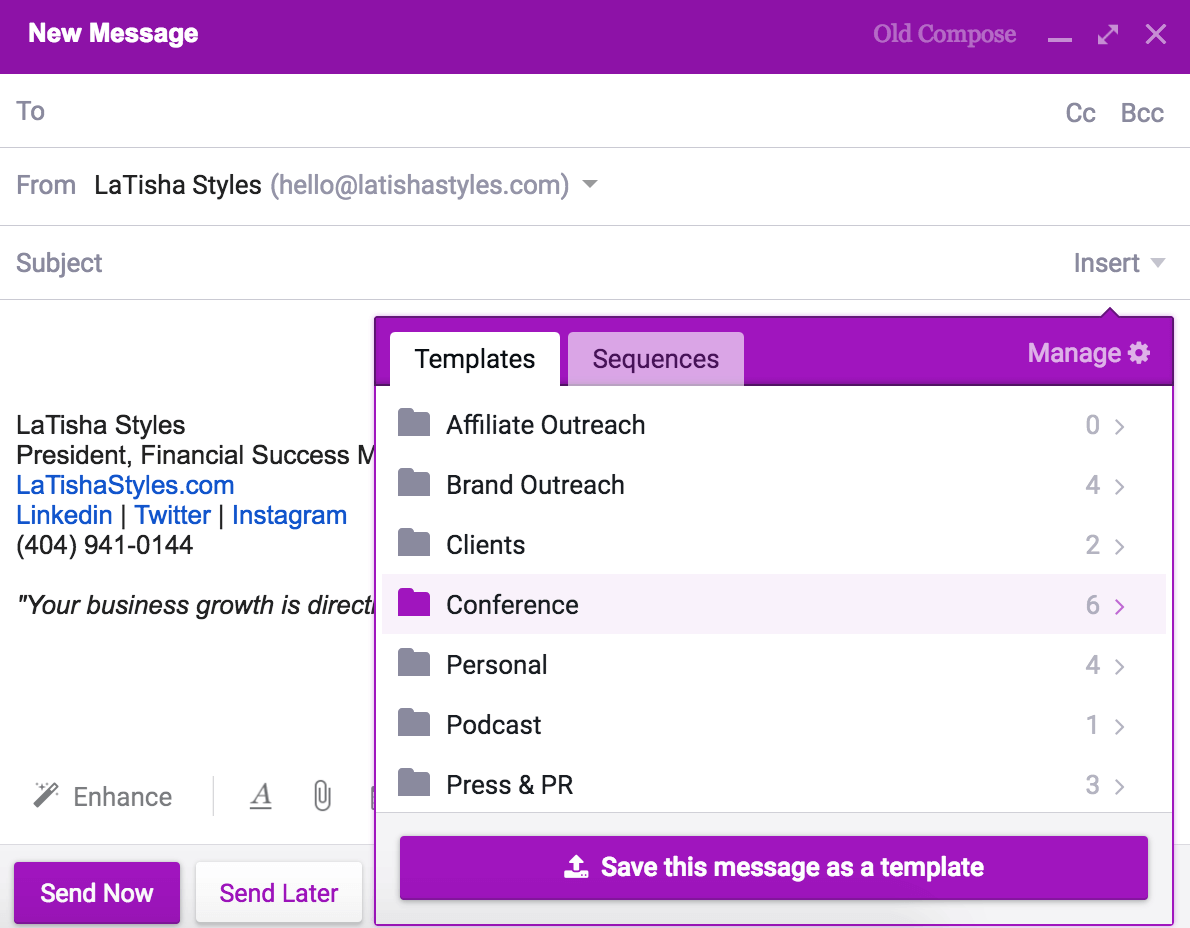 Recommended tools: I like MixMax to manage personalized email follow ups and I create landing pages for my lead magnet using ThriveThemes. See all of my recommended marketing tools here: LaTishaStyles.com/resources-marketing-tools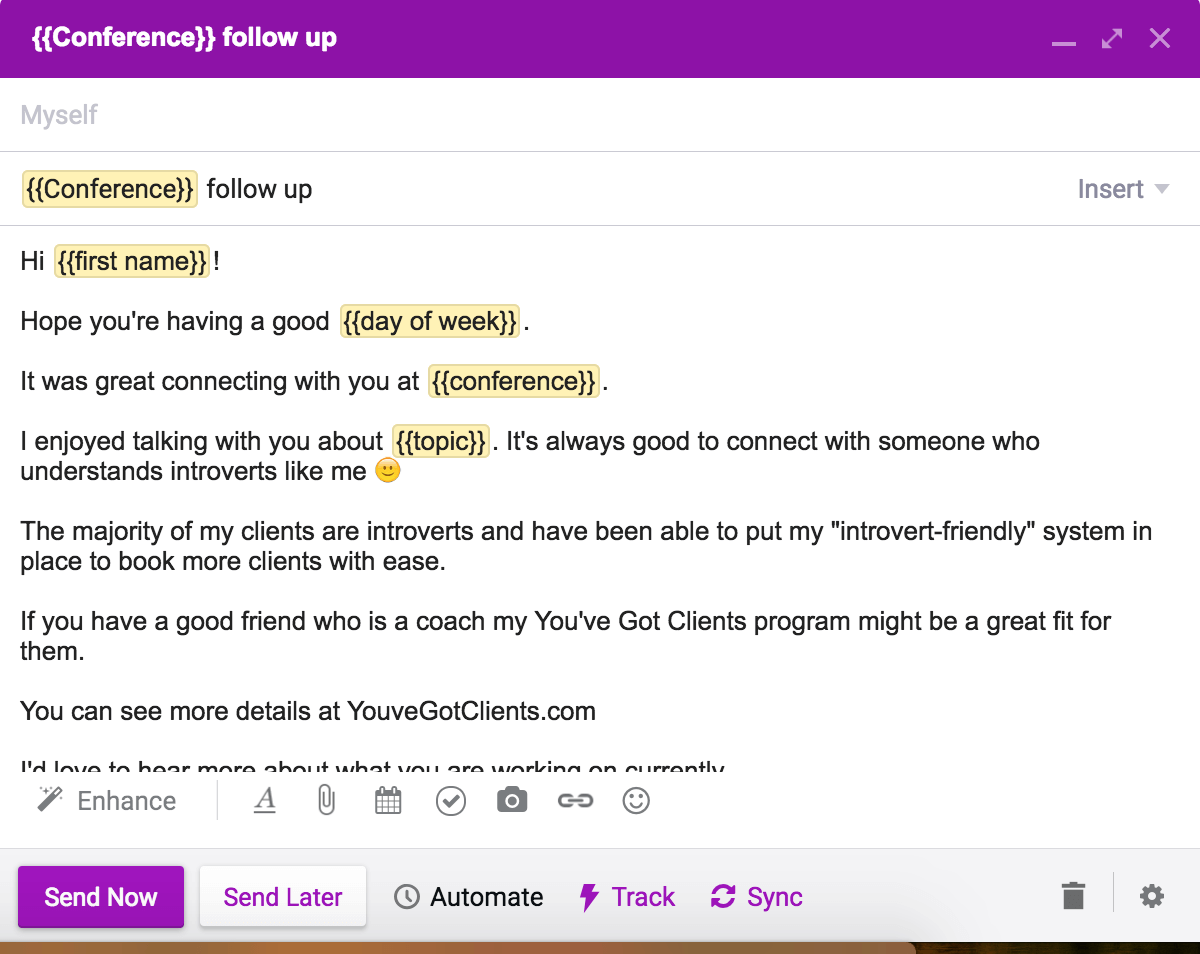 When they click the link to get that lead magnet, if they find it appealing, they will register, providing you with their email address. Now you have a new email subscriber! This strategy is most effective when you have spoken and you know they need your help. You want to make sure you are only bringing potential leads in your email funnel that are most likely to convert into clients.
Sidenote: Don't accept a business card while you're at a networking event just so you can automatically add that person to your email list. That is a huge no, no, and it could position you in a negative light if they begin receiving emails that they believe they did not request. It's also illegal in some countries.
Other strategies to gain more clients to your lead magnet and into your email funnel include:
Running Facebook ads to get leads
Creating YouTube videos to get leads
Presenting to a group of potential clients to get leads
Partnering with a leader that has a complementary audience to get leads
How to Deliver Your Lead Magnet
Upload your lead magnet as a file into your favorite cloud software then grab the share link. You can place that link on the thank you page or in the first email of your email funnel. If you use ConvertKit (partner link), which is my recommended email service provider, they allow you to send an incentive email with the download included.
First you'll create a new form, then you simply check the box that says "send incentive email." You are allowed to include a subject, a short message, and customize the wording on the button for the download.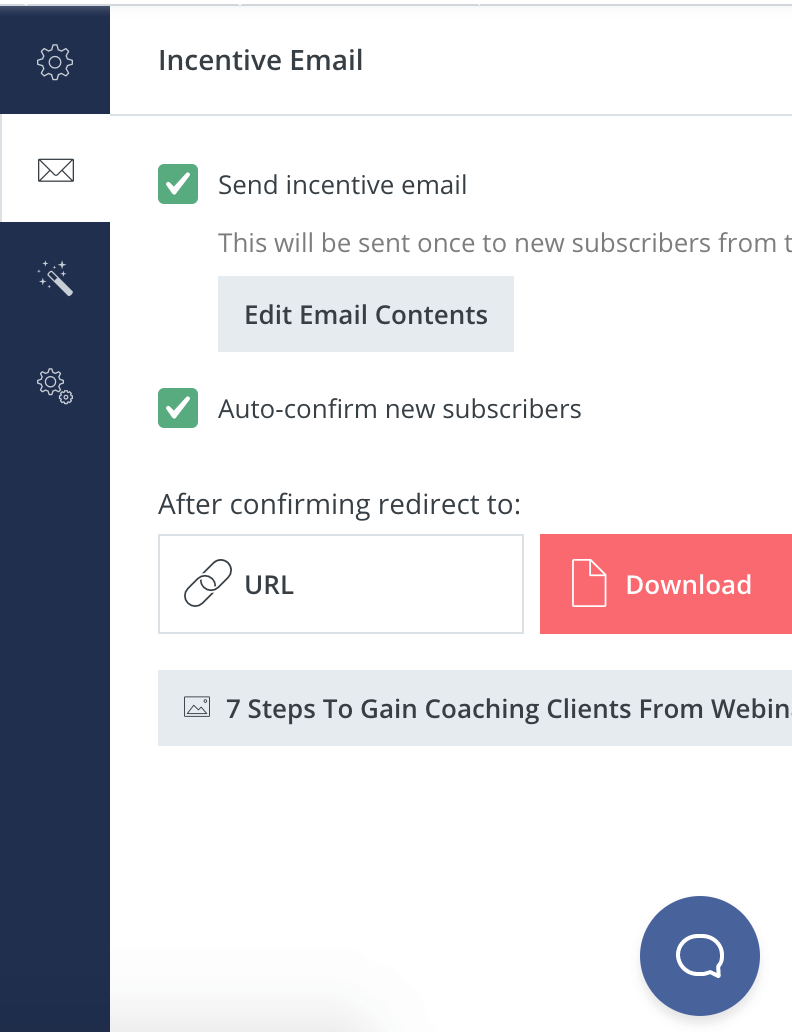 When the new subscriber clicks that button, it will confirm them on to your email list as well as send the automatic download. No one makes delivering a lead magnet as easy as ConvertKit.
Sidenote: In your lead magnet be sure to include details for your contact information. Many will create a great lead magnet but not share the next logical step. If your lead magnet is highly valuable it makes sense that they might want to learn how to contact you, work with you, or connect with you further on social media. The lead magnet is the first handshake of your email funnel but you don't want it to be the final contact.
Email Funnel Action Item: Create a Lead Magnet
Contact someone who could be your potential coaching client and ask them, "What is the greatest frustration you have when it comes to (fill in the blank with your subject matter expertise). Then as they talk through it, you might find common themes.
Do the research, figure out what your ideal client struggles with the most when it comes to your topic and then deliver that lead magnet for them.
If you're concerned about giving away too much information for free, then you'll want to watch my video, "How Much Free Information Should I Share?"

Email Funnel Step 2: Call to Action in Footer
The second strategy helping you get coaching clients via an email funnel is so simple but often overlooked.
Each time you send an email you will be sending an invite for your subscribers to work with you. Even though your subscribers chose to sign up for your list and receive your lead magnet, you can't assume that they remember you each time you send an email. Why not reinforce who you are, how you help, and invite them to work with you?
You can do this unobtrusively by simply placing a link in the footer of every email.
This is also helpful in case the email gets forwarded to someone else.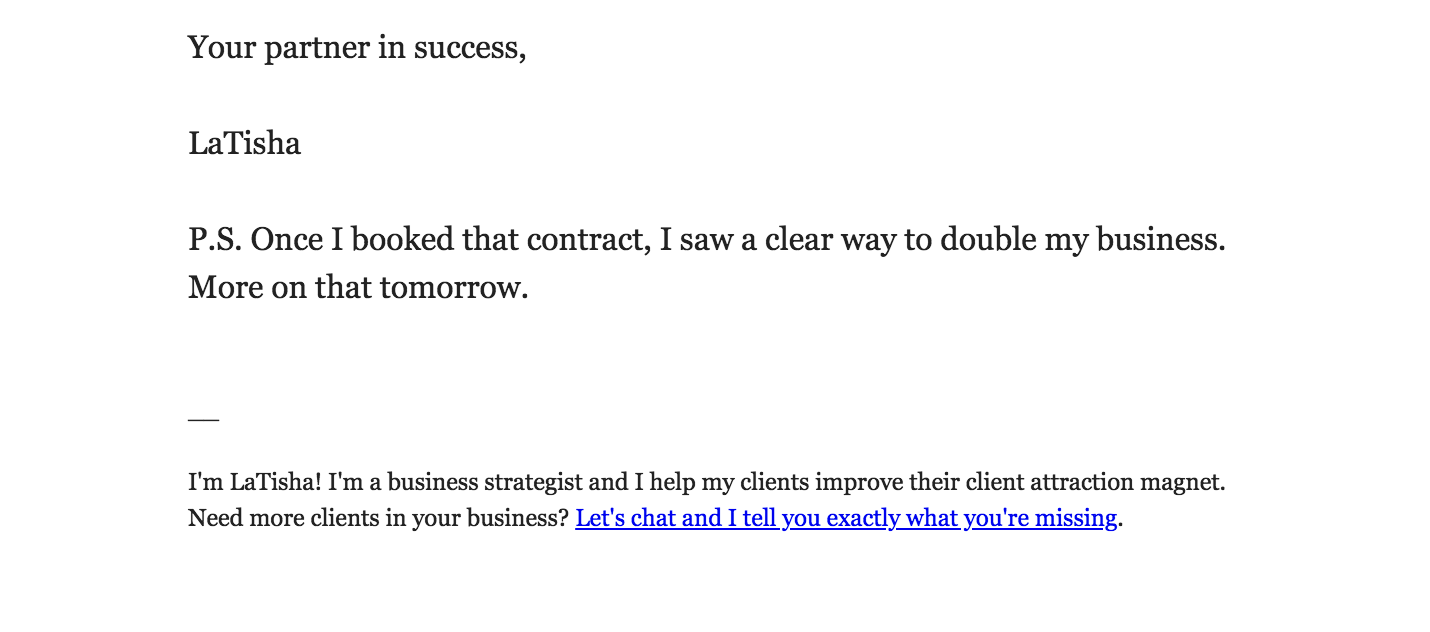 Notice how at the bottom it says, "Need more clients? Let's chat…." This link goes directly to my calendar to schedule a call.
I also have a tracking link so I can see the origin of a strategy session request. This particular link in my email footer includes the tracking code "newsletter bio." In the span of one week, 3 requests came from my email funnel, one came from Facebook, and the fifth came directly from my lead magnet.
How to Create an Email Template
In ConvertKit you can create an email template so that your footer is included in each email by default. First click on the account button and then the email templates tab.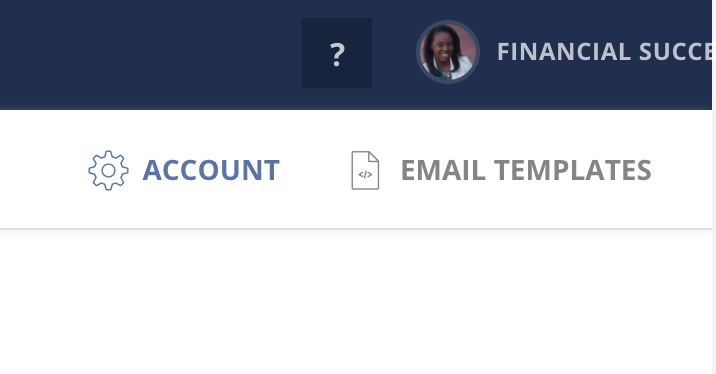 I like to use the text only template. Then you can customize the template to include your mini bio as well as a link to work with you at the bottom of each email. ConvertKit makes this very easy to do.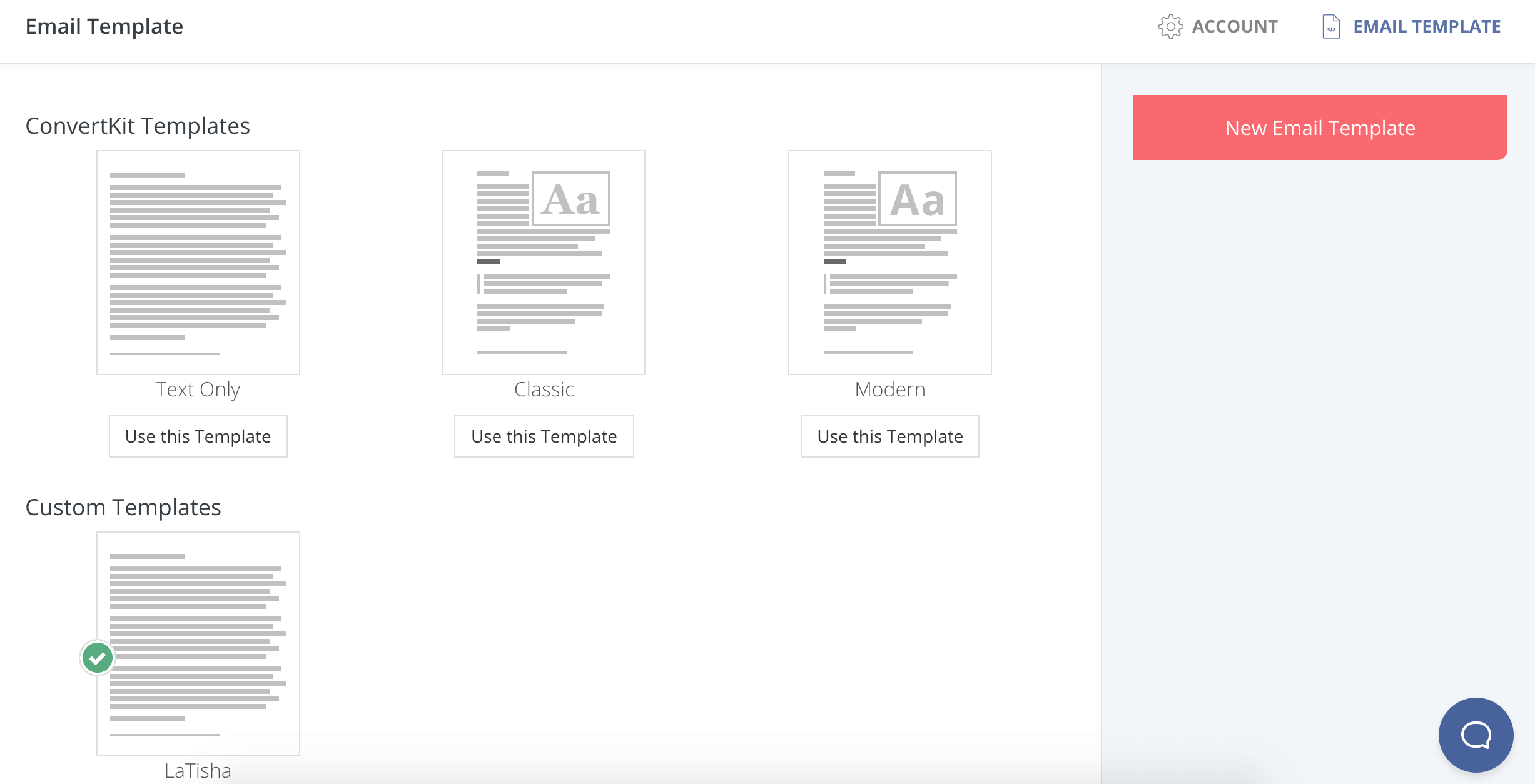 Email Funnel Action Item: Update the Email Footer
Decide on your one sentence elevator pitch and your one sentence call to action. Update your email footer and include that mini call to action.
A call to action (CTA) is simply you requesting an action. Now even when you send out emails that are simply a story or just a note to watch your latest video or live stream, you will always have that call to action at the bottom as a reminder. This repetition not only reinforces you as the expert but it also serves as a reminder that you are offering your services!
Email Funnel Step 3: Create a Nurture Sequence
So many coaches and consultants complete the first and second step of the strategy but once they have email subscribers and potential leads, they neglect to continue the conversation after that subscriber has requested information.
Sidenote: I personally believe this is primarily because most coaches don't know what they should say next. "Should I ask them to book a call? Didn't I already tell them to do that? Do I just say hi? How often should I email? What if they unsubscribe???"
The fear of sending emails and seeing people unsubscribe is a valid one, but that fear doesn't have to stop you from getting coaching clients with an email funnel. Creating a nurture sequence that continues to build the relationship is at the heart of a highly-converting email funnel.
A nurture sequence is simply a series of emails that allow the potential coaching client to get to know you. This is one of my favorite ways to get coaching clients because I can simply send an email, open my calendar, and suddenly I'm booked with potential clients.
A short nurture sequence contains 5 emails. Each email tells a piece of the story and is intended to create an emotional response. Each email has the call to action in the footer. The final email in this 5 part email funnel nurture sequence contains the direct call to action. I've included a sample of a 5 part nurture sequence in the download for this post.
In your nurture sequence you can tell stories, share information about yourself, ask them questions, and really all you want is the opportunity to start a conversation.
Psst! Would you like this post as a PDF plus a sample email funnel nurture sequence to go along with it?
Download this blog post plus the swipe file of emails used to book coaching clients.

How to Set Up a Nurture Sequence
In ConvertKit, you can edit all of the emails in your sequence on one page.
Email #1: Recap how they got on to your list, include the link to your download once again just in case they lost it, and let them know you'll be in touch again with more valuable content.
This is your chance to immediately invite them to a call with you, since they just met you and a call is one of the highest value offers you can make right away.
Email #2: Break down a common misconception that you hear often from your audience. This is the time to shock and awe.
Email #3 & 4: You have a few options for these emails. You can do a mini-rant, break down another common misconception, or include a client case study.
Email #5: This email should be a direct call to action to book a call with you. You can also include some details from a client success.
Emails #6 – infinity: The remainder of your emails will essentially follow the same pattern of emails 2 through 5. Continue sharing stories, busting myths, doing a mini-rant, etc. Your goal is to get a phone call or an unsubscribe. The last thing you want is lukewarm email subscribers. Trust me, if someone unsubscribes but they really wanted to work with you, they will find their way back. Most likely because you said something memorable. Don't blend in.
Email Funnel Step 4: Connect and Book That Client!
Finally it's time to connect and engage. Here are a few advanced strategies to create a more effective email funnel.
1) Continue to provide relevant content
You don't have to "teach" or give away all of your methods in order to provide relevant content. In my opinion, the best emails are "edutaining" meaning they are educational and entertaining at the same time.
Even the seemingly most mundane parts of your day could be entertaining. I once shared a story of how I kept finding dead bugs on my back porch and I finally swept them away. That specific email drove a sale into my on going monthly mastermind program.
2) Position yourself and your offer
Create emails that position you as the expert. Share your wins, share your client wins, include recent speaking engagements or press hits as well.
3) Share your vulnerabilities
This is not about sharing every detail of your personal life but sharing glimpses that allow the potential client to relate to you at a deeper level. It's important to show that you are relatable while at the same time very competent in your area of expertise.
4) Share your unique selling proposition
You can work this in at any point in time and even in the first 3 examples. Every time the potential coaching client is opening your email they are thinking, "Why should I work with you? Why is it different to work with you? Why should I trust you to be my life coach? Why should I trust you to be my fitness coach?"
Whew! That was a lot!
A few final words on email funnels…
Ultimately, "asking" is the best way to get coaching clients. You have to speak to people, you have to make an offer, you have to be able to close sales.
The email funnel is a passive way to ask for the sale because you are not face to face. While meeting someone in person at a networking event may be a stronger way to ask for the sale; it's not possible to be at every event, it's not time efficient to attend many events, nor is it fun when going to those events drains your introvert energy.
That's why I prefer a webinar sales funnel. It is the best of both worlds. It combines the passive nature of an email funnel with the strong relationship building nature of an in person networking event.
I'll admit I'm a little biased because I teach webinar sales funnels, but that's just because they work, and they are perfect for introverts. To see more details on the process, visit YouveGotClients.com/anti-webinar and register for the training. You won't regret it.