You can easily build an email list today by live streaming content to an audience.
To build an email list, you provide valuable live content to a targeted audience.
Then, you ask them to exchange their email address for something of value that you'll give them.
Today's live stream options that you can use to build your email list seems endless.
You can choose Facebook, YouTube, Twitter, Twitch, and more.
In this case study, I want to share how one of my clients, Kevin, used Periscope, a live streaming service introduced in March 2015, to build his email list.
Unfortunately, Periscope was discontinued in March 2021.
But, the general concept he used and that I teach my clients to use in The Path to Six Figures remains the same.
I'm going to share an in-depth view on HOW we actually achieved his email list building results, along with his resulting sales conversion launch results.
How my Client used Periscope to Build an Email List
The Client
Kevin L. Matthews II, Founder of BuildingBread.com, Author of Starting Point, Financial Advisor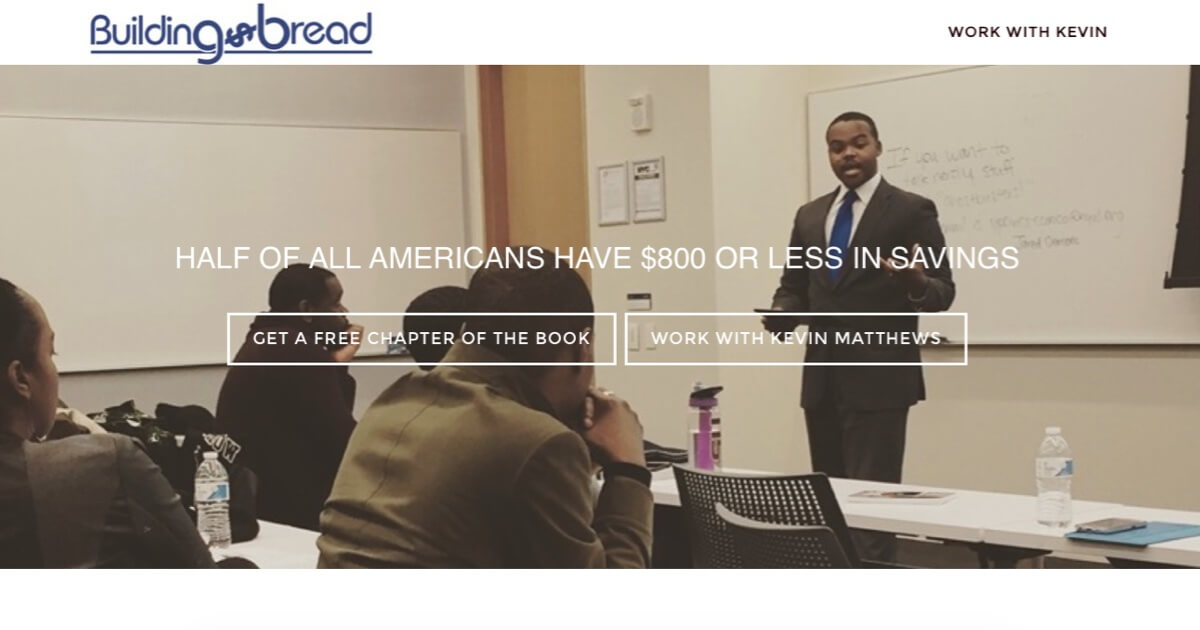 The Dates
Late March – Early May 2016
The Problem
Kevin L. Matthews II started BuildingBread.com to teach millennials how to set, simplify, and achieve financial goals.
Although he had been attempting to grow his audience online for 2 years, he was not seeing the growth, engagement, and sales he expected.
As a result, he contacted me to help him increase his audience size, build his email list, and implement systems to gain more sales.
The Program
Kevin worked with me in a program I had at the time, which provided 8 weeks of one-on-one Project Based Coaching.
It was one of my earliest coaching programs, which I have now built upon and deliver upon several on my newest courses and coaching programs.
Kevin's Beginning Stats
Gaining 1 client per month through referrals
Inconsistent book sales
Earning $250 per month on average
11-12 live stream viewers on average
0 prospective clients on his email list
Kevin's Results After Working With Me
Booked 4 private clients in one night
Increased book sales by 30%
Increased average monthly income to $1,000
60 live stream viewers on average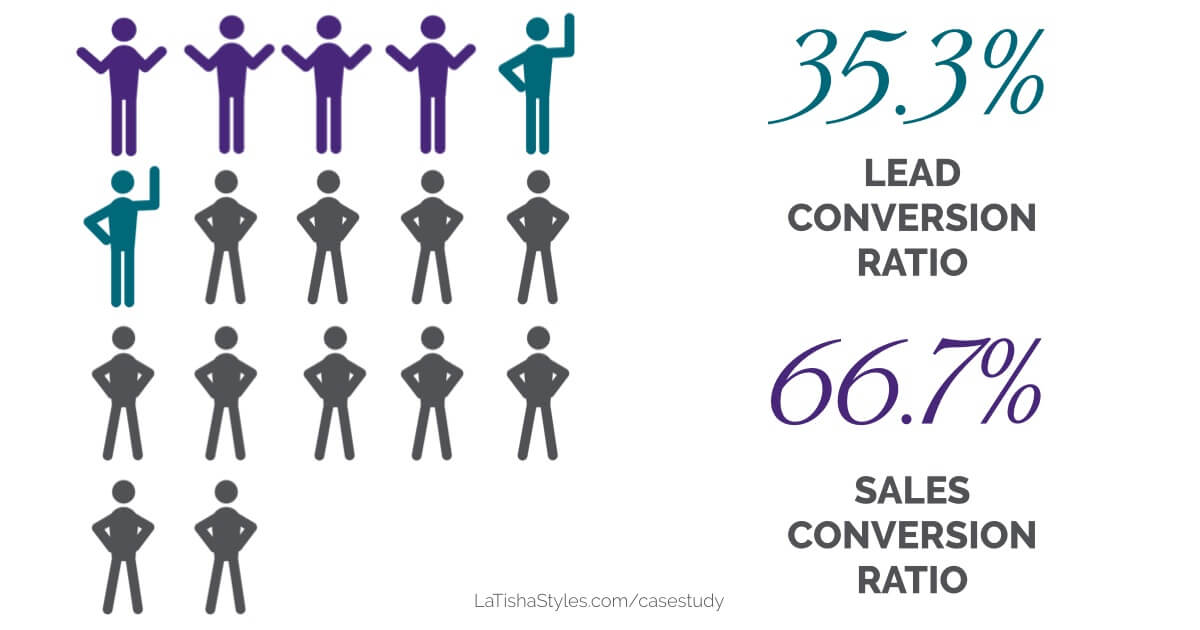 Our Focused Goal
During the 8-week program we focused on 1 major goal, which was to bring in new financial coaching clients.
To achieve this goal, I targeted these 4 high impact areas:
Live streaming
Increasing his marketing list
Improving his branding
Hosting a live event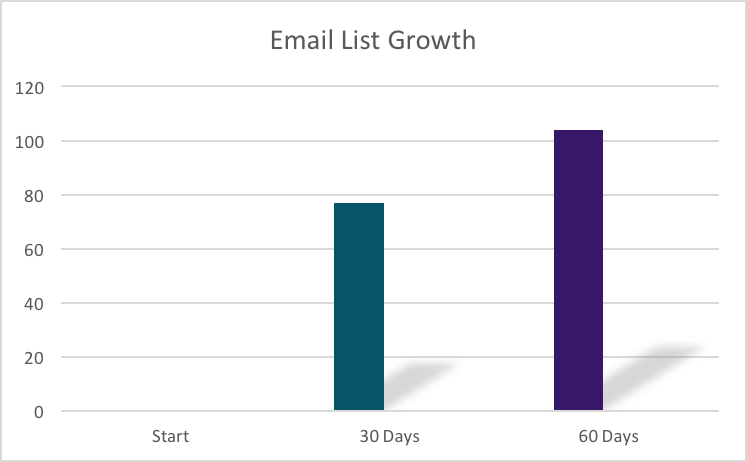 Live Streaming and Increasing his Email Marketing List
Kevin already had a presence on Periscope and reached his audience each week with a series titled "Wealth Wednesdays."
However, he was only averaging 11-12 viewers on each scope with no growth.
Of those viewers, some were clients and others were family members.
Every now and then a few new viewers would join.
He was averaging 8 replays and the most he had was 29 people on a live viewing when a larger 'scoper' joined and shared his live stream with her audience.
In addition, his branding was not prominent on slides for his weekly series.
I knew that live streaming would be our way to gain the largest impact so we focused on increasing the number of viewers.
We also used his live streams to increase his marketing list with the highly engaged viewers.
Kevin's live stream platform of choice is Periscope and we measure engagement by the number of "hearts" each broadcast receives.
Viewers on Periscope could tap the screen to give hearts that demonstrated positive engagement.
The most engaged will share the broadcast to their following.
How we did it
To increase the number of engaged viewers, I instructed Kevin to participate in Periscopes hosted by others in his niche.
By commenting and sharing their content, he was able to increase his visibility.
By networking this way, followers from similar niche scopers migrated to his live streams.
And, because he was providing value to other scopers by sharing their content and keeping the conversation going, they were willing to share his live streams as well.
I also guided him on how to create eye-catching post titles as well as what hashtags to use to benefit from organic growth.
The title and hashtag publishes directly to Twitter and popular hashtags benefit from search traffic.
Before we worked together, Kevin was using a hashtag specific to his brand.
While this method works to increase brand visibility, when starting out, it is more beneficial to use a popular subject based hashtag.
To increase the marketing list, I instructed Kevin to offer the first two chapters of his book, Starting Point, as an incentive for viewers.
During each scope, he invited viewers to download their copy by tapping the link in his bio.
Direct Results
In 30 days, using these strategies, he increased his email list from 0 to 77 potential clients.
He increased the number of engaged viewers on each scope by 445%, averaging 60 viewers for each new live stream.
As a by product of consistently promoting the free chapter of the book, his book sales also increased by 30%.
Improving His Branding
Kevin mentioned that he prefers not to blog and did not create written content often.
So I stripped the entire website and limited actions to the two most valuable; booking a call, and providing an email address in exchange for a teaser of his book.
I knew that the majority of his audience would engage with him through live streaming; however, I still stress the importance of a professionally branded web presence.
Hosting a Live Event
The culmination of our 8-week program ended with Kevin hosting his first live online event, often referred to as a webinar.
How we did it
Because he was still in the process of growing his audience, I instructed Kevin to plan a 7-part live streaming series on Periscope that naturally led into the topic of his webinar.
While I helped him brainstorm the topic and create eye-catching titles, this is where Kevin really took the wheel and used his knowledge to craft a high value live stream series.
In my business and with my clients, I've found that an episode style series increases audience engagement because it has a high perceived value.
The live stream series ends with the webinar.
He outlined the webinar and submitted it to me.
The content was punchy but the sales transition was a bit clunky.
I reviewed and provided changes in that closing section.
Direct Results
17 watched the webinar live
6 calls booked (35.3% conversion rate)
4 new private clients closed, (66.7% conversion rate)
Kevin's Final Email List Building Results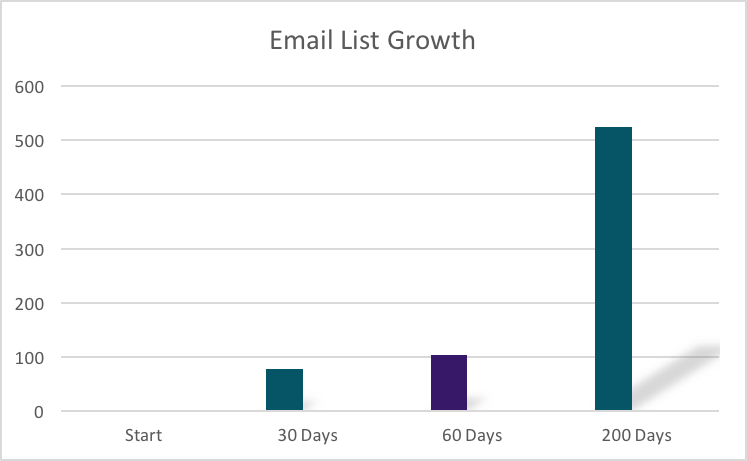 After working together for this 8-week program, Kevin came into one of my other masterclasses towards the end of 2016.
In it, he launched a course so he could reduce his time spent taking on one-on-one clients by providing the same level of impact through a course.
Using his new knowledge he began booking 3-4 students on average, per month, in his new course.
He also built his email list to over 524 subscribers by the end of 2016.
Kevin continues to use the methods that I showed him during our 8-weeks together.
He now uses this knowledge as his own to continue to grow his audience, live stream to build his email list, and book one-on-one clients.
At the time of this original writing on January 8, 2017, he was averaging 122 viewers on each Periscope viewing, his account grew to 465,646 hearts, and he had 1185 followers .
Building an email list is easy when you have the right marketing concepts taught by someone who has done it.
If you're interested in building your email list and are ready to begin marketing your online coaching business, be sure to check out my new courses, The Path to Six Figures.
In it, we teach you everything you need to know to build a marketing system to get your own clients online.