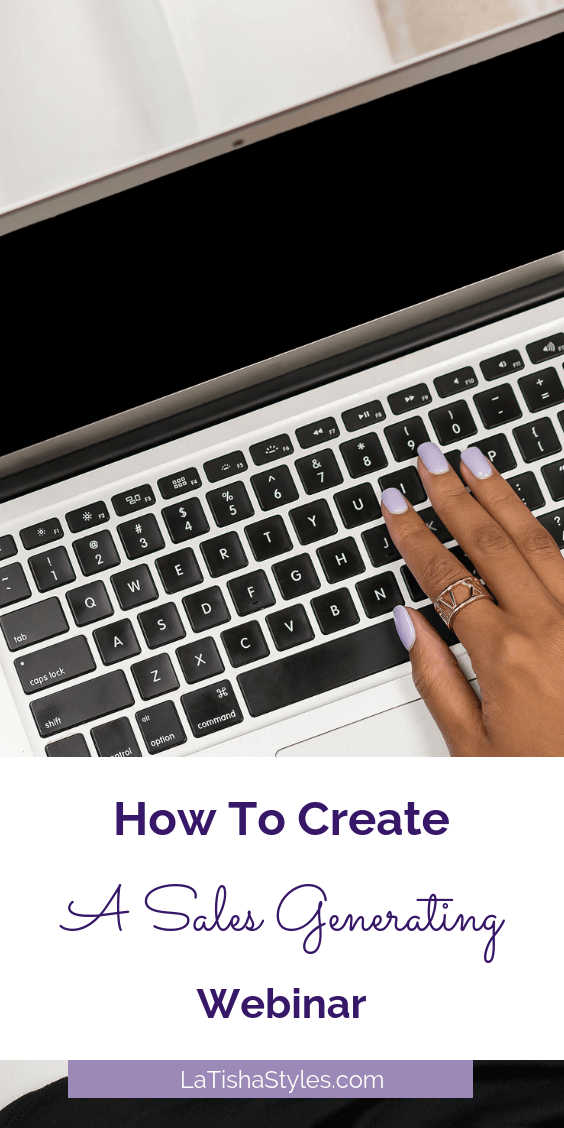 Ready to create a sales generating webinar? You're going to need three things: research, engaging content, and a strong call to action. In this post, I'm going to help you with all three.

There are plenty of ways that you can create a webinar, but if you want to create a webinar that makes sales, there are only three things that you really need.
Sales Generating Webinar Research
First you have to understand what your ideal client wants. You want to know what they want and what their current beliefs are around why they do not have what they want yet.
What are they not able to achieve?
What's holding them back?
What fears, doubts, and frustrations do they have?
When I work with my clients on creating a sales generating webinar, we begin with the research. Research their struggles, fears, doubts, hopes, dreams and their wishes. And all of those things you need to know before you even start to create the webinar. This research process, which is a huge part of marketing, often requires several hours or even days. It takes time to refine and test and tweak things and figure out exactly what your ideal client wants. However, once you have this research completed, it makes everything else so much easier. And if you don't have this research done well, then it makes everything else that much harder.
How to Collect Sales Generating Webinar Research
There are a few places where I begin my research. I typically start with research phone calls. On these calls I ask several questions to find out exactly what my ideal client needs.
I also like to search on a website called Quora. I also use Facebook groups. Sometimes I'll go to Linkedin, but my main research method is going into a Facebook group, typing in the topic and then reading the results to see what people have been asking about that topic. For example, I created this blog post after researching the word "webinar" in one of my favorite entrepreneur groups. I found out that people were saying, "Hey, my webinar didn't make any sales, so how can I actually make sales?" That's why I created "how to create a sales generating webinar." Everything that you do in marketing starts with the research. That's first.
Creating Sales Generating Webinar Content
The second thing that you need in order to create a sales generating webinar is engaging content. Some people believe that you have to have 'teach' for a webinar to be good. Or that if you share all of your strategies and just overwhelm people with all of the step by step that you'll make sales, but that's not necessarily true.
What you do need is engaging content. Engaging content means the viewer is mentally following along with each step until you get to the end and make your offer. If they're not following along with you, by the time you make your offer, it's going to fall flat. To create engaging content, share stories. Include your results, if you want to share your results, or share the results of your clients. These stories will show the viewer what's possible, giving them a visual of the other side. You can also share the high-level overview of your process and why it is important.
Finally, if you are using slides to present, those must be engaging as well. Watch any TV show or commercial and see how often the shot changes. That is a good rule of thumb for how often something in your slides should change.
Need help to gain coaching clients from webinars? Check out this post and resource guide: 7 Steps to Gain Coaching Clients Using Webinars.
The Sales Generating Webinar Call to Action
The final thing that a sales generating webinar needs is a clear and strong call to action. At least once in your engaging content, you are foreshadowing an offer. Give the viewer an idea that you will make an offer. I always recommend that you mention it upfront. Then they know that there's a pitch coming and most importantly, that they will get the help they need from you if they want to take this topic further.
How to Create a Strong Call to Action in Your Webinar
The strongest call to action is direct. If you want them to book a call say it specifically. For example: "here's what you can do in order to work with me further. Book a call." When you share a specific call to action, be very clear on exactly what they will see when they click that link.
Don't just say, "Click here to book a call." Walk them through the process that happens when they make it to the next page. Provide a visual of the process including what button they will click, what happens after they click the button, what information they need to provide in order to book the call, and how you will follow up with them.
The strongest call to action will not only share what steps the viewer needs to take next, but also how previous clients took that same step. Share the examples of those who took the leap and made the decision to work with you.
Final Thoughts on Creating a Sales Generating Webinar
Pulling together research so you can create engaging content and have a strong call to action is really the foundation of creating a client generating system. This system and process is the same system that I've been using with clients where they've been able to create something that allows them to, over the next 12 months, earn as much money as they desire in their coaching business.
This client getting system that I've been using for myself and with clients is very powerful and it's something that you can put into place in as little as six weeks. If you'd like to learn more about it, all you have to do is check out my latest training. It's called You've Got Clients. When you visit YouveGotClients.com/anti-webinar you'll see the page for the training and you can choose a time to watch the training.
During the training, I share with you exactly how to create an engaging webinar, I share my process for booking coaching clients from a webinar, and I'll share with you how my clients are getting inexpensive webinar registrations to increase their ROI.