Download the Resource Guide
I believe that using webinars to gain coaching clients is one of the most powerful client acquisition strategies.
Especially when it comes to gaining high ticket coaching clients.
When I started my coaching business I started with no list. I reached out to a friend and asked if we could host a joint webinar.
From that webinar, I booked my first 3 paying coaching clients.
I was ecstatic.
And I discovered the power of webinars. I later used Facebook ads to grow my own audience and I continued to host webinars.
One of those first webinars brought in a coaching client at $3.333. And I spent less than $100 to run ads for that webinar.
I stand by the power of a good webinar as a way to deliver amazing value to your audience and book clients or even make sales of on-demand products.
But in order to have a successful webinar, you need to get people to take four actions.
You have to get people register, get people excited to show up, get people to stay until the end, and get people to buy.
I'm going to share with you 7 steps to encourage all four of those actions and ultimately, so you can gain coaching clients from webinars.
And I'll also include my resource guide so you can take a few shortcuts when getting your webinar going.
Gain Coaching Clients From Webinars Step 1: Create An Amazing Offer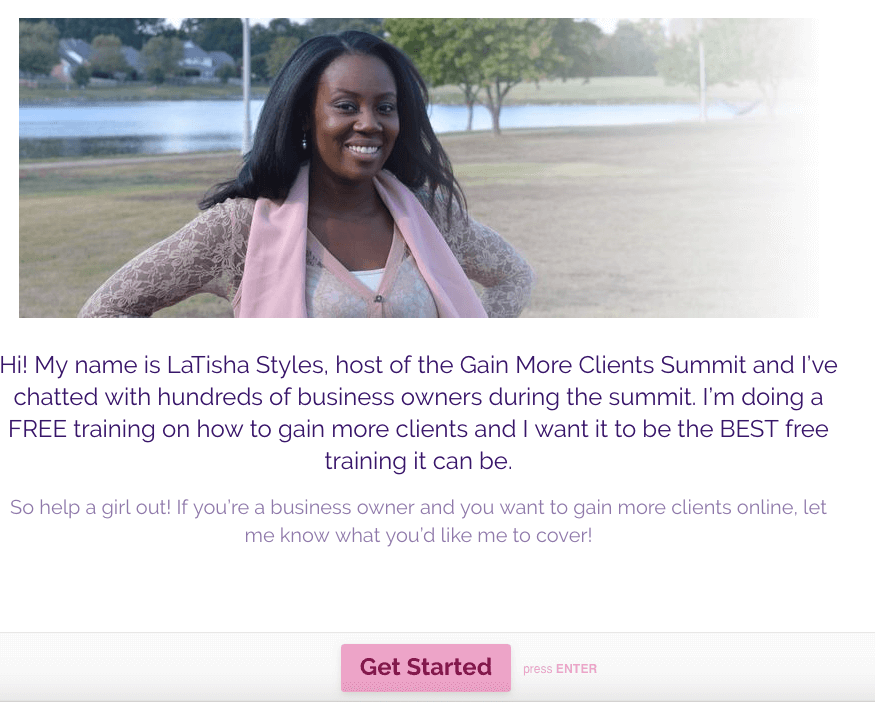 When creating a webinar, most will begin at the natural start of the webinar funnel by thinking about the registration page.
But the foundation of a great webinar starts with an offer that your ideal client actually wants.
To figure out exactly what your ideal client wants, I recommend that you run a survey.
You can email your list to ask them what they would like to learn about.
Usually, if you are experienced in your topic, you tend to forget it was like to be a beginner. Creating a survey helps you reconnect with that beginner version of you.
You can also create mini polls inside of your own Facebook group by asking poll type questions that have 3 or fewer options on your personal page. You can also research using Facebook groups or LinkedIn groups.
Gain Coaching Clients From Webinars Step 2: Create The Webinar And Pitch
Now that you know the struggles of your ideal client, you can begin creating the webinar.
Crafting a compelling webinar is simply taking your ideal client on a journey through their fears, desires, struggles, and doubts.
Your webinar must encourage their dreams, justify their failures, allay their fears, confirm their suspicions and help them throw rocks at their enemies.
People will do anything for those who encourage their dreams, justify their failures, allay their fears, confirm their suspicions and help them throw rocks at their enemies. -Blair Warren
If you structure your webinar the right way, you won't have to do much "convincing" when it is time to pitch your offer.
Your webinar has done the work by including client testimonials, and the stories needed to speak to the buyer.
My Anti-Webinar™ formula is an easy template to create a persuasive webinar.
If you'd like to see exactly how it creates webinars in less than 20 minutes, I've included the training in the resource guide.
Gain Coaching Clients From Webinars Step 3: Create The Webinar Landing Page
A highly converting (30% or better) webinar landing page must include these elements:
A compelling title that encourages curiosity for the topic.
The date and time of the webinar.
The host and host's credibility.
What will be covered during the training. (While maintaining curiosity)
A registration button.
The registration page should then initiate an automatic email that goes to the registration email address.
Gain Coaching Clients From Webinars Step 4: Create The Webinar Ad
What is a good budget for a webinar ad?
That is a typical question. However, the answer will vary.
I recommend that if this is your first time running the webinar, that you budget for about one sale.
So if you are selling an offer for an on-demand course that is $197, your total Facebook ad budget for the webinar would be $197.
If you create the webinar properly, you should get at least one sale and that will cover your cost to acquire those new webinar registrations via Facebook ads.
Remember that you are not only getting sales from your ads, but you are also getting new potential buyers.
The cost per registration will vary based on your industry and where in the world you are targeting.
Use the webinar registration sheet in the resource guide to change the numbers and determine how much you can spend per webinar registration.
Gain Coaching Clients From Webinars Step 5: Send Emails To Keep Engagement High
Unless you are running a top of the hour automated webinar, you should expect show up rates under 70%.
Rates can even be as low as 30%. To increase this number I recommend sending at least 4 emails to your attendees.
Email 1: This email should send automatically when they register. Remind them what they registered for and what you plan to cover.
Ask them to reply back with what they like to learn the most or what about your topic seems hard for them.
Email 2: This email should go out the morning of or the day before. Send a valuable piece of content that is related to the webinar.
Maybe a short video or live stream of you sharing a small piece, or if you have a related blog post or podcast, that would be a good fit here.
Email 3: This email should send the morning of the webinar. Remind them where to go and what you'll be covering.
Email 4: Send this email 5 minutes after your official start time. Keep it short and include the link to join. Another more recent option that I like is sending a quick text via Facebook Messenger.
Using a messenger bot service, you can send a broadcast message to those that have requested to be notified.
Gain Coaching Clients From Webinars Step 6: Offer An Incentive To Keep Audience On
Provide something that you normally only offer to clients. Remind your attendees that you will provide this free offer when they stay until the end.
This does more than simply incentivize attendance until the end, it also opens a loop for everyone.
The incentives can be something like templates, a checklist, or a cheat sheet. The best is one that is in line with the training.
When you do a congruent incentive like this one, it provides the next logical step in the attendee's mind.
And it rewards those that are truly interested in making your training work.
Gain Coaching Clients From Webinars Step 7: Follow Up With Retargeting And Emails
And finally, you will find that the majority of your sales happen after the webinar has ended.
If you are creating the webinar so you can book calls and coaching clients, then your sales will come during those calls.
That's exactly what happened with my client Kevin. After the webinar we worked together, he booked 6 calls and closed 4 new clients.
In order to capture the people who signed up but then did not show up, you must send a follow-up series of emails.
You can also use Facebook ads to retarget those that signed up.
Remind them of the replay while it is live, then let them know when the doors are open to your program.
And finally, you can use Facebook ads to drive retargeted traffic back to the sales page if they abandoned the cart.
This is just one piece of a successful strategy to book coaching clients.
When you pair a webinar with a 4-step marketing funnel, you can systematically book clients.
Want to see how it's done?
Details here: https://youvegotclients.com/anti-webinar