Raise your hand if you've ever experienced a "squirrel" moment. Or you have a hard time focusing on one thing. Or when you set goals you tend to suddenly become aware of all these other side opportunities that distract you. If your hand is in the air, stick around because today we are talking about how to overcome shiny object syndrome.
This is a phenomenon that happens with a lot of creatives and entrepreneurs because there are so many moving parts in our business and there are multiple categories to put goals in. However, this leads to a lot of multitasking, and doing a lot of work, and not getting anything done. This brings us to my first tip for how to overcome shiny object syndrome.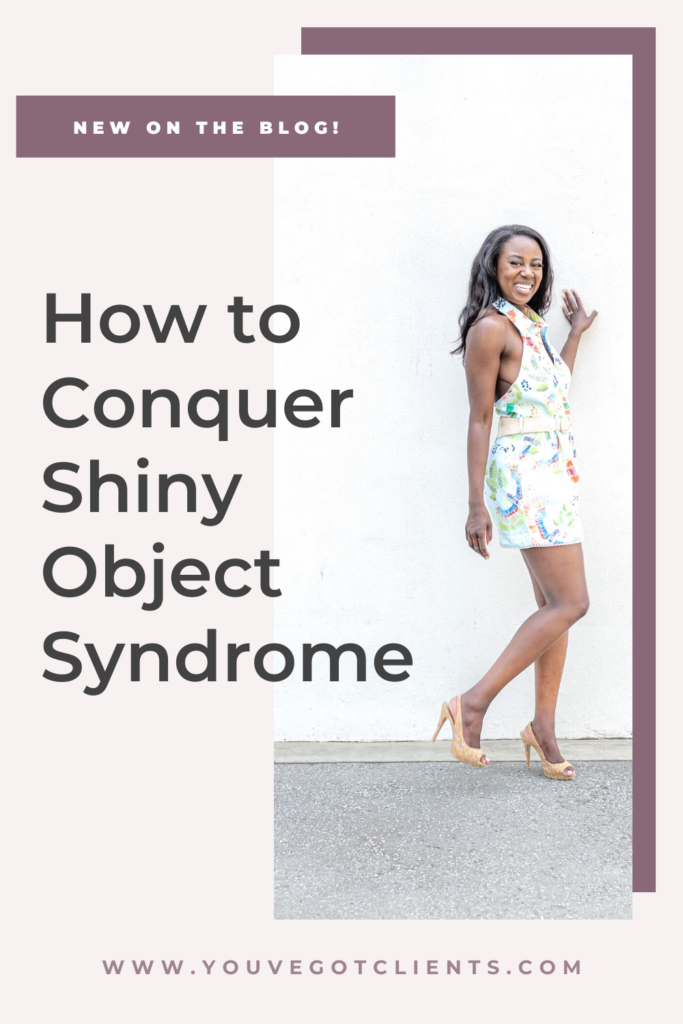 How to Overcome Shiny Object Syndrome Step One: Set Your Long Term Goals.
Your long-term goals are those things that are maybe one year, five years, or even longer. For me, I start with my 5-year goal, and then I break that down into 3 year, 2 year, and one-year segments. I'll even go down to 90-day and monthly goals so that little by little it all adds up. If thinking about that far into the future wigs you out then simply start with a 90-day or a month-long goal. The more you practice this the easier it will get.
I recommend this for combating shiny object syndrome because this goal will act as an anchor for your business. There is one thing you can always come back to that you know is going to be needle-moving. This can keep you focused and less tempted to stray into different side projects along the way.
How to Overcome Shiny Object Syndrome Step Two: Ask Yourself With Everything That You Do, "Is this moving me closer to my goal or further away?"
Something that we like to say in my house and we use often is, "is this a credit or a debit?"
If you're looking at your accounting sheet and you're looking at your goal, is that thing you're doing a credit that will move you closer to your goal? Or is it a debit that'll move you further away from your goal? That will also help you to get clarity in your business.
Let's say that your focus is that I need to grow my email list and you already know that's the goal. It's not something you just chose because you think it's what you should do. You know specifically that this is what you're supposed to be doing right now. Then suddenly you see a new course that's how to brand your Instagram. You've always wanted to brand your Instagram. It's been on your marketing radar, and you know that you would benefit from this course.
HOWEVER, is it getting you closer to growing your email list? Or is it going to distract you for a few weeks and pull all your attention back onto IG?
It's also possible to justify almost anything. Let's say you're looking at the Instagram course and you think "Well, if I have better content then I'll get more followers and more followers will lead to more people tapping the link in my bio, which will lead to people signing up for my email list."
Yes, it's justifiable, but you have to be honest with yourself here. Does the IG course just seem more fun? Do more followers feel sexier than a bigger email list? Are you avoiding your email list because you don't understand it? Being clear is the best thing you can do for yourself here, and have strong goals that you can always fall back on and realign yourself with.
Tip: This might be a time to make a challenge with yourself. Tell yourself that if you grow your email list by "x" amount, or you accomplish your monthly checkpoint or goal, THEN you can buy the Instagram course. Then, it's a choice, not a distraction — and you made progress to get there.
How to Overcome Shiny Object Syndrome Step Three: Get a Coach.
Get a mentor or someone who can help you. Even if it's a consultant that's just saying, "Here's the roadmap, here's the project, and here are the steps we're going to take to get there."
Going back to our Instagram vs email list example, if you're trying to justify the Instagram course saying that it's going to help you to grow your email list, you could go to your coach. It gives you someone to brainstorm with and talk through ideas and concepts — while also holding you to the standard you want to be at. They hold you accountable to your goals and they remind you of why you need and want to stay on track.
The reason why people experience exponential growth when they hire a coach is largely that they are being held accountable. There is someone there to toss around ideas with, and someone to keep you aligned and on-mission.
If you want to truly overcome shiny object syndrome, hire a coach and start crushing your goals now.
This brings me to invite you into The Path to 6-Figure Coaching Program.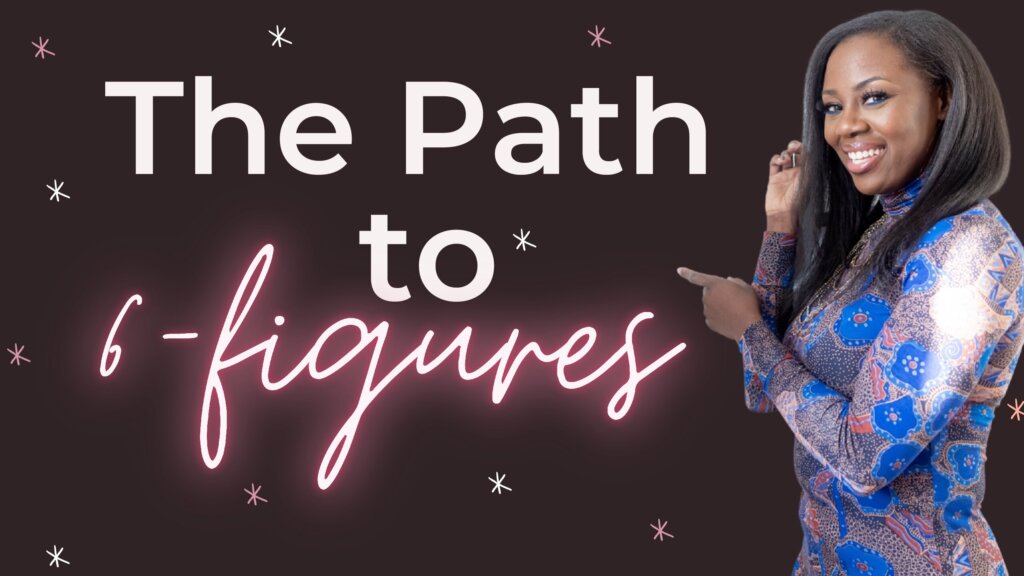 This is a hybrid coaching program where I work with you to establish goals, systems, and a blueprint to get you on the path to having a 6-figure coaching business.
This is a highly detailed, curated system that allows you to create an environment where clients aspire to work with you. Where they are naturally attracted to your brand, and seek out your services.
Can you imagine not having to cold-call or pitch yourself to anyone ever again?
>>> This is the system that created my multiple six-figure coaching business.
>>> The formula my clients have used to turn $10,000 into $100,000 within their businesses.
>>> The strategy that gained the attention of Forbes and Business Insider.
All here, mapped out, for YOU.
The Path to 6-Figures program is broken down into 4 steps: Engage, exchange, establish, enroll. 
Within these steps, I give you every single resource and strategy you need to start attracting your ideal clients and get you in the coaching arena.
Resources like:
>> An Ads Masterclass and Targeting Guide
Ahem… don't like running your own ads? We will run your ads for you and guarantee results!
>> Landing Pages and Templates are done for you that are proven to convert
>> Scripts that show you exactly what to say to pitch a scheduled call
>> Easy-to-use response templates
>> The 9 step email sequence that is proven to convert clients
>> Our "introvert-friendly" way to generate new leads
>> Our scary-good sales script for your discovery calls
… just to name a few
Truth Bomb…
Instagram followers are not clients.
Clout is not going to pay your bills.
Leads only work if they convert.
Cash is king, and you need actual money coming through your business if you want this to be more than just a side-hustle.
… and I have the blueprint you need to attract clients that LOVE to pay you.
Here's the thing…
You can't afford to make less than 6-figures as a full-time coach.
There is not a magic age or a perfect number of years of experience that give you the credentials to be a business owner.
Even as a brand-new coach, with no following and no experience, you can land your ideal clients.
This is what I know to be true in this industry, and I figured out exactly how to make it happen.
The Path to 6-Figures program is designed not only to align you with your ideal, high-quality clients but to attract and convert them with the customized systems we put in place.
The first step is to join my FREE training, The 4 Step Client Gaining System that Turned $10,822 Into $102,953 
Where you will discover…
How to package & sell a five-figure coaching package (and where to find the clients ready to pay!) – or how to just double your current coaching rates to start
Why discovery calls end with "I can't afford it" and the effortless marketing upgrade that captivates high-ticket clients ready-to-pay.
The "Popcorn" method that led to $44,000 in revenue with zero sales calls
Once you discover this you'll never have to use sales call tactics again.
Case studies of successful students who used our system to book their coaching clients faster than they thought possible, and create a sustainable income as a result
Or if you're ready to get starting right now, text 901-509-9337 and say, "I want a Profit Plan".
I'll see you at the training!