How to get coaching clients from social media, don't we all love this topic? As much as we can complain about the algorithm, or the saturation, or the ever-changing platforms — we can all acknowledge that social media is the best free tool there is to obtain clients online. It's one place where everyone hangs out and sometimes are actively looking for people just like you.
These are platforms where we get to connect, meet new people, and organically sell our services. It's where we create the atmosphere to invite potential clients in and show them what we can do.
Did you know that a majority of my coaching clients have come from social media?
Out of the hundreds of clients I have worked for, I've had maybe one or two come from in-person interactions.
As an introvert, social media has been instrumental for me in running my business. I'm someone who chooses to work behind the computer, who likes putting systems in place, and I'm creating a business that allows me to recharge my introvert battery all day.
I use both paid and organic methods, but for the topic of how to get coaching clients from social media I want to focus on the organic, and how you can attract high-quality clients for free.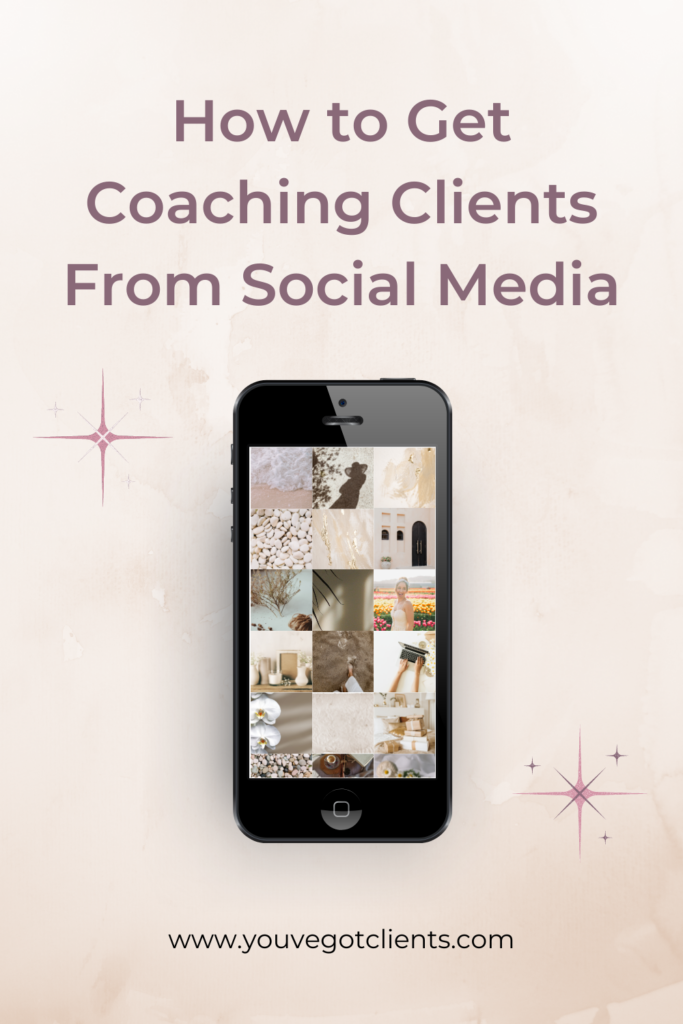 How to Get Coaching Clients from Social Media
Number one: Update your profile pictures.
When you're on social media your profile is like your billboard. It's the, it's the mini advertisement of who you are, who you're looking for, what you can offer them. It's a quick, two-second medium that lets people get to know you without having to scroll all the way to your website.
Given that this is your first impression, wouldn't you want to be as intentional as possible?
To have the most dynamic, effective profile picture I recommend these tidbits of advice:
Make sure the photo is clear.
Have your profile picture be a professional headshot of you.
Don't do a group picture — just you.
Have the photo be from the waist up, not a full body, let them see your face!
Be looking at the camera and SMILE.
It might seem like a lot for a little, but this first glimpse is important. When someone comes across your clear, professional, friendly photo online there's an automatic chance to build trust and encourage them to take that first step and click on your profile.
Number two: Update your cover photo.
This one is specific to Facebook, Linkedin, and Twitter — many underestimate the power of the cover photo. Especially when it comes to your business page, this is your chance to capture the attention of the viewer right away. You can take the opportunity to offer a freebie, a training, or feature your current offer. You can also take the space to express what you do and what you're about.
On my LaTisha Styles business page, I have a free training offer as my cover photo and then on my personal page, I have an inspirational quote. This is really your space to utilize how you please, but don't waste it!
Here's how to do this:
Use Canva and search the cover photo template for the platform you're trying to use.
Find a template or create your own design.
Insert photos of your work or face.
Utilize your branding colors and fonts.
Download and upload!
Number three: Talk about your topic.
This one is kind of scary, but hear me out — too many people avoid talking about their business or professional interests on social media. I've also heard every excuse in the book,
"Nobody cares what I have to say."
"I don't want to be annoying."
"People will unfollow me."
"There's already someone else doing it."
"I'm not the best out there."
Starting right now, we are going to stop with these alright? How can you expect to get clients online if they have no idea what you do, what you're about, and how you can help them?
I'm not saying you have to scream and shout 10x a day. All I'm asking you to do is talk about it like you would to anybody. This is what you're interested in right? Where your passion lies? Then you should have lots to say!
Here's what I would do:
Talk about a session with a recent client and how you achieved a transformation.
Use a testimonial as a caption.
Do a "day in the life" and how you coach.
Talk about your favorite personal transformation.
Take a blog post and chop it up into 3-4 social media captions.
Number four: Be a human, not a spam bot.
Taking everything I said in #3 into account, you don't want to be too salesy or come across like a spam bot. Feel free to integrate your personal interests and personality into your feed! It's OK to be human, to have interests outside of your business, to have friends, family, and pets you love to take pictures with.
Do you want to know a secret? People actually love to see it and they'll trust you more!
It's kind of like going to happy hour with some girlfriends. It would be kind of boring to just sit around talking about work the whole time right? Your social media is kind of the same thing. Let your potential clients get a sneak peak into your life, your personality, and let them fall in love with you!
Here's what my feed looks like:
We integrate offers for my coaching business and I post funny videos.
Often, I talk about my fitness journey and I do IG story updates on my way to the gym.
There are days when showcase my meal prepping and my coaching client transformations.
One time I talked about my Louis Vuitton purchase and how my business got me there.
There's also no shame in posting about something in your life and adding an offer to the bottom. You can totally say, "Hey I went on an awesome run today, wore my favorite leggings, and by the way, have you seen my freebie yet?"
Just act like you're talking to a friend and the energy will feel authentic and effortless.
If you want more information on how to fill your coaching programs using social media and more, check out my free training where I share five steps to getting coaching clients FAST — or you can opt-in for my new Create & Fill course!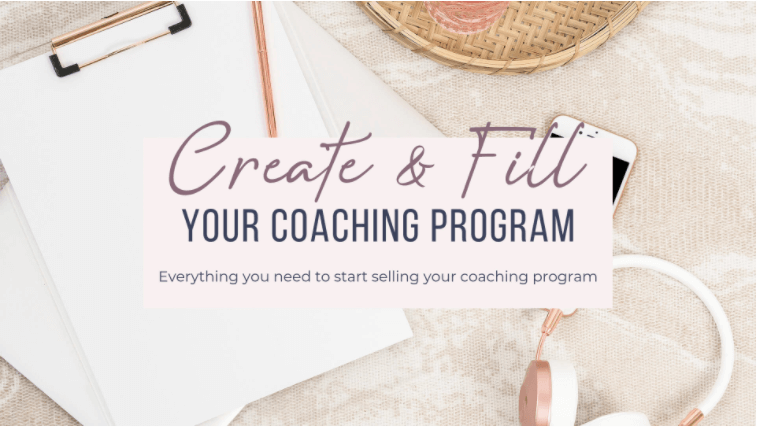 Create & Fill is a step-by-step course with everything you need to create and sell your signature coaching program.
In Create & Fill, I share exactly how to structure your signature coaching program, what content to include, how to get clear on your ideal client, and how to meet them right where they are, so you can attract them with your message.
By the time you complete Create & Fill, you'll know how to price your coaching program, how to pitch to high-quality clients, where to find actual buyers (yes they hang out in specific groups), and what to include in your program.
I'm so excited to share this with you because as someone who literally built a coaching business from scratch…
…with no network
…little experience (or so I thought)
…no email list
…and no clue
I'm here to tell you that it's 100% possible to create a signature coaching program that gets results for your clients and creates a sustainable income for you.
I spent months and months figuring all of this out. I failed over and over again, but I kept getting back up.
The Create & Fill Your Coaching Program course is a brain dump of everything I've learned over the past few years.
Now you get to skip all the hard stuff and just do what works.
I'm going to share everything you need to start selling your signature coaching program.
As always, I make sure you have everything you need to succeed.
That's why I'm sharing:
worksheets
checklists
launch guides
click-by-click tech walkthroughs
my personal sales scripts and,
video trainings
You'll also get:
An additional training on How to Overcome Objections and the actual coaching contract I use for one-on-one clients.
It doesn't stop there.
My goal for you is that you become confident selling at every level, even when selling coaching packages priced at $10,000 or more.
That's why you're getting the best-selling program Package & Profit which will help you continue to upgrade your marketing as you begin selling higher-ticket coaching packages.
*PAY IN FULL BONUS*
Inside this 4 part video series, I walk you through the mind of a high-ticket buyer, how to position yourself as a high-ticket coach, how to price your high-ticket offer, and how to close sales of high-ticket packages.
Just because you start at one price, doesn't mean you have to stay there.
I started selling my one on one coaching at $800 for 8 weeks. Now the investment for my coaching programs range from $3,000 to $36,000 and up. Clients invest in retreats, one on one coaching, group coaching, and high-level courses.
What's important to me is the clients that I've been able to help. They've been able to get results like booking their first clients, shifting mindsets, and generating six-figures in less than a year.
It's time to finally create and fill your coaching program.
P.S. If you're joining this program today, you're going to LOVE the additional support you're getting, so you never feel left behind.
Immediately after registering, you'll get access to our private student group.
You can network with fellow coaches, former students, and share your wins.
Plus, if you ever get stuck while moving through Create & Fill Your Coaching Program, you'll be able to get peer support and you'll also get help directly from me.
I am active in the group sharing updated trainings, additional tips, and live coaching calls.
Need a little more convincing? Click here to read the testimonials and get a sneak-peek inside the course!