Attract High-Ticket Clients Using Law of Attraction, with LaTisha styles. Here's the thing, sometimes posting online and creating content isn't enough to attract your ideal, high-paying clients. There are times when you need to tap in energetically and shift your mindset to up-level in your business.
To help explain this concept, let me ask you this:
What does it feel like to make a purchase online?
You find the product, pay for it, but it still takes a few days to actually get into your hands depending on the length of shipping.
You don't get instant gratification, you don't even know if you're getting exactly (to a T) what you asked for, but still, you wait in pure confidence.
Confidence knowing that your order is on it's way to you.
That's what it's like to attract high-ticket clients using the Law of Attraction.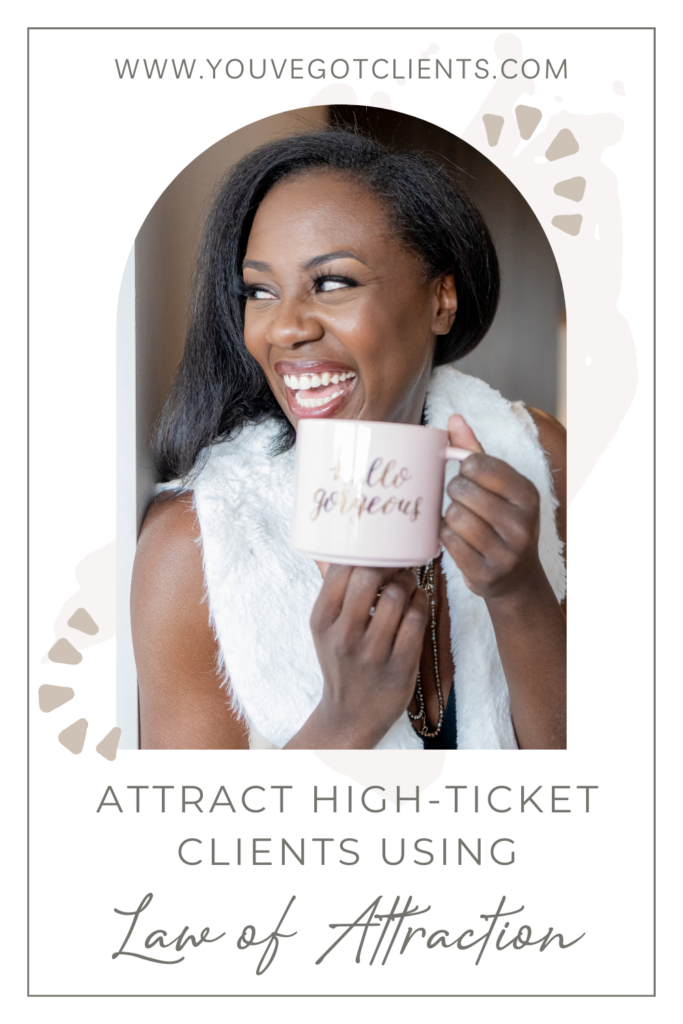 When I first heard of the Law of Attraction was in regards to the book, The Secret, and in that book, they reference this practice as when "like attracts like". Meaning that if you want to attract something, you have to channel and become that same thing.
Personally, I notice this in my own life. I tend to hang around people who are similar to me and who have a similar vibe. Our thoughts, actions, and mindset align — which not only keeps me in a positive state but helps me achieve my goals because they are goal-driven themselves.
If you take a step back and assess your current surroundings, you can see how you already practice the Law of Attraction, but there are ways to be more intentional about it.
When attracting high-ticket clients with the Law of Attraction there are a few things to bear in mind.
First off, you have to get very clear on what you're wanting to attract into your life because if you are unclear, or trying to force something that doesn't feel aligned, you'll ultimately self-sabotage.
For example, you can say that you want to take on 10 more clients, but there may be a part of you that's resistant to the amount of work you'll be taking on. Or you could feel like you're not charging enough so you're resentful that you have to take on more work to make the money you want. When really, deep down, you want to take on more like 5 clients for double the cost.
This happened to me when I was just starting out. At first, I wanted to have an entire business built on group and one-on-one coaching, but I knew that there was a part of me that loved being in front of the camera. I ultimately wanted to be a public figure but was afraid to actually say that — or I just didn't believe it was possible.
Working on this level my business was stalling out and I couldn't get more one-on-one clients because I was resisting. It wasn't what I actually wanted and I had to analyze from a different perspective. I had to pivot and really be honest with myself on what I wanted. Then, when I restructured my business to be more like 70% coaching and 30% passive income (creating content, selling courses, affiliate marketing, etc.) it was like the floodgates were opened.
I went on to make $15,000 months that summer.
Therefore, when I say that you need to get clear, I mean you have to be super raw and honest with yourself, and you have to be prepared to make a change. It can be humbling, and a little scary to follow the path of your desires, but that could be exactly what you need to make it big.
Once you get clear, remember that The Secret talks about the Law of Attraction in the sense that like attracts like. Meaning that you have to become what you're trying to attract.
Since we're on the topic of high-ticket clients, I'll use that example. If you were to practice the Law of Attraction, trying to bring on high-ticket clients, the idea would be that you would need to become a high-ticket client yourself.
By all means, I'm not saying you have to buy one of my courses in order to attract your own clients — I'm saying that you need to channel and understand the perspective of the kind of people you're trying to attract.
What does it feel like to invest in a coach?
How do you come up with the money?
Does it feel different to pay in full or do a payment plan?
High-ticket also doesn't mean the same thing to everybody. To me, when I invested in my first high-ticket offer it was a $2,000 course that I had to do a year-long payment plan for. I didn't have the $2,000 to spend, but I had faith that I would come up with the money, and I did.
Keep in mind that my $2,000 could mean someone else's $20,000 or could mean your $200.
No matter what the number is, this investment should feel like a little bit of a stretch. To invoke a bit of fear, and push you to level up in an area of your life.
Doing this will channel the feelings of being a high-ticket client and attract those same types of clients in return.
Using the Law of Attraction has consistently helped me grow my business, and helped me align with what I truly want out of my life and business. It's about time you attract high-ticket clients using Law of Attraction in your own business!