Attract High-Ticket Clients Using Law of Attraction, with LaTisha styles. Here's the thing, sometimes posting online and creating content isn't enough to attract your ideal, high-paying clients. There are times when you need to tap in energetically and shift your mindset to up-level in your business.
To help explain this concept, let me ask you this:
What does it feel like to make a purchase online? 
You find the product, pay for it, but it still takes a few days to actually get into your hands depending on the length of shipping. 
You don't get instant gratification, you don't even know if you're getting exactly (to a T) what you asked for, but still, you wait in pure confidence. 
Confidence knowing that your order is on it's way to you. 
That's what it's like to attract high-ticket clients using the Law of Attraction.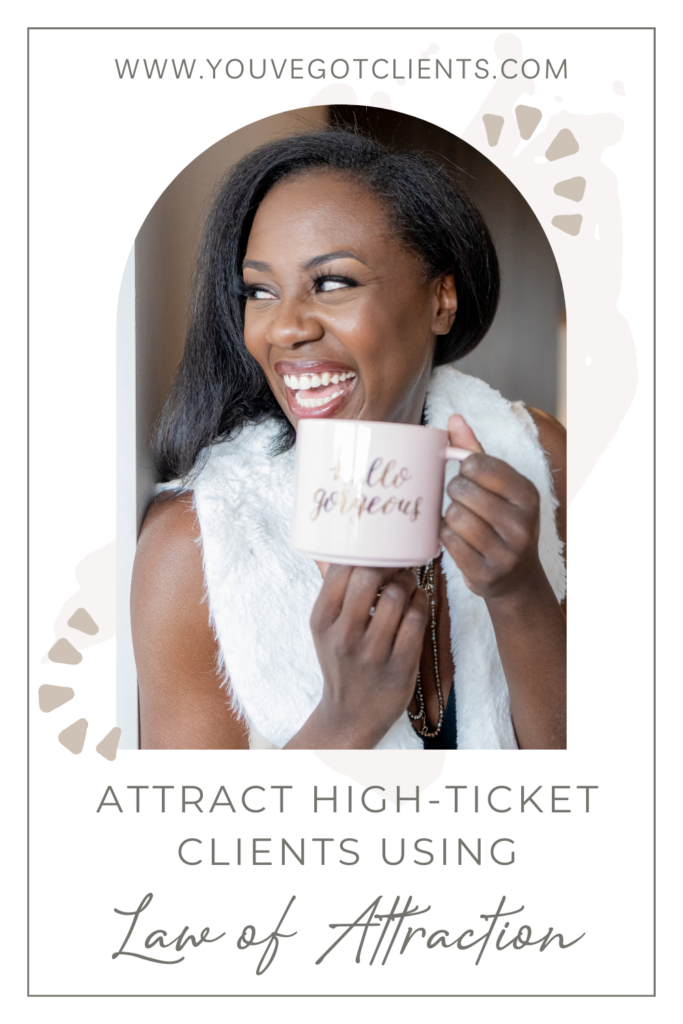 When I first heard of the Law of Attraction was in regards to the book, The Secret, and in that book, they reference this practice as when "like attracts like". Meaning that if you want to attract something, you have to channel and become that same thing. 
Personally, I notice this in my own life. I tend to hang around people who are similar to me and who have a similar vibe. Our thoughts, actions, and mindset align — which not only keeps me in a positive state but helps me achieve my goals because they are goal-driven themselves. 
If you take a step back and assess your current surroundings, you can see how you already practice the Law of Attraction, but there are ways to be more intentional about it. 
When attracting high-ticket clients with the Law of Attraction there are a few things to bear in mind.
First off, you have to get very clear on what you're wanting to attract into your life because if you are unclear, or trying to force something that doesn't feel aligned, you'll ultimately self-sabotage. 
For example, you can say that you want to take on 10 more clients, but there may be a part of you that's resistant to the amount of work you'll be taking on. Or you could feel like you're not charging enough so you're resentful that you have to take on more work to make the money you want. When really, deep down, you want to take on more like 5 clients for double the cost. 
This happened to me when I was just starting out. At first, I wanted to have an entire business built on group and one-on-one coaching, but I knew that there was a part of me that loved being in front of the camera. I ultimately wanted to be a public figure but was afraid to actually say that — or I just didn't believe it was possible. 
Working on this level my business was stalling out and I couldn't get more one-on-one clients because I was resisting. It wasn't what I actually wanted and I had to analyze from a different perspective. I had to pivot and really be honest with myself on what I wanted. Then, when I restructured my business to be more like 70% coaching and 30% passive income (creating content, selling courses, affiliate marketing, etc.) it was like the floodgates were opened. 
I went on to make $15,000 months that summer. 
Therefore, when I say that you need to get clear, I mean you have to be super raw and honest with yourself, and you have to be prepared to make a change. It can be humbling, and a little scary to follow the path of your desires, but that could be exactly what you need to make it big. 
Once you get clear, remember that The Secret talks about the Law of Attraction in the sense that like attracts like. Meaning that you have to become what you're trying to attract. 
Since we're on the topic of high-ticket clients, I'll use that example. If you were to practice the Law of Attraction, trying to bring on high-ticket clients, the idea would be that you would need to become a high-ticket client yourself. 
By all means, I'm not saying you have to buy one of my courses in order to attract your own clients — I'm saying that you need to channel and understand the perspective of the kind of people you're trying to attract. 
What does it feel like to invest in a coach? 
How do you come up with the money? 
Does it feel different to pay in full or do a payment plan? 
High-ticket also doesn't mean the same thing to everybody. To me, when I invested in my first high-ticket offer it was a $2,000 course that I had to do a year-long payment plan for. I didn't have the $2,000 to spend, but I had faith that I would come up with the money, and I did.
Keep in mind that my $2,000 could mean someone else's $20,000 or could mean your $200. 
No matter what the number is, this investment should feel like a little bit of a stretch. To invoke a bit of fear, and push you to level up in an area of your life. 
Doing this will channel the feelings of being a high-ticket client and attract those same types of clients in return. 
Using the Law of Attraction has consistently helped me grow my business, and helped me align with what I truly want out of my life and business. It's about time you attract high-ticket clients using Law of Attraction in your own business!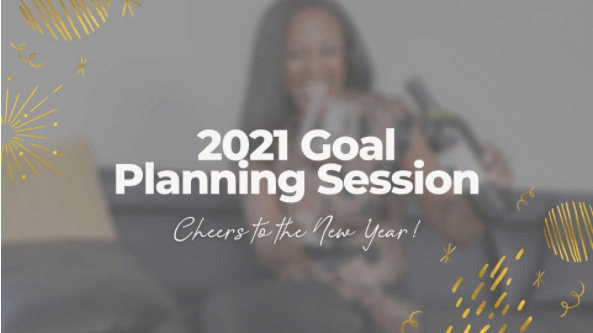 For 3 days (or 2 if you choose), we'll celebrate 2020, give thanks, and bring in 2021 with our eyes set on new heights.
Bring a glass of wine, a pen, and all of your abundance mindset.
You guys, I DOUBLED my income in 2021 — during a pandemic, recession, and what was supposed to be the worst year ever. Yet I believe that millionaires are created during downturns. 
When the world felt like it was falling apart around me I put my head down and got to work. I pulled out my notebook, planned out launches, marketing, and wrote my goal number each day.
I knew that I would keep running towards my goal, no matter what.
12 months later and not only did I reach my goal, but 2021 is projected to be my first million-dollar year… but I'm getting ahead of myself. First, let's review 2020.
The 2020 Year in Review 
An overview of what actually moved the needle
– I'll share more about how I did ads differently this year, what mindset shifts I made, and the "why didn't I do this before" launch strategy that set my entire year in motion
What I accomplished this year
– Every year I look back at what I've been able to accomplish. This year is no different. Join me for a quick reflection on the wins.
Where I struggled this year 
– Struggle is not necessary, but somehow it often finds its way in. I'll share my main struggles and how I plan to turn those into wins in 2021.
The 2021 Goal Planning Session 
How to set your annual goals – We'll cover goal setting that actually works, how to protect your income, and what key numbers you should be tracking.
How to create your annual marketing calendar – We'll cover a simple, intermediate, and advanced marketing calendar so you can choose the one that works based on where you are now. (I'll even give you a plug and play version that you can use for your own calendar)
Practical launch strategies – You'll discover the number one thing that shifted my business dramatically in the past year. And I'll share the simplest way for you to get your own launch going.
How to make sure you succeed this year – I realize nothing is promised. But there are always people winning. Why not you? You'll learn how I manifest results, hold the vibe, and the money habits I put in place that grew my net worth significantly in one year alone. 
By the time you leave the 2021 Goal Planning Session, you will have a clear plan for your next launch, an outline of your entire year, and confidence that you can reach your goals in 2021. 
There are also options for a base and a VIP experience! 
The 2020 Breakdown (VIP versus Base Ticket)
[Base] – Where did my revenue come from (percentage breakdown)
[VIP] –  Where did my revenue come from (dollars and cents breakdown)
[Base] – How to save money on your tech stack. The main software I use to run my business.
[VIP] –  The exact software that I use and how much I spend each month on it.
[Base] – How to create an ad that pays for itself and grows your audience quickly. How I set up an ad, my thought process, and the steps I take to find a winning ad.
[VIP] –  The exact ad that brought 30,000 new email subscribers and $50,000 in cash
[Base] – How to create a year-long marketing plan. What to consider to maximize profit
[VIP] –  My full 2020 marketing campaign. What I sold, how much I made, what I would change.
[Base] – How to hire help. Who should your first hire be? The job description I've used to hire my assistant. Where to look for assistants.
[VIP] –  How I manage my team. Why certain hires didn't work. Where I go to get new hires.
I will be hosting this program LIVE on Zoom. However, there will be a recording if you are not able to make it live.
LIVE SESSION DATES:
***NEW DATES***
VIP CEO Boardroom Session – Friday, January 8th, 3 pm EST
Session 1 – Saturday, January 9th, 2 pm EST
Session 2 – Sunday, January 10th, 6 pm EST
Should I get the VIP or Base Ticket?
Only if you want the *full* experience! 
Your VIP Ticket includes a CEO Boardroom session on Sunday (with recording).
During this session you'll see a behind the scenes breakdown of 2020, peek into my marketing calendar for 2021, and have an exclusive Q&A just for you and other VIP attendees.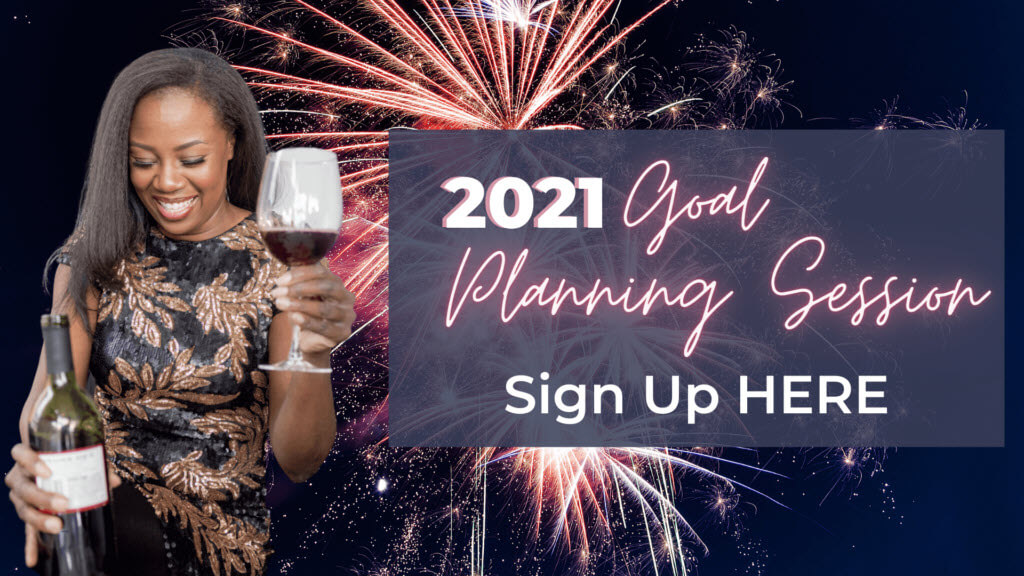 To learn more about me and my coaching services, check out my work at www.latishastyles.com