I was first introduced to the concept of lifestyle design when I was introduced to the concept of the Law of Attraction and manifestation. I realized that there were certain people out there who had decided to design their own life — income, relationships, opportunities, and I wanted in on it. It took heavy mindset work, getting super out of my comfort zone, and getting extremely clear and intentional, but once I did that, everything fell into place. Today I'm telling you all of my secrets and we are going to discuss how to design your lifestyle for beginners.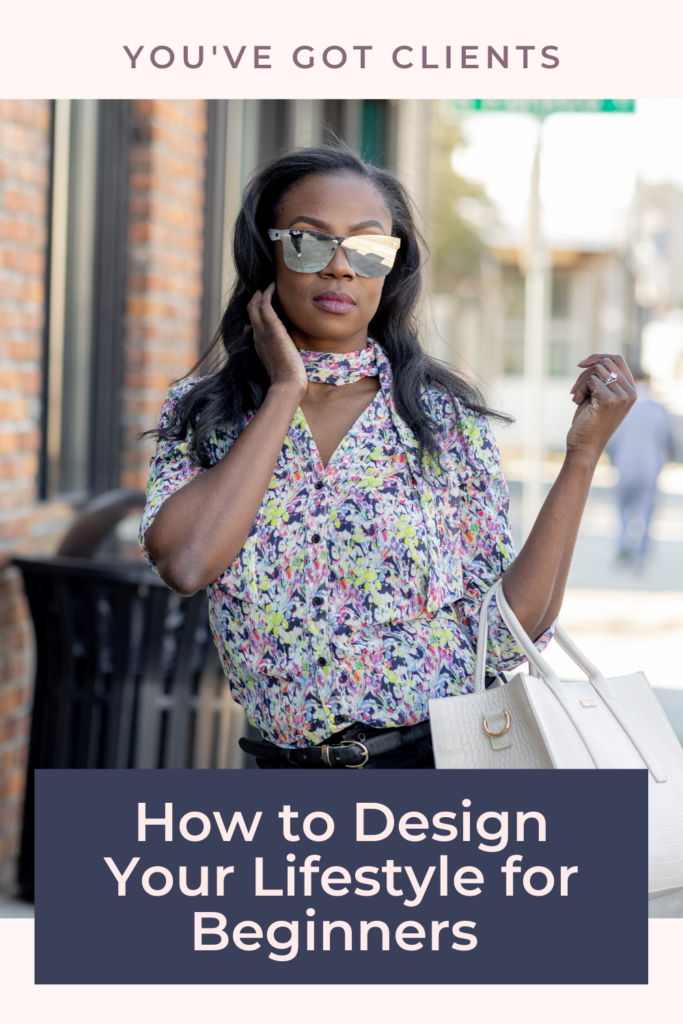 My first step on how to design your lifestyle for beginners is to look at what frustrates you in your current reality.
If you want to take hold of your circumstances it's easy to first start eliminating what's holding you down. Think about where you live, your job, your relationships, your habits — look at your lifestyle as a whole and section out what you would get rid of if you could. 
A few examples:
Does it frustrate you that your town doesn't have many opportunities or career options?
Does your job offer growth opportunities that excite you?
Are your everyday habits leaving you feeling good at the end of the day? If not, why? What could you change?
Step two on how to design your lifestyle for beginners is to define your perfect day and picture your dream life.
When do you wake up? How many clients do you work with? When do you work out? What do you eat for lunch? Who do you eat lunch with? Try to get as specific as you can, and take some time to imagine what a perfect day-in-the-life would feel like for you.
A really helpful exercise in doing this is to create a vision board.
This can be a paper and glue situation or on Pinterest, create one on Canva, whatever feels best for you. Many people are visual manifesters and having something to look at and remind them of their goals can be extremely helpful and keep their eye on the prize.
It doesn't have to be perfectly curated or anything, just start with adding anything that pulls an emotional reaction. It can be words that describe the person you want to be. Locations of where you want to live or visit. Outfits that you will wear, events you'd attend. Even if you just like the vibe of the photo, that's good too.
This is the first step towards bringing your desires into reality.
Step three on how to design your lifestyle for beginners is to get extremely clear on what you want.
It's not helpful to want something for the sake of wanting it, or that you think you should want it. It also needs to be in the scope of what you can imagine and picture for yourself. For example, it's not a great idea to just say, "I want a million dollars". Yeah, of course, everyone wants more money, but why? How would a million dollars change your life specifically? What would you spend it on? How would your life adapt to that income? You want to get as clear as possible.
For example, I knew that I wanted to make a certain income working for myself because I desperately wanted the freedom of time. I wanted to be able to travel to see my family without taking time off. I wanted to be able to take naps if I wanted, eat when and where I wanted, work when I wanted, and take time off when I wanted. That was more important to me than anything, and it was one of the first things that came to fruition for me.
Step three on how to design your lifestyle for beginners is believing that it's all possible and being open to receiving it in whatever way it chooses to come to you.
Bottom life, we don't know what we don't know. When we try to control how our dreams and desires come to fruition we lose the ability to accept them in different ways. Opportunities could come completely out of the left-field, but when you're so focused on the "how" you might miss them.
You also have to believe that you are worthy of your desires. Become an open and easy channel for good things to happen and stop resisting. Stop letting your limiting beliefs run the show, stop giving in to the imposter's syndrome, and stop thinking that you're not good enough to receive.
Self-sabotage is a very real thing and you want to avoid that at all costs when designing your lifestyle.
This is the hardest part, which is why I created The Art of Allowing to help make it easier.
This is a special series I created to help you release your fears, doubts, and disbelief, and allow in confidence, certainty, and of course… cash
During this series, I'm going to share with you:
Ways I recode my beliefs daily, and how you can create your process to consistently level up
Become more confident in your ability to manifest what you want
How to know if what you're hearing is truth or a lie in disguise (unfortunately both are quiet voices, but the truth makes you feel different)
Why life used to be a struggle and how I shifted into a wild and free life filled with a booty, business, and a boo
The truth is that you can manifest exactly what you desire in all areas of your life if you only allow it in.
Join me for this special series, and I'll show you exactly how.