This post has been sponsored by Adding Zeros.
So what happens after you create a sustainable way tp bring in new clients? As someone who works with small business owners, and often pre-revenue small business owners; I know that just creating an email funnel to get coaching clients is not the end of the journey. In fact, it is often the start. Once you have a process for gaining coaching clients, and you're not worried about where your next dollar is coming from, you start to focus on bigger problems.

I started to run into some of these problems as I quickly realized that scaling a business requires funding. Lots of it. In my efforts to scale fast, I rapidly started spending the cash flow that the business was producing. I'll share the full story another day, but I bring that up to emphasize that I understand the struggle of adding additional zeros to your bottom line.
The Goal of a Successful Business
What's the goal of a successful business? Ask 3 people and you could get 3 different answers.
"Make the most profit possible."
"Help the most people possible."
"Change the world."
Is it possible to do all three?
In the book Pulling Profits Out of a Hat, authors Brad Sugars and Monte Wyatt answer the question, "What's the goal of a successful business?" with a simple response.
"THE BOTTOM LINE OF BUSINESS IS HAVING AN EMOTIONAL CONNECTION WHILE BEING SUSTAINABLE, PREDICTABLE, STABLE, & CONSISTENT."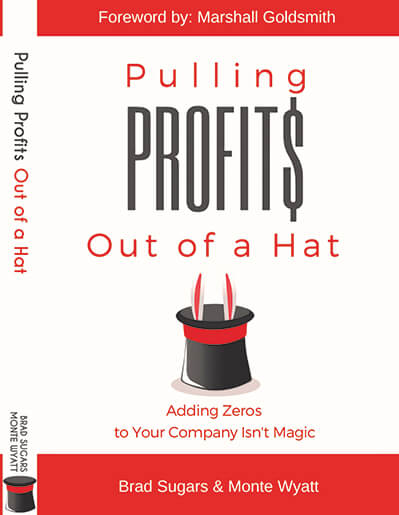 The book continues on with vivid examples off these characteristics from companies like Marriott, PayPal, Apple, Chick-Fil-A, and IKEA, among others.

These companies, in one way or another, have found their magic to create sustainable, predictable, stable, and consistent business, while having an emotional connection to their employees and clients.

The Secret to Experience Exponential Growth
Pulling Profits Out of a Hat begins with a conversation on exponential growth; the holy grail and desired goal of many businesses. If you could double profits each year, how would you feel? You'd probably feel like a magician, able to pull profits out of a hat.
The problem is , "…not everyone is willing to take the time and effort that exponential growth requires, which is why some people would prefer to think that it's magic instead of hard work and discipline."
But if you are willing to put in the time and effort, keep reading as the book moves on to define the keys to exponential growth to help you find the hidden potential in your business.
There are 5 areas of focus:
Strategy
Business Development
People
Execution
Mission
*Most Important: People over Profit = Profit Increase

In my opinion, the most impactful part of the book speaks on developing the team which in turn grows the business.
"When a company only thinks of profits, it ignores hundreds, thousands, and even millions of small things that it thinks are valueless, things like morale, employee engagement, employee retention, and its impact on our communities and the world at large."
As a solopreneur who decided to start a business partly because of a work environment with low morale, I can attest to this. It's so important to focus on team building, employee engagement, and creating 'intrapreneurs.' Those are employees with an entrepreneurial spirit who work inside of a company.
In summary, Pulling Profits Out of a Hat is the right book for any business owner, large or small, who wants to add a few extra zeros, experience exponential growth, and do it while impacting the world for the better.
Pulling Profits Out of a Hat is available wherever fine books are sold.
Discover more about the authors here:
MONTE WYATT:
https://www.montewyatt.com/
https://www.addzerosnow.com/
BRAD SUGARS
https://bradsugars.com/
https://www.actioncoach.com/
Description: Pulling Profits Out of a Hat is a new business handbook to help anyone in business multiply their profits. It's not magic that helps big companies find success. Brad Sugars and Monte Wyatt have identified 5 Disciplines to master to ensure that any business can get more profits and achieve sustained business success. This easy to read and practical guide offers insight on finding the hidden potential of any business enterprise. Pulling Profits Out of a Hat is the foundation of the company Adding Zeros which trains and certifies business coaches in the 5 Disciplines.