Do you feel like you're getting passed over by your clients? That they don't even notice you, or if they do, you're not getting the engagement, conversations, or leads that you're looking for? This is likely due to a lack in your overall marketing process, and it's costing you those quality clients and sales.
Sales and marketing are not the same, but one really can't happen without the other. Marketing is all about making the sale easier.
You wouldn't marry someone the first time you meet them right? You probably wouldn't even agree to date someone based on the first interaction. Your clients work the same way.
To think about it in terms of dating or courtship (not Netflix and Chill, think old school here), marketing is like partaking in a flirtation. You're having conversations and spending time together. Letting someone get to know you on a personal level. All of those things lead up to the decision of making a commitment.
The key to making your marketing more powerful is getting the right kind of eyes on you.
Attention is the marketer's number one currency because if I have your attention, I can inspire movement. If I can make you move, I can encourage a change. If I can help you get that change you're looking for, then you're much more likely to pay me. Which is why we're all here right? We want to utilize our knowledge and skills to help people make changes. Something we can't do that if they can't find us!
In order to get that coveted attention that we need, I am going to share with you my three tips for making your marketing more powerful. These are strategies I use in my own business that you can start implementing today!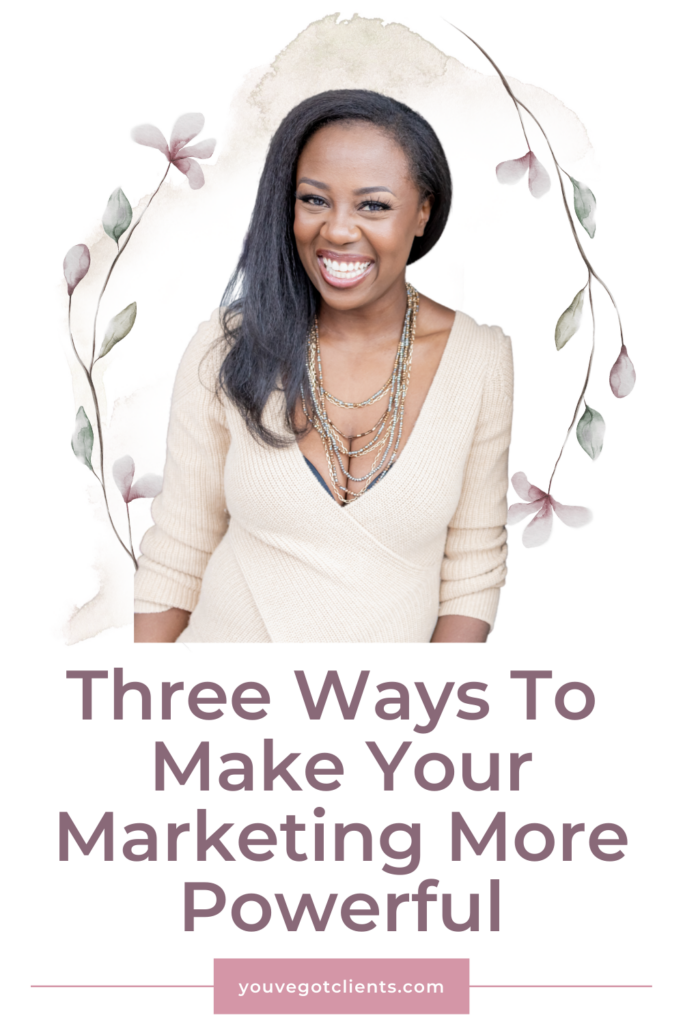 1. Focus on the Problem
A mistake I see a lot of coaches make in their marketing strategies is that they're jumping right to the solutions. They're strictly sharing education. Or they're just sharing helpful tips day after day. The most powerful marketing material makes the potential client feel like you're reading their mind. They need to feel seen, heard, understood, and that you're the person who knows how to help them.
When you identify the problem and let the person know that you're the expert who can help them. At which point, you have the chance to get on a call and diagnose the problem. Once the patient hears your brilliant action plan, they decide to sign on with you, and voila! You have a client.
For example, say someone's an ear doctor. I would avoid just sharing tips like clean your years twice a week, get annual checkups, etc. In this situation, you might have some people who will give it an occasional like or follow. Although, the likelihood that they're going to seek out the service of THAT particular doctor is slim to none.
On the other hand, say you've been having ear problems for a few days and came across this doctor's ad online. The ad expressed that this doctor knows how to help you if you have pain in your ear canal, get consistent headaches, or chronically hear a ringing sound. All symptoms you're currently experiencing. How much more likely are you to seek out advice from that particular person? This marketing strategy is so much more powerful because it identifies the exact problem you're currently facing. It's about being specific and positioning yourself as an expert.
Focus on the problem, and your clients will ask you how to fix them.
If you're not familiar with the problem that your ideal client has, then that's your first step. Don't be afraid to get in the weeds and pick the brain of your audience. Conduct surveys, make phone calls, try to see from the client's point of view.
2. Speak to One Clear, Ideal Client
This is also known as an avatar. Think about the problems we just talked about in step one, who would be the person to have that problem? There's a reason why they have it and the person next to them doesn't. Why they experience this struggle but their parents don't. They could have this problem and not even their brother and sister could relate. This person has a specific set of traits, works in a particular field, has unique goals, and they are looking for someone like you to understand and help them.
To have more impactful, powerful marketing, your next task is to define and create your ideal client avatar and start speaking directly to them. For more help on how to do this, check out my YouTube video: How to Create the Right Ideal Client Avatar
3. Create One Solid Piece of Content
This content needs to showcase the number one struggle your ideal client faces that you can solve for them. It's all about distilling down to the very base of your business, who you serve, and how you're here to help. Try thinking about your ideal client avatar and ask yourself:
What is the most impactful fear that they have?
Can you identify their strongest doubt?
Will they have objections for why it might not work for them?
Is there one particular thing most people have already tried?
Once we flush out that message, your client will have no doubt that you're the coach that they need.
Of course, there's also a place for more generic content and being able to speak to a larger quantity of people. My Youtube channel is full of generic content, and while my avatar is a coach, it can still be relatable to business owners. There is room for that, but when you're marketing your offer (and you want to make sales), the more specific you are, the better. You need to have one clear piece of content, and one clear call-to-action. For more information on how to create this kind of content check out my, The Path to Six Figures training! 
Marketing is about building the bridge from a stranger to a client. There are ways to influence the journey to work in your favor.
This is your time to build a connection, to position yourself as the expert, and to establish trust with your ideal target market. If you want to see more about how I help coaches build their dream businesses come hang out with me in my Path to 6-Figures Coaching Course!
In this course, you will learn exactly how I generated a 6-figure coaching business, and how we can customize these strategies for your practice. To give you the scoop, and to determine if this is the right coaching program for you, we would schedule a Profit Planning Session.
This is a free one-on-one phone call with me. Together we are going to analyze your business, determine your high-ticket offer, and figure out who your ideal target market is and where to find them.
It's about time you up-leveled your marketing and started making major moves in your business!
To book your Profit Planning Session just text me at 404-410-0779 and say, "I want a Profit Plan".