What is the one thing separating you from another coach? When your clients are trying to see if you're the perfect fit for them, what are the characteristics that lead them to you? It's all about branding, and today we are going to talk about how to brand yourself as a coach.
The thing is, branding is simply what makes you unique, and how you stand out from the crowd. It's all about using your business's personality to attract the kind of clients you want to work with. This is how I've stood out against a saturated market online. How I've built my 6-figure coaching practice. This has also given me the freedom to design and host my Royal Retreat.
Today I'm going to teach you how to do the same, and how you can brand yourself as a coach with a lucrative, thriving business.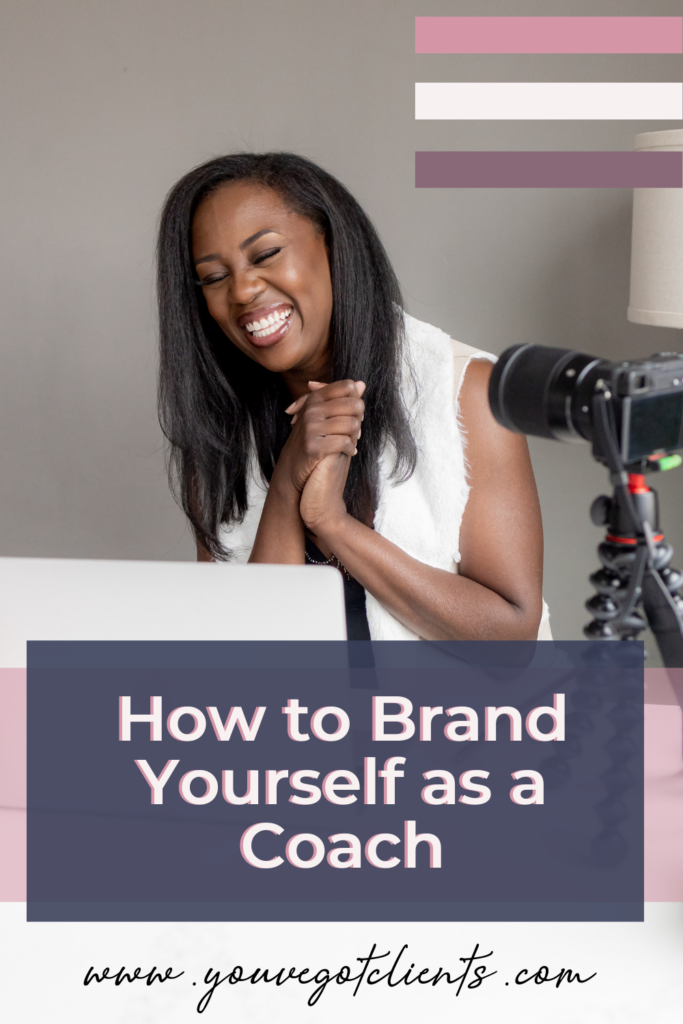 How to Brand Yourself as a Coach
Step 1 of how to brand yourself as a coach: Figure out what makes you unique.
STOP right there. Don't start off thinking that people don't care about your life or what you have to say. You are unique, and you do have a story to tell — you just need to bring it out. Think about the things that you do regularly that make you happy.
Do you hike in your free time? Show us where you're going and the beautiful scenery you experienced.
Do you bake a lot or make home-cooked meals? Share your ingredients and creations.
Have you gone to a coaching retreat, interviewed on a podcast, spoke on a panel, or attended any business conferences? That's pretty cool, and definitely, something that makes you different from other people.
Even if you just worked on your computer all day, what did you do? What does a day-in-the-life look like from your end?
The point is that even if it's nothing special in your world, it's unique to others. You have no idea how you could be inspiring someone, or building a connection just by sharing your life.
Your everyday habits and lifestyle are what make you unique. Bring that out and use it to brand yourself as a coach.
When you're just being yourself and creating a brand based on your interests, nobody can take that from you. There's no persona to keep up or anything that can just "go away" because this is who you are. If you're the brand, you're free to pivot, and grow, and change as much as you want.
This also allows you to design a business around what makes you happy. For example, I love the beach, traveling, my feet in the sand, and connecting with other coaches in a beautiful atmosphere. This led me to create my Royal Retreat, where I host a coaching experience in an exotic location with luxury experiences. I combined what I love to do both personally, and professionally and it worked because I'm the brand.
Step 2 of how to brand yourself as a coach: Share your personal story.
In this case, I'm not so much meaning your business story and how you came about (which is important to share as well) but I'm more so talking about your personal story. What's your "hero's journey"? What's an experience that's unique to you, or an obstacle that you overcame. What is it that makes you passionate about what you do? Why do you do what you do?
When you share your story this gives other people the chance to feel connected to you personally. The details, the emotion, and the lessons behind it help create depth within your brand. Your audience gets the chance to really know you, to feel like they are a part of your life, and to feel connected to you.
Here are some questions to consider:
What is it that makes you, you?
How did you grow up?
Think about some life experiences that you have.
Then start sharing as if you're talking about it with a friend!
Step 3 of how to brand yourself as a coach: Don't be afraid to share behind the scenes.
Yes, we're building our brand as a coach, but in this case, it's not all about just sharing what business is like behind-the-scenes. We all know you're hanging out at your laptop a lot, doing coaching calls, and doing book-work.
I want to know your personal, daily life, behind-the-scenes. I want to know what you're cooking for dinner. What your workout looked like today. What songs or podcasts did you listen to in the car when you ran errands? Did you travel today? Where did you go, and what would I find in your go-to travel bag? I even want to know what show you're watching on Netflix!
Don't think that your life is boring, because people love to watch something that feels authentic, and feels relatable. If I can't drive the point home further, can we just talk about how we all watched The Kardashians eat salad for 20 seasons?
When you let people in they will start to like you, then trust you, and soon enough they'll absorb everything you have to say, and will be excited to jump on any offer you present!
Step 4 of how to brand yourself as a coach: Be strong and confident in your opinions.
I am permitting you to let it out online! If something is bothering you, a trend you just have to talk about, an opinion you feel strongly about, or something that just makes you feel passionate — LET. IT. OUT. Share it, rant for a few minutes, talk about why you feel the way you do.
Share how you feel and don't back down. It's not only fine, but acceptable, and rewarding to be strong and confident in your opinions.
If somebody disagrees with you, respectfully disagree with them. If they unfollow you because of something you think, then they were never going to buy anything in the first place. Losing dead weight is not a bad thing, and sharing your voice is going to do the work for you.
The reason that this works so well is that your ideal clients are like boats and they're looking for that anchor.
They're looking for the lighthouse in the storm.
Your clients want someone steady, who is saying the same thing over and over and over again, and who is strong and confident in what they have to say. Make sure that when they find you, you're someone they can look to for that anchor. When they feel like they know your heart, and you're consistent in your beliefs and values, they'll start to fall in love with you. They'll look to you for guidance, and they'll happily spend their hard-earned money on your offers because they feel like they can trust you.
To build your brand as a coach, you want to make sure that you are being strong and confident in your opinions, and don't be afraid to share them.
I hope these tips were helpful to you in building your brand as a coach. Just remember that the more you share your true self, the easier it is for your clients to not only find you, but to know, like, and trust you.
If you're looking for some further information, l have a free training called: "Six mistakes that most coaches make".
During this training, you will discover why you cannot afford to make less than six figures as a full-time coach. How to create a solid coaching program, and how to fill it with high-quality clients.
When you complete this training, you will see exactly how my clients can book their own high-quality clients. How to generate 10K in 10 days (and sometimes 95K throughout a couple of months). As well as, how to sell out your low ticket offers in a buying frenzy. To access this go to LaTisha.tv/six .
Now, if you want a launchpad for your coaching business or current offer, let me tell you about the Get Visible, Get Clients Challenge!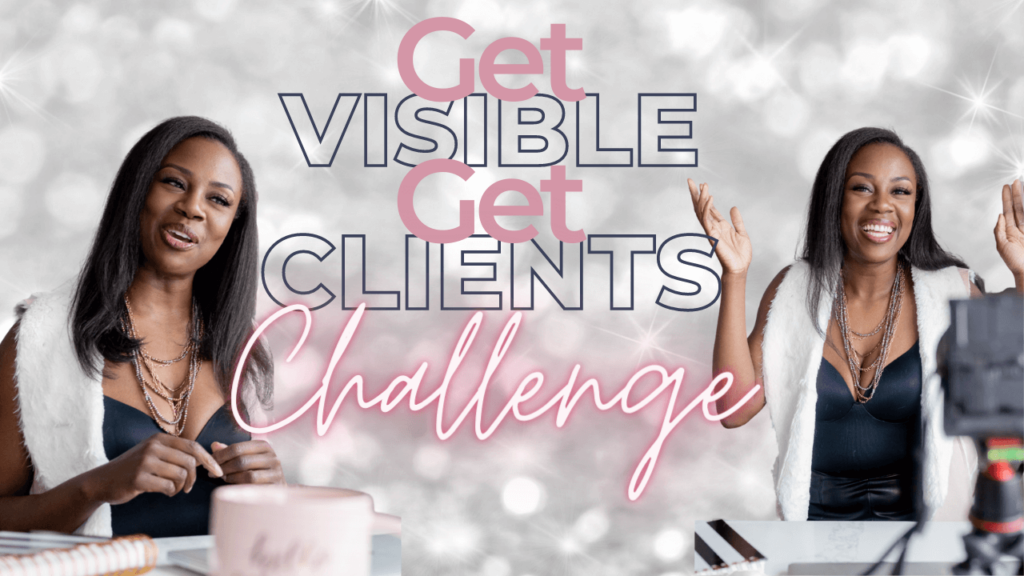 Starting February 1st, you will have 6 days of intense training on how to earn more and create a larger impact!
Do you ever feel like you have so many amazing things to say, but nobody is listening? You have so much value to give, you know that you can make a major impact, and just given the chance, you could change so many people's lives for the better — but it feels like your message isn't reaching the right people?
How would you like to know the best ways to get visible, get recognition, grow your audience, and gain clients?
During this 6 day challenge, I will walk you through the steps one at a time, but I'm also giving you an incentive to show up and show out!
By the time you complete the Get Visible Get Clients Challenge, you'll be ready for the spotlight, and your clients will be cheering you on!
You'll lead with power and influence, and you'll know exactly how to monetize without compromising your mission.
Oh, did I also mention this is a FREE challenge?
Yes! All you have to do is register, show up, AND just by joining the call each day you'll get entered to win $2625 in giveaways!
The challenge starts on February 1st, and lasts for 6, highly impactful days!
Click here to learn more and sign up for the challenge!