How would you like to make $10K in under 30 days? It's definitely possible when you create a group coaching program. In fact, one of my clients was able to earn $9,500 in less than two weeks by selling her group coaching program. It was a program that had not created before she started selling it.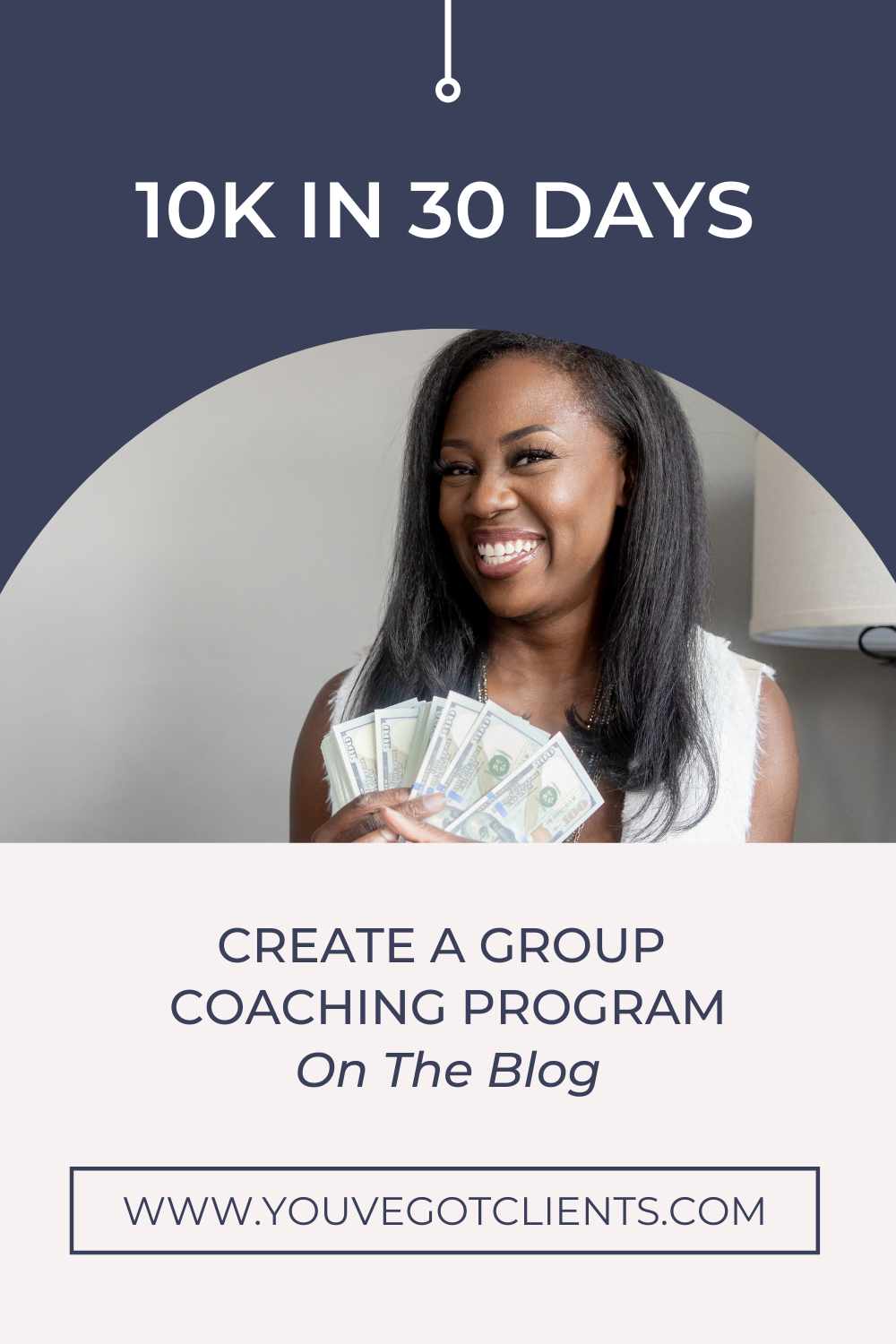 We worked together inside of the You've Got Clients™ program in order to help her create this group coaching program, and she immediately started selling it before she had even created the content.
How did she do that?
And how can you potentially earn five figures in less than 30 days by creating your own group coaching program? I'm going to give you the three important C's, which is make it clear, sell it with confidence, and call in your clients.
Step 1 to Sell Your Group Coaching – Make it Clear
What does it mean to make it clear? There are two major elements, the intangible and tangible. The intangible relates to the outcome or transformation of your group coaching program, and the tangible relates to what is included in the program.
Every coaching program should have a transformation. In order to make sales, your potential client has to clearly understand that there is a transformation, and they should be clear on what that transformation is.
What will they receive as a result of working with you? What is the ultimate transformation? What is the outcome?
When you're selling a coaching offer, it's important to understand that you're not just selling the phone calls or the unlimited email access to you. You're actually selling the outcome, the thing that they are going to achieve, and how they feel by the end of the coaching program.
Not only do you have to be crystal clear on that transformation, but you also have to be able to communicate that transformation as well.
The second major element is the tangible, also known as the other elements that they get.
For example…
Are they getting videos?
Are they getting worksheets?
Are they getting group calls?
Are they getting one on one calls?
Are they going to be receiving a client folder so that you can connect with them?
Do they get a project management dashboard?
You must know what each of those individual items are so you can clearly communicate them. You've got to make it clear. That's step one in order to start selling your group coaching program.
I cover this in a lot more in detail in my Package & Profit training. The Package & Profit training is a four part video series where I walk you through the mind of a high ticket buyer, helping you to figure out how to package your offer and then sell it. You can get more information (+ coupon code!) on that program here.
Step 2 to Sell Your Group Coaching – Sell with Confidence
How do you sell with confidence? This is one of the first assignments that we do inside of You've Got Clients.
It is a confidence booster assignment that allows you to get clear on your unique selling proposition and why someone should want to work with you over working with someone else.
That way, when you're going into that sales call or when you're going into making that offer you are extremely confident that you can help. And when you are clear on your unique selling proposition, you'll also be clear on your ideal client.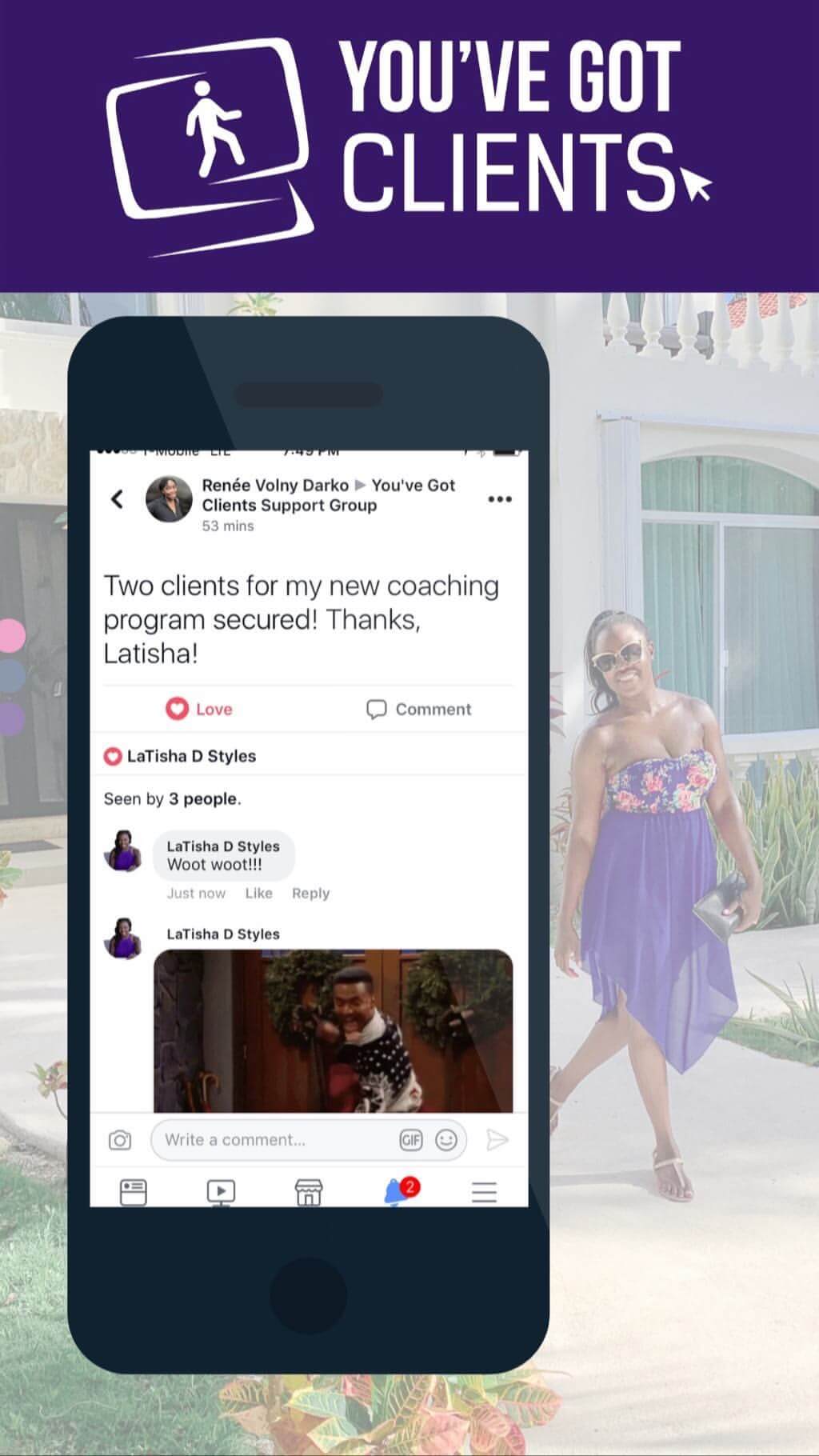 Sidenote: As a transformational coach, you can't necessarily guarantee results because you're not doing the work for that client. They still have to show up and put in the effort. So while you can't guarantee results, you can be 100 percent confident that you can help them if they show up and if they put in the work. However, in order to sell that confidence, you have to be confident that this is the person that is right for what you offer and that what you're offering is just right for them.
And that brings me to my third point, which is call out your ideal clients.
Step 3 to Sell Your Group Coaching – Call Out Your Ideal Clients
In order to call out your ideal clients, your message has to speak directly to the person with whom you want to work. But at the same time, you have to disqualify all the other people who might not be a good fit for what you offer.
For example, if you know that the people that you work with have to be able to take action quickly and they have to make fast decisions, then you can just specifically say "I only work with people who take fast action and who make fast decisions."
If that's something that's really, really important is that you've got to call out your ideal clients. When I first started my coaching business I didn't have a really good process to qualify my ideal clients. I started doing discovery calls and I was getting people on the phone that really weren't necessarily a good fit.
They were either not the type of person that I wanted to work with, or they weren't at that specific level that they needed to be in order for me to help them get results. I started to get frustrated because these calls were a clear no. It was not only me saying no, but sometimes them saying no because they couldn't clearly see how I could help them. And honestly, I wasn't even sure if I could help that person either.
Eventually I realized I need a better process to qualify my clients and not only that, but I need to get really, really specific on the clients that I do help. That's when I started turning down more calls before I even got on the phone.
I began to realize that when I take calls with clients who are a good fit, it becomes a win win situation for both of us. Then I created a sales presentation that qualified those clients before they even contacted me.
That was when things really took off for me. On this sales presentation, also known as a webinar, I detailed my exact process. I talked about the types of clients that I help get results and the types of people that I want to work with, and I also mentioned that people who are not a good fit for what I do now.
Before I created the sales presentation, I used to explain all of this on a phone call. I used to have to do this on every single call and honestly it started to get a little bit tiring. But once I created a sales presentation I started getting qualified calls and it became that much easier to make the sale.
If you truly want to sell more of your group coaching program, you've got to make it clear, sell with confidence, and call in your ideal clients. My very favorite way to do this is by using a webinar. If you need help with your webinar or if you're not really sure how to get started with writing a webinar then I would love to invite you to my free training. It's called You've Got Clients.
During that training, I'm going to share with you my process and formula for writing a persuasive webinar. I'll also share with you how I'm able to get my clients results so that they're able to book coaching clients just from their webinar and I'll show you how we get cheap webinar registrations so that we make the ROI or Return on Investment that much higher.
In order to watch that training, all you have to do is visit YouveGotClients.com/anti-webinar. I look forward to seeing you on the training.