In a previous post, where I discussed how to grow a life coaching business, I introduced the concept of a value ladder. A value ladder consists of a series of products in your business. Each product in your value ladder solves the same type of problem that your business specializes in, but is structured in tiers to appeal to your ideal client at different phases of their journey.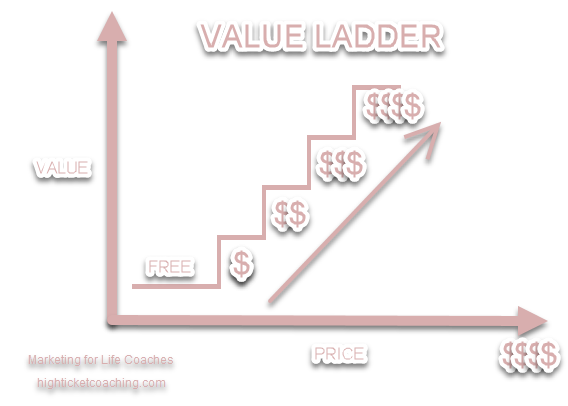 Each product is usually delivered using different media modes and at different price points for any client who has the same problem for which they need a solution. As the value of the product goes up, the price of the product goes up.
One reason why you want to structure your life coaching business as a value ladder is because every prospective client that you come across may not be able to afford your services. But it doesn't mean you shouldn't help them. If your coaching services is out of their reach, you can offer a product at a lower tier that can help them solve their problem, like an eBook, physical book, or home study course.
Another reason why you want to structure your life coaching business as a value ladder is because your prospective client may not be fully ready to invest in your coaching services. It may be because they're not yet confident you can help them or they just don't want to share intimate details with a person yet. Some people like to keep to themselves, but they still have problems that need to be solved.
One last reason why you want to structure your life coaching business as a value ladder is so you can get repeat sales from the same clients. This will immediate increase the amount of revenue generated in your business. If you have several offerings, one client can end up being such a fan that he or she ascends up your total value of offers. He can buy your book, your home study course, your coaching services, and then any other higher tier products you provide.
If you don't provide value at different tiers, your competitor will.
You want to be the one that helps your client. You owe them that respect if you truly care for them and are 100% confident that it is you who should be provide the solutions to their problems. There should be no reason why you limit your life coaching offerings. You have to and you must think so much bigger.
Imagine the possibilities.
How a Value Ladder Can Supercharge Your Coaching Business's Revenue
Instead of having one offer, let's look at how your life coaching business can grow, geometrically, with just a few products in your product line AND at lower prices.
Suppose you attracted a prospective client while networking at a local event. And let's say you first introduce yourself with your powerful 10 second elevate speech and then proceeded to have a conversation with her. By the end of the night, you've told her about your coaching services and the results that she will have after working with you. She's excited, but when she finds out your price and realizes that she can't afford your one-on-one coaching services, she ends up becoming a lost customer. However, if you had a value ladder in place, you would had still been able to help her at the price point she could have afforded.
Instead of having only one price point, here's a possible product line for your life coaching business:
Tier 1 – eBook: Free
Tier 2 – Physical book: $15
Tier 3 – A home study course: $$97
Tier 4 -A group coaching program: $497
Tier 5 – One-on-one "premium" coaching: $997
Other Services
Tier 6 – A conference or seminar for all your prior and existing clients, and their friends: $1,497
Tier 7 – An intimate small-group retreat at a luxurious beach resort:  $2,497
Tier 8 -Speaking Engagements – $4,997
You can easily create the first two tiers within a month, the others may take some time but can be very lucrative for your existing coaching business.
How to Easily Add 3 Products to Your Value Ladder
An eBook can be created using the"system" that you use to coach your clients through. It can be something like, "5 Ways Busy Executives Can Cure Your Depression." You'd take the 5 Ways, summarize the steps, and then save the document as a PDF and upload it as your lead FREE magnet. Not only would it help your prospective clients, it'll help you stay in touch with them when they exchange their email address for the FREE eBook that helps them solve their problem.
The physical book will be a simple extension of your FREE PDF. It doesn't have to be long. It just has to provide your prospective clients with a solution. Not only will this allow you to get paid at a lower price point (for those who can't afford your services), it'll set you up as an authority figure. You can easily use Amazon's Kindle Direct Publishing to self-publish your book.
Then, you can take your book, read through it, and have someone create PowerPoint slides for you to create a course on a platform like Teachable.
Another advantage you have when you put a system like a value ladder in place to serve more clients, more often is can easily package your services and make even more offers!
Once you have your value ladder in place, your next step will be to place your products in a sales funnel that can be tracked, measured, and adjusted. You'll want to be able to track how many people actually begin at the start of your value ladder and then make it all the way to the top. You can easily do this tracking using an online customer relationship management (CRM) system like Ontraport.
Here are some other value ladder product ideas:
Package a series of video or audio recordings, easily edited with software like Screencast-O-Matic.
Make a eBooks from previous blog posts.
Write a case study on how you helped a previous client deal with an issue that your core audience has.
Make a 5 day video course.
Create a membership site with content that you "drip" every month.
If you provide consulting services, you can add a "do it" for you service.
Conclusion
Hopefully this post has not only shown you the power of a well-crafted value ladder but has also clearly defined how best to use a value ladder in your life coaching business.
Now, go forth and start writing out how you can come up with new products for your customers so you can begin generating even more revenue in your coaching business.
P.S.
If you have any other ideas for value ladder products, be sure to drop them in the comment section below.