So you want to start a coaching business, but you have no clients and no experience. That's okay! Today, I'm going to share with you exactly how to get started, even if you're brand new. No clients, no experience – how to start coaching.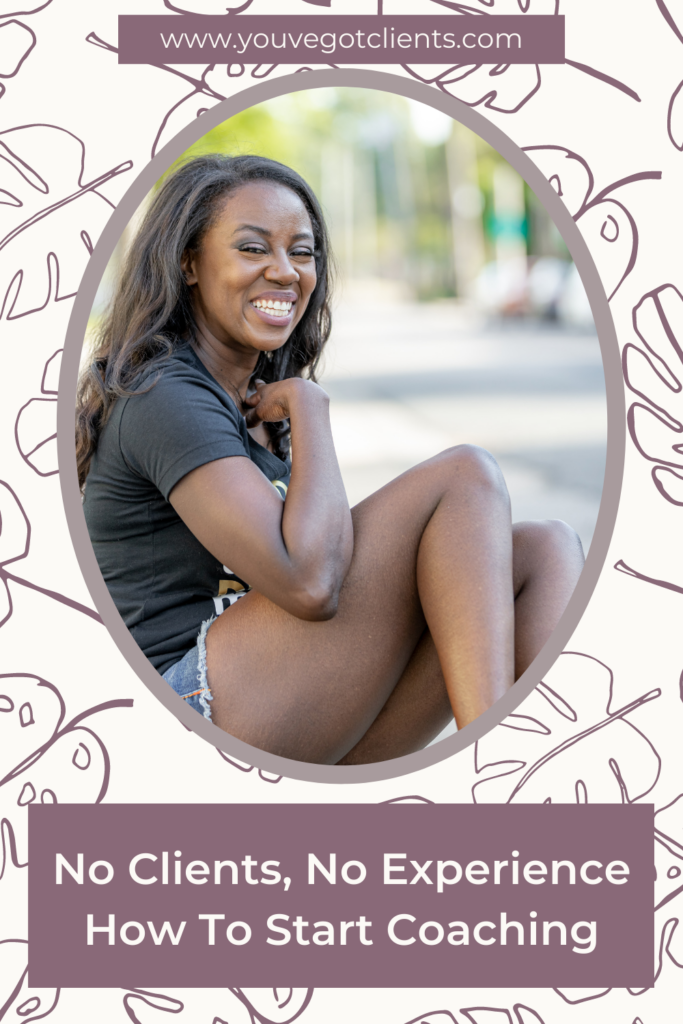 When I first started my online business or started my experience, I was a personal finance blogger. I was creating content, pushing it out on social media, and doing a lot of content marketing.
Then I started getting questions from other business owners on how I did it. 
I got my very first client by helping him create content for his financial advisory firm. Then from there I started teaching and creating blogs. I started that business in October of 2015, and it now generates a full-time income for me. Today, I have several team members inside of the business with me as well. Even though I started from zero, it's possible to grow to something that will become your full-time income and make a massive impact. 
Look, I started my coaching business with six email subscribers, not a huge social presence, and the people who did know me online knew me for my finance content.
It wasn't like I could just turn around and say, "Hey, I'm coaching on business marketing now!" It took time, but there were some specific steps I took to make it work. I bring to you, no clients, no experience – how to start coaching.  
The first thing to keep in mind is that you're at least one step ahead of the person that you want to help.
Remember that you don't have to be super advanced to help your client. You also don't have to help everyone, you just have to help that one client who needs what you have to offer. 
To start determining who that is, you first want to figure out your unique solution.
Your unique solution is going to be different from how someone else might solve that same problem. When I was going through getting my coaching business started, I was kind of testing out things here and there to figure out what my unique solution was like, and what I was bringing to the market.
I didn't realize it at the time, but I was good at figuring out strategy. I was able to help my clients put the pieces in place and understand how all of it came together. This helped me determine that I was not a business coach or success coach, but a marketing consultant and this helped me narrow down and attract my ideal audience. When you have no clients, no experience – how to start coaching is to determine what you have to offer people and how you can transform them.
The next step in no clients, no experience – how to start coaching is to get your clients.
Now that you know your solution, I want you to test out your solution with at least three free clients. This will help you determine your coaching style, who you want to work with as a client, and what you want your experience to be. It's also a great chance to see how your transformation holds up and how you can achieve it. It's going to help you gain that confidence, and it's going to help you grab a couple of testimonials, which leads us to step four.
Step four, in no clients, no experience – how to start coaching, is to get up to three testimonials.
Why do I like three testimonials? This is the number that I stick with for everyone, no matter what, the reason I say three testimonials, a couple of reasons. One is I like to build my webinars based on testimonials, client results, and case studies. To do that and to use my anti webinar formula, I need three testimonials. It's also really going to help you as you're getting started to start building that case study for yourself and to be able to share with a potential client.
Being able to say, "Hey, I worked with someone who was in your similar situation," or "I work with someone who was exactly where you are right now." will go a long way. 
When I suggest to clients that they get testimonials, I always suggest that they get video testimonials.
The first reason is that a video testimonial is so much more powerful than any other type because when someone else is watching that testimonial, they can see how that other person reacts. Like how did your client react? How were they feeling? In their own words, what was their experience like?
Just have a conversation with your clients, then at the end, after you guys have worked together, ask them a couple of questions. 
Explain how your experience/circumstances were before we started working together.
Share with us your results from working together!  
What do you feel like you can do now going forward? 
In my business, you'll notice that my client success calls follow that same formula.
The idea is that I want to hear from their own words, what their experience was. The key here is not to script this out. Try not to prepare the client success calls or your case studies or testimonials, whatever you want to call them. 
So the first part is just to get your testimonials, and if you can't get a video, then the next best option is an audio testimonial.
For some of your coaching, clients are a little bit camera shy. For example, if you've done any sort of body transformation, or if it's a topic that's kind of sensitive, then you might want to go with an audio testimonial instead. In this case, you would just hop on zoom, do a quick chat and take that audio. 
If all else fails, getting a written testimonial will do the trick!
Now, for our last step in no clients, no experience – how to start coaching, is to choose your business model. 
Your business model is the way that your coaching business generates revenue. Every coaching business is different, and there are a couple of things that you can mix and match.
So, as an example, my coaching business generates revenue of around 70% from on-demand courses and group coaching programs that are mostly course-based. Then about 30% from one-on-one coaching or done-for-you-client services. Even though the larger payments come from one-on-one clients and done-for-you-client services, it still only represents about 30% of our revenue. 70% of our revenue comes from the courses. 
You've got to choose your business model first because that's what's going to determine how you market your coaching business and what opportunities you take advantage of.
How you set up your structure, who you hire out, and all those things that you do. I knew that I wanted my business model to be 70% leveraged coaching and 30% one-on-one or stuff that requires my time and attention. 
That's why I set up a YouTube channel and decided to make this my main method of marketing. The reason that I did that is that YouTube does a great job at helping me to promote my content. My content turns into an asset that grows over and over again. It's connected to the largest search engine right now, so it makes it very easy for me to leverage a lot of free and organic traffic.
If I were doing more one-on-one coaching, I might do more in the way of live streams, speaking engagements, or in-person events. What I've found is that it's a lot easier to book one-on-one coaching clients after a speaking engagement. When people have an opportunity to meet me and be in my space and energy it's much easier for them to choose to make that investment. What you need to ask yourself is how you want to market yourself to which community for what reason.
Here are a couple of ways that you can generate income as a coach.
Workshops courses. 
Virtual events. 
Live events like a retreat, speaking engagements, or in-person workshops. 
One-on-one coaching.
Group coaching, you can do it for your services.
If you're a coach and you're not sure what your done-for-you service might be, think about the homework or the assignments that you give to your clients.
If there's anything that you could potentially take off their plate or what they could outsource, and then think about what you would want to take on for them. What can you bring in-house as a done-for-you service? 
I know that this was a lot of information, and tackling the coaching industry can be a little intimidating. This is why I created my mini-course, Brand New Coach. In this course, I teach you the EXACT steps you need to take when you're starting from scratch.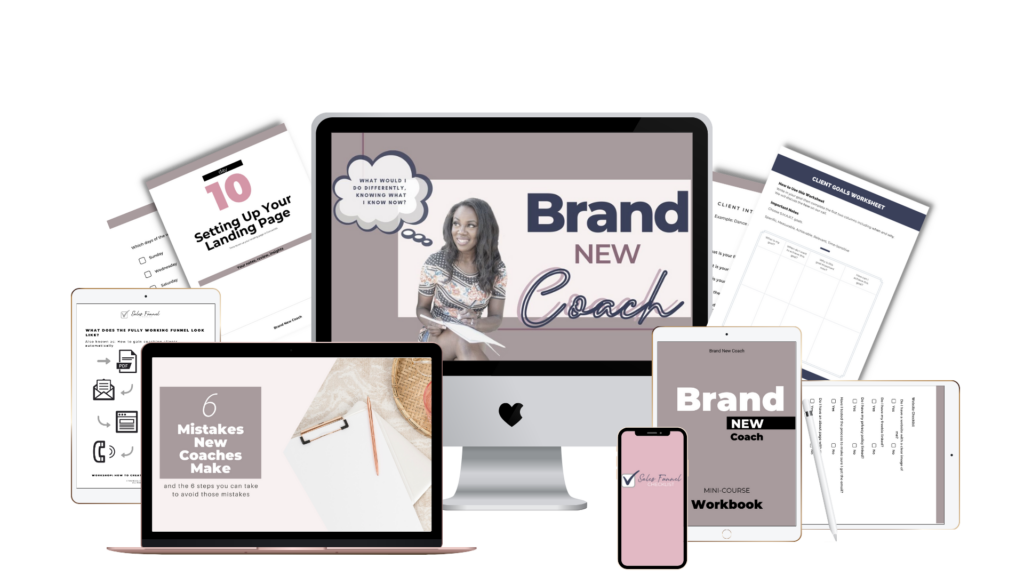 You'll discover: 
How to tell your brand story so you connect with your ideal client
What to include on your website so clients immediately understand what you offer
How to figure out your unique selling proposition so you never have to worry about the competition
The easiest way to get potential clients signed up on your email list – I'll even show you how to set it up!
To learn all about it, click here to sign up! 
I can't wait to see what kind of coach you're going to be!