What would I do if I was starting a brand-new coaching business from scratch? What would I do differently? What would I invest in, and hold out on? There are a ton of ways to do it, but coming from someone who runs a multi-6-figure coaching business, I have a few keynotes of advice. Today I'm giving you all the deets on how to start a brand new online coaching business. 
Before we get started I want to express the difference between consulting and coaching, because when I first got started I went with the consulting route at first. The main difference is that when you're a consultant, you're doing "done for you" work. Whereas when you're coaching you're teaching your concepts and practices and letting the client do it.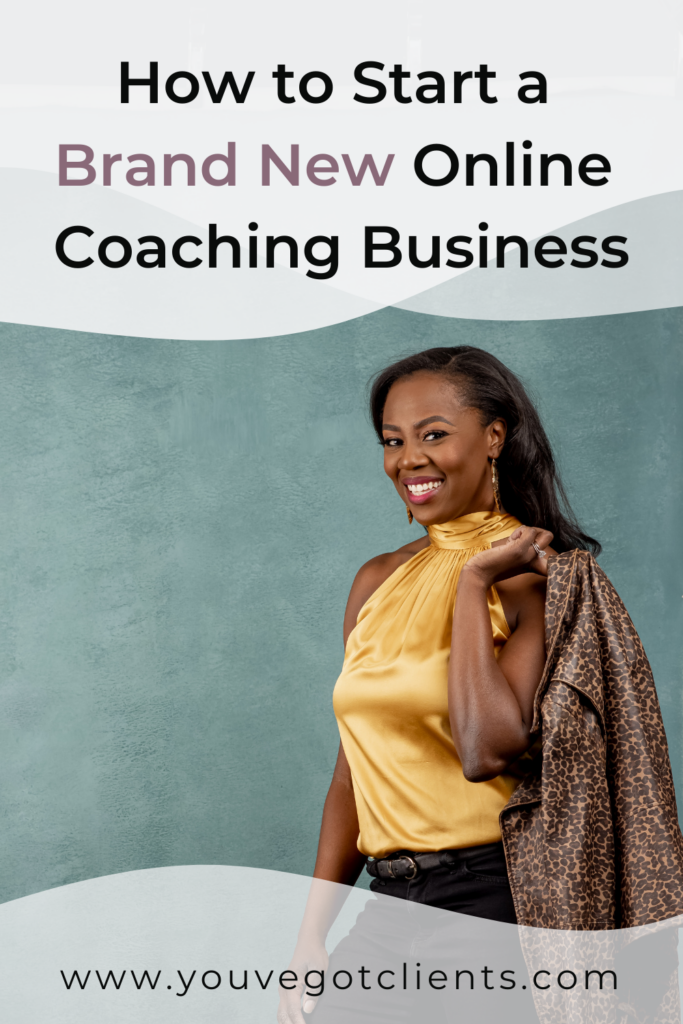 For me, transitioning from consulting to coaching was freeing, because I was no longer responsible for the results. It also freed me up to spend more time making my content rather than other people's. However, ironically, I eventually moved even away from coaching and really enjoyed course creation.
This brings me to my first bit of advice for how to start an online coaching business: Spend time figuring out what it is exactly you want to do.
It would have saved me a lot of time to just try out different methods of teaching and coaching and see what I liked, as opposed to spending years doing what I "thought" I should be. Or going about it the same way everyone else was. There's no designated teaching style that you HAVE to work with. You're free to share information and work with your clients in any way that makes you feel the most confident and works the best for your lifestyle.
My second note for how to start an online coaching business: Determine your niche.
Get very clear on what you want to teach and who you want to teach it to. Narrow it down as specific as you can go, because the more clear you are, the easier it is to attract the clients you want to work with.
Coaching can be very intangible, for example, the idea of the "lifestyle coach" where your goal may be to help people live a more productive life. During this exercise, you want to find ways to attach the tangible with the intangible. Try to find specific examples of how you're going to help people with your life coaching, and how exactly they will experience the change in their everyday life.
Use this guide for reference:
Type of coach: 
Tangible result #1: 
Transformation example #1: 
Tangible result #2: 
Transformation example #2: 
Tangible result #3: 
Transformation example #3: 
Thirdly for how to start an online coaching business: Figure out what certifications you need/want.
There's not a specific coaching certificate that you have to get to start coaching. With that said, there are some industries where you might want a coaching certification and there are also some situations where you might need one. I know that popular certifications come from the International Coaching Federation. There's a lot of different places where you can get a Life Coaching certificate for as little as $99.
You want to make sure when you're looking at the certification that it's well-respected. In general, your clients are probably not going to know what certification you should have before you start helping them. They're just gonna want to work with you because you're you and because they feel you can help them get a transformation. With that in mind, you just want to make sure that you're being transparent and if you're taking people's money, you want to make sure you're 100% confident that you can help them.
My final tip for how to start an online coaching business is to start with a tester client.
You can study as much as you want and get as many certifications as you want, but at the end of the day, the best way to learn is to do. I recommend surveying for a tester client and build your coaching curriculum as you work with them. Figure out what teaching style you like best, what pulls the most/best transformation, and the format in which you want to run your program on.
This will give you so much more confidence when you start booking quality, paying clients.
There you have it! My key pieces of advice for how to start an online coaching business! However, if you're looking for more of the good stuff, come join me in… 
This is your chance to finally get the help you've been looking for:
CLARITY
Use the exercises in this program to gain clarity on your ideal client, what colors you should choose for branding, how to price your services, and even what to put on your website. And if you don't have a website, you'll discover exactly how to build one in 48 hours.
CONSISTENCY
Do just one of the 11 bite-sized challenge tasks each day to move closer to your goal. Use the mini-course to establish a daily habit of consistently working on your new coaching practice. Each task is beginner-friendly and described in the 27-page workbook so you can follow along easily.
CONTENT
Stay engaged with plenty of stories so you never get bored as you set everything up. Download the email templates that you can use to jumpstart your marketing. Discover how to tell your brand story so you never run out of content ideas to connect with your ideal client.
You'll Discover…
How to tell your brand story so you connect with your ideal client
What to include on your website so clients immediately understand what you offer
How to figure out your unique selling proposition so you never have to worry about the competition
The easiest way to get potential clients signed up on your email list – I'll even show you how to set it up!
Plus bonuses!
This is THE course if you're looking to start a coaching business!