Okay, you have the program, you have the website, you have everything you need to get this coaching program off the ground, but there's just one last thing to do. Figure out how much to charge for the whole thing. It can be hard to determine exactly what is the most logical, fair, and profitable rate. This is why today I'm walking you through how to price your first coaching program.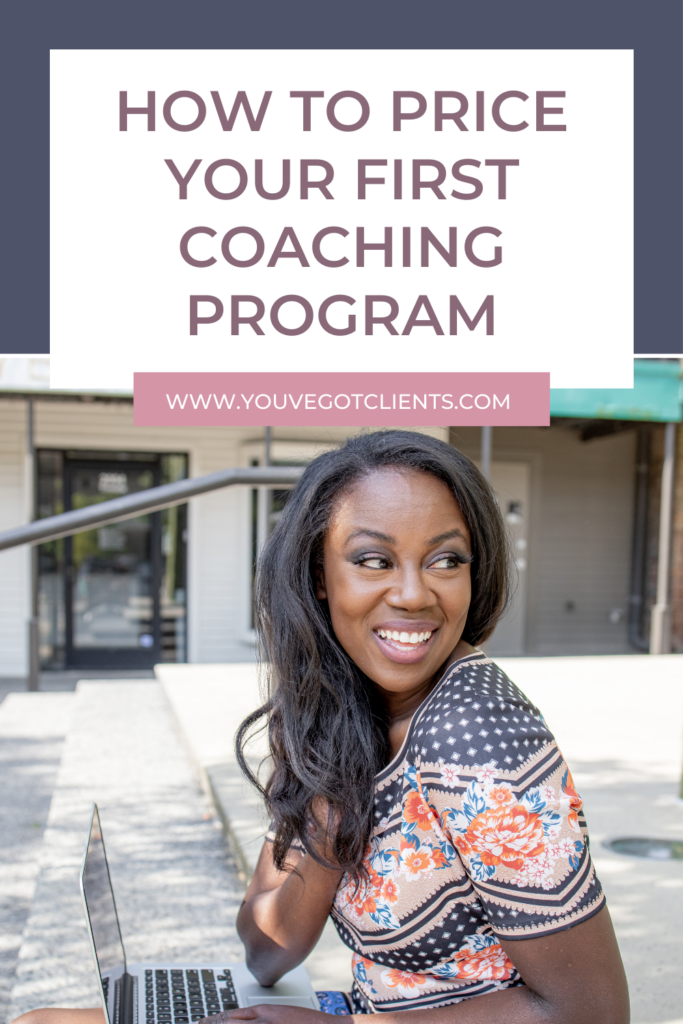 The first thing that I want you to do is I want you to look at the market rate and then I want you to forget it.
Why? I want you to know the average, or what people can typically expect for your type of service or product, but I don't want you to base your pricing on that. When you determine YOUR price, you first and foremost want to consider the transformation you have to offer.
For example, for a 6-week coaching program let's say the "market price" is $500. However, with your coaching program, the transformation means that the client will walk away with a fully functioning, profitable business with a marketing plan and ready-to-use content. Your transformation has the potential of making your client a lot of money — therefore your course could be valued at more like $10,000+.
It's not about what everyone else is doing. It's about what YOU can do for your client.
When you go about leveraging your transformation value I want you to think about the tangible and intangible benefits. A great way to determine these factors is to go to your previous clients. Ask them, "What was it like before we started working together?" "What are the results now that we've completed our work together?" "How do you feel?" Those are some of the intangible things.
To quantify the tangible results, I want you to think about what the cost would be if this problem was never solved. For example, if you know that you can help someone to lose 30 pounds and losing that 30 pounds are going to significantly improve their health; you want to start thinking about what are the costs of not losing those 30 pounds? What is their health going to be like? What other problems could that cause? Is that going to cause them additional costs in terms of medical care? Is that going to cause them time off of work? They may lose money that way.
You want to start thinking about those tangibles that you can specifically quantify and say, "As a result of working with me you'll have "x" result."
Next when configuring how to price your first coaching program, is to establish the value.
Now, it's important to understand that money doesn't exist in a vacuum. When I say that I mean that there's always a comparison.
For example, say you're telling people, "Hey, it's going to cost you $10,000 to work with me for eight weeks." The client is then going to start thinking about other things that would cost $10,000.
A used car.
A couple of semesters in college.
This will quickly give them a reason to justify themselves out of buying. This is why you want to position the value over the price.
Going back to the fitness example, if you tell someone, "As a result of working with me, you're able to lose 30 pounds or more." Then you'd want to start positioning the tangible and intangible factors. They'd be able to run more. They can stay up later with their kids. They won't get as tired as often. They'd feel more confident in their life overall, resulting in more respect at work, better relationship with their spouse, etc. Not only that, but they'll save on your medical bills, saving $20,000-$30,000 down the line. Their insurance might go down.
Whatever those tangible results that you determined that you quantified, you can put that into your offer. Now when you say, "It only costs $10,000 to work with me." They're thinking, "Wow, I'm going to save $20,000 just in medical bills, insurance, and all these other things, plus I'm going to be able to run around with my kids and all those things that I've been missing." Now the $10,000 seems small in comparison to $20,000.
One of the best ways to do this, to explain the value of what you're offering and to make that offer, is to create a webinar, which is just a sales presentation.
I love webinars for the ability that they have to establish that value. I've got an entire process to create a webinar that establishes your value. Of which you can check out here: https://youvegotclients.com/anti-webinar/
My last tidbit of advice on how to price your first coaching package is to avoid the hourly coaching trap.
When you charge by the hour you're almost always going to end up overworked and underpaid. You're never going to be able to truly calculate the value of your hour and your time because it's going to be different for every client. Every client is going to have a different and personalized result based on the actions that they take with the information that you give them.
Since you're coaching and you're not performing a done-for-you service, the value of that time you're providing is going to be affected by the actions that that person decides to take.
Think about it this way, let's say you just want to get paid $125/hr. Seems like a fair rate right? But what if you work with a client and you have a huge impact on their life. Your coaching brings them a $10,000 return in their own life and business. Then in this situation, you'd be grossly underpaid when you consider the value you brought to the client.
You should be pricing based on that transformation that you offer. Also, the hourly coaching trap limits you in the amount that you can earn because you only have 24 hours in a day and hopefully, you're getting a good eight hours at least of sleep. Meaning that you can only make money for 16 hours of the day IF you work all of them.
Leverage your time, and remember that you're getting paid for your knowledge and talents, not for the hours in the day.
All that being said, there is so much more coaching information to give. This is why I created the Create & Fill course!
This is a step-by-step course with everything you need to create and sell your signature coaching program.
In Create & Fill, I share exactly how to structure your signature coaching program, what content to include, how to get clear on your ideal client, and how to meet them right where they are, so you can attract them with your message.
By the time you complete Create & Fill, you'll know how to price your coaching program, how to pitch to high-quality clients, where to find actual buyers (yes they hang out in specific groups), and what to include in your program.
This is the perfect course if you're new to this whole coaching thing and you want to start filling your program with high-quality clients right away!
Click here to learn more and sign up!