Have you ever asked yourself the question, "Why would they ever buy from me?" Or, "Who am I to do x,y,z?" If you're in the coaching game or an entrepreneur I can guarantee these questions plague your thoughts from time-to-time. This is what we call imposter's syndrome and it affects most people who set out to do anything outside of the status quo. It can be the #1 thing holding you back, which is why today we are talking about how to manage imposter's syndrome.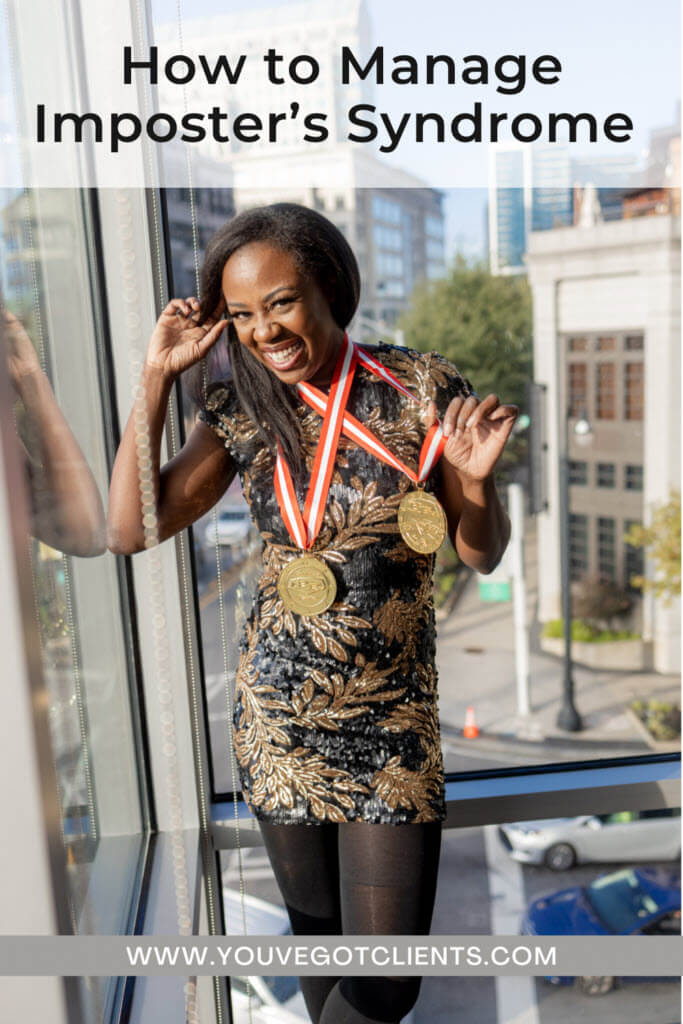 The first thing when learning how to manage imposter's syndrome is to recognize it for what it is, a lie. 
This is nothing but your inner child or your ego trying to protect you from a limiting belief. The best way to silence the nagging voice inside your head is to list out all the reasons why you're qualified.
A specific exercise I like to do is to list 77 reasons why someone would want to hire you over someone else. This can be as big as listing your skillset and experience, and as small as listing your tone of voice, background, gender, race, or age. Just take a few minutes and write down every single reason why your ideal client would hire you. Once you can see that, your imposter's syndrome won't be so loud. 
The second step to learning how to manage imposter's syndrome is to acknowledge there is always someone doing more or less than you out in the world. 
For many entrepreneurs, this relates to pricing. When it comes to setting a price for your products or services I recommend that you don't get too caught up in who's charging what. At the end of the day, there is ALWAYS going to be someone charging less or more than you. You also need to have the mindset that your prices have nothing to do with your worth. Money is a neutral resource and it doesn't have emotion towards you. The feelings that arise over money are strictly a projection of your own insecurity of what you think you're allowed to have. 
When it comes to pricing your products or services I recommend doing the "happy price" exercise. I want you to think about the price that is going to get you excited to do the work. Not the price you think is logical, but the one that gets you motivated and excited to to work. When you price yourself from a place of authenticity and inner reflection your imposter's syndrome holds a lot less power. 
My last bit of advice for how to manage imposter's syndrome is to stop idolizing other people. 
We have a habit of making random people on the internet so much bigger than they are. We get caught up in the flashy marketing, professional photos, and sales copy that are all designed to draw you in. When in reality, they are just another person working to pursue a dream just like you. If this is something that's hindering you I recommend finding these people online and finding their human qualities. Separate the human from the brand and allow yourself to see what's really going on behind the scenes. 
For me sometimes it helps to find out what age they are. Whether they're married or have a partner, what state they live in, or where they get their coffee. When you can pick up details that make them more relatable they become more real. There's not very much that separates you from them. 
You have just as much ability to become as successful and impactful as you want. Just kick that imposter's syndrome to the curb! 
There you have it, my three tips on how to manage imposter's syndrome. However, imposter's syndrome may not be the only thing holding you back from making it big in business. This is why I created my free training: Are You Making These 6 Mistakes In Your Coaching Practice?
If you want to sell your coaching services more frequently, then these are the mistakes you must avoid.
>>> Are you ready to create a solid coaching program and fill it with high quality clients?
>>> Do you want to start coaching as soon as possible and get clients who are ready to pay for your services?
>>> Are you tired of doing free calls and you're ready to make this a real biz?
If that's what you want then you're in the right place.
In this training you'll discover the 6 mistakes new coaches make and the 6 steps you can take to avoid them. 
You'll also discover why you can't afford to make less than 6 figures as a full time coach
You'll discover how to create a solid coaching program
and how to attract high quality clients who are ready to pay
When you avoid the 6 mistakes I share in this training you'll see how my clients are able to generate 10k in 10 days. How they book five-figure coaching clients and even sell their low ticket offers with a buying frenzy.
If you have any doubts holding you back from creating a solid coaching program then you don't want to miss this.
Also, if you don't know how to price, find clients, or actually sell your program, then this is for you