What if I told you that the one thing standing between your next 6-figure year is your mindset? In today's post, I am going to tell you how to eliminate money blocks.
Let me start this off by telling you about my first couple of "official" years in business. Of course, I had that transition period when I was doing some blog posts and freelance work, but that year when I went truly full-time, between October of 2015 in 2016, I generated $65,000. Then considering that the typical projection is to have fairly significant growth in the first few years, I was disappointed to find that the next year I only had a $3000 increase.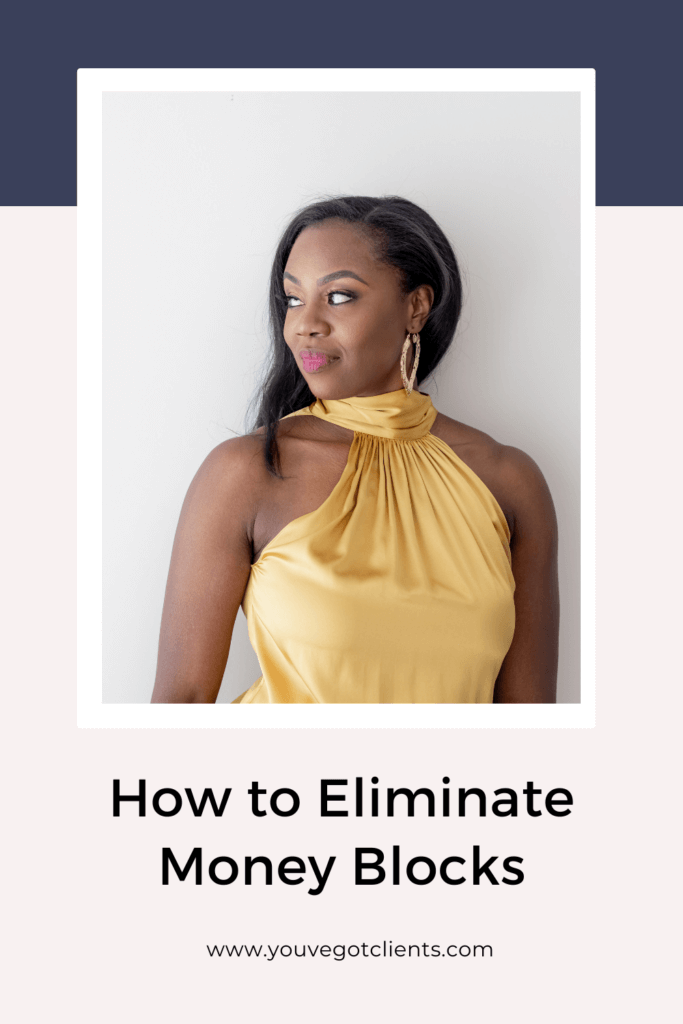 Mind you, the business did grow, but the overall revenue didn't. That very first year, when I made $65,000 I was bringing in money from: 
A majority, coaching
A little bit of freelance writing (but a little tiny bit).
I did some brand deals
Coaching was bringing in about 30% or 40% of the revenue that year.
That next year, between 2016 and 2017, I said I was going to ramp up my coaching and courses to increase my income. Plus I had signed on a retainer client. That year my coaching services made up 60% to 70% of my revenue, yet, in 2017 I only made $68,000. 
I wanted to be a full-time coach, so technically I did grow and I grew the coaching business significantly, but my overall revenue barely budged. 
It was almost like I was stuck at a certain number and I was being blocked somewhere in my business. 
As a woman and business owner that believes in the power of manifestation and personal development, I got to work looking internally. 
What was blocking me and my money? 
What's in my way? 
How can I take action to make this right? 
That third year, 2018, I pretty much dedicated all of my time researching the specific mindsets and beliefs that were blocking my revenue, my income, my wealth. Mindset shifts that since changing, have increased my revenue and income every year since. 
How to Eliminate Money Blocks:
How to Eliminate Money Blocks #1: You don't trust yourself. 
Those years when I wasn't growing in my business I honestly wasn't trusting myself that I was going to follow through with certain things. I didn't feel safe making the money because I believed that once I made it, I would lose it. This resulted in me subconsciously self-sabotaging throughout my business. I was comfortable making $65,000 and knew I could handle that, so I was hindering myself from making excess money I believed would just go away anyway. 
To heal me from this belief I started an exercise in my journal where would write down:
"You are safe", "You are loved", "You are cared for".
This process of writing out these affirmative statements helped me to start trusting myself more because I was drilling these concepts into my head every single day. I made it a point to change my mindset that the more money I make, the better it gets — the better it gets, the more money I make.
Is there a reason you're not trusting yourself to make more money? Try writing it out in a journal and see how you feel. 
How to Eliminate Money Blocks #2: You have a fear of failure. 
Perfection is the enemy of progress. If you're so focused on making something perfect you're either going to delay the launch for far too long, or you ever release it at all. I was to the point where my own perfectionist tendencies were costing me money because I was more focused on the perfect delivery that I negated who I was actually here to serve. My content is about my clients, not my ego, and my needing it to be perfect was hurting the very people I was trying to help. My fear of failure was also costing me from ever learning anything. I was depending on my current skill set, thinking it was the best, when in all reality, I had to fail to learn and grow. 
For my fellow perfectionists out there, I like to use the analogy of an airplane. Did you know that when you get on an airplane it's essentially failing its way forward until it gets you to your final destination? The pilot inputs a destination, and there's a course plan, but the entire time in between consists of the pilot bringing the plane back on course. It's a continuous dance of failing and correcting until the destination is reached. 
Considering that you're the pilot and the destination is your goal in this scenario, you can see that without failing forward it's nearly impossible to get from Point A to Point B. In the same sense, a pilot takes off knowing that there's going to be failure, but they do so anyway (with a cabin full of people might I add). There is sheer confidence knowing that they can just course correct and with every failure, they get a little closer.
In this industry, you just can't be afraid to fail because you will otherwise never start. You can not create perfection because you are already perfect within yourself. You know the work you're called here to do. Your efforts are already good enough. The best piece of advice I could give is to embrace failing forward and go get those goals! 
How to Eliminate Money Blocks #3: You won't sell.
Yes, one of the all-time greatest money blocks that most business owners face is the resistance to selling.
This happened to me too. Back in the stagnant days, I was following this woman on social media, and every single week she was posting about, talking about, and emailing about her next offer. It felt like every time I came across her content it was, "Hey — buy this, buy this, buy this."
As soon as she closed the doors for one offer, she was open and selling the next!
AT THAT TIME I REMEMBER THINKING, "WHY IS SHE JUST HAMMERING HER AUDIENCE WITH OFFERS? SHE DOESN'T GIVE PEOPLE A CHANCE TO BREATHE!" 
Little did I know at the time that this was a direct reflection of my greatest money block. I saw that greatness in her, and I could see that greatness in me, but I was choosing to block myself from it. I was jealous and envious because I knew that she was living her truth and I was too scared to do so. 
The exercise I did to release this block was to journal on these questions: 
Am I experiencing feelings of envy? 
Do I have any feelings of jealousy? 
Do I have any feelings of frustration?
What are the negative emotions I have, and who are they directed towards? 
What actions are people taking that's causing me to feel that way? 
You have to be truly honest with yourself on these questions, especially if you're struggling with selling — because without the willingness to sell your offer, you'll never get out of the gate.
Instead of resenting other people who are selling well, try taking notes on what you admire, and how that can translate into your own business. 
How to Eliminate Money Blocks #4: You're comparing yourself.
Since we're on the topic of envy, this is another reason why you might be blocking yourself from money.
I lost a LOT of time comparing myself to other people online. Looking at what other people were doing, scrolling through Instagram and Facebook, and watching other people's videos saying,
"Oh I wish I could do that."
"I wish I had done that." 
"Why are they getting the attention that I feel like I should be getting?" 
COMPARISON IS THE THIEF OF JOY, PERIOD. 
Nobody is on the same page in the same story. You don't know if you're on chapter two and they happen to be in chapter seven. Comparing myself to other people was just taking the wind out of my own sails.
…so I decided to take action instead.  
When I decided to do that, the needle started moving for me. I shared offers that felt authentic and in alignment with my passions, and I stopped caring if somebody else had already released something similar.
CHANGING MY MINDSET MEANT THAT I DECIDED THAT PEOPLE WANT TO WORK WITH ME BECAUSE OF MY MAGIC, AND THE UNIQUE TRAITS I HAVE TO OFFER. 
That being said, I understand that this doesn't just happen overnight. If you're deep in the comparison hole like I was, there's no shame in doing a little self-preservation.
You don't have to subject yourself to the arena. You're allowed to unfollow, mute, or just stop paying attention. I also recommend channeling your social media use to be strictly action-based instead of observing so much.
At this point, I just hop on to post, talk to my audience, share my offers, and leave. 
After some time, once your self-confidence heals and you feel more grounded in yourself and your work, you won't feel so vulnerable. When I can recommend right now though, is to take the action you need so you can get your content in front of the people eager to buy from you. 
How to Eliminate Money Blocks #5: You're not truly committed.
I will say that commitment comes in different forms.
For somebody who's working full-time and wants to start a business, commitment might come in the form of waking up an hour early. Someone else's commitment might come in the form of waking up two hours early. Another person's commitment might come in the form of not going out with friends and working all day Saturday. 
There are different levels of commitment, and once again, you can't compare yourself. You know when you're slacking, and you know when you're in full-gear. You've just got to figure out what that level of commitment is for you.
WHEN I WAS EXPERIENCING MY MONEY BLOCK I FELL BACK ON THIS SAME PRINCIPLE.
In those beginning years, I was just trying to reach $3000 because that's what I needed to pay the bills — but I shouldn't have been making that my goal. 
THERE'S NO NEED TO SET A GOAL THAT'S JUST ENOUGH. 
You don't want to set a goal that barely covers your expenses because you're not the only person on this earth. Personally, I want to be able to donate, to give, to help other business owners.
Making more than my basic needs allows me to support anyone who might need it…along with doing a lot of fun stuff. 
I MEAN… YOU CAN'T FLY IN A PRIVATE JET FOR $3,000 A MONTH… AND I WANT TO BE ABLE TO FLY IN A PRIVATE JET. 
Commitment comes in many different forms. It can be in the form of how hard you work, the content you produce, the hours you put in — but your mindset carries the weight. However, you can do all of this, but if you still don't believe in your worth, your growth will remain blocked. 
How to Eliminate Money Blocks BONUS: You're asking the wrong questions
You are only going to get answers to the questions you ask. Instead of asking questions like this: 
Why am I not there yet?
What's wrong with me? 
Why isn't this working? 
Start asking: 
Asking a question this way carries a lot of weight. You're presenting the question fully knowing that success is inevitable and you just want to know how to get there. When you ask a question like this you're also going to get an actual answer, as opposed to a reason to blame yourself and dwell.
Try these questions on for size: 
Who do I need to work with to grow my audience? 
Who do I need to reach out to today?
What is the one email I need to send right now? 
What's the phone call I need to make? 
What organizations should I join to network with more people?
The point is, you want to start asking the kind of questions that will bring you needle-moving answers. Stop with the existential crises and start taking some serious action.
There you have it, wow to eliminate money blocks. Ultimately, you are the one thing standing between your business and your next 6-figure year. Now, if you're ready to truly unblock these beliefs and step into the lifestyle and income you want to have, then you're going to love my new manifestation journal.
May I introduce to you, the Dream, Decide, Do journal. The proven system that helped me transform my finances, my love life, and my body in just a few minutes a day.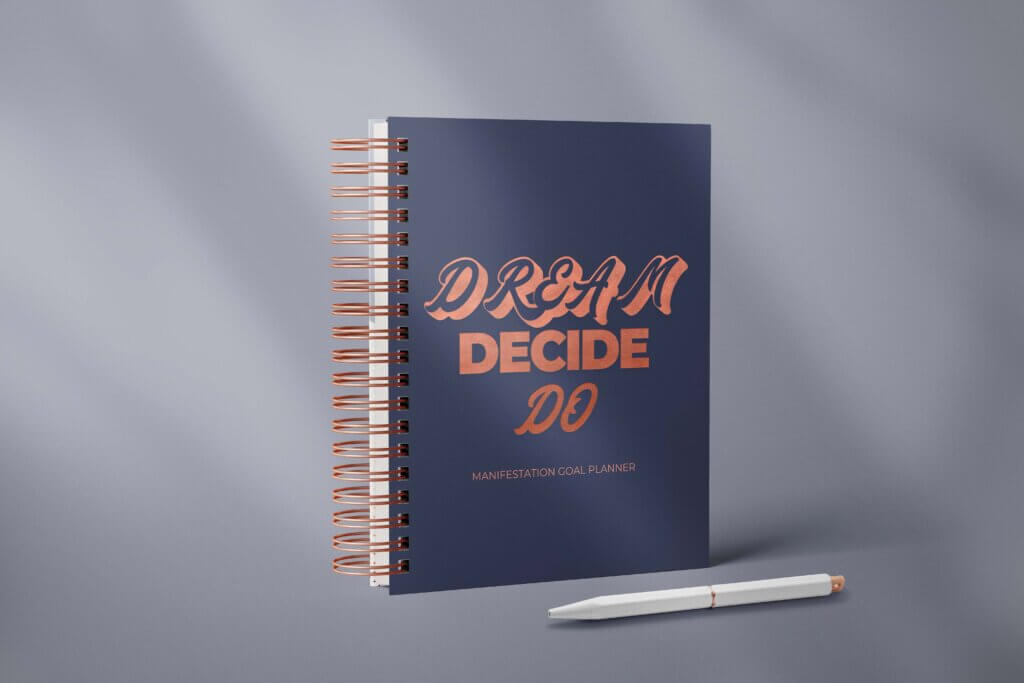 This is more than just a planner or a journal. It is your roadmap to the life of your dreams. It is filled with stories of triumphs when things seem to come easily, but it also holds stories of the difficult seasons. Maybe you were attracted to this planner because you are in one of those difficult seasons right now. As you complete the exercises and tasks, you will experience a shift.
You will be able to…
Step Into The Next Level Version Of Yourself
There is a version of you that already has the things you want, lives the life you desire, and knows exactly how to get it. With the journaling prompts now you will know too.
Create A Rich And Vibrant Dream That Captures Exactly What You Want
Having a hard time visualizing what you want? Use the included exercises to paint a vivid picture of your dream. This will allow you to manifest even faster.
Reprogram Your Subconscious To Work With You
Feel like you've tried it all before and nothing has worked? Then you'll love the exercises designed to reprogram your subconscious mind so that it works with you to achieve everything you desire.
Take Action From A Place Of Alignment And Not Fear
As you continue the exercises, you will find yourself inspired to take action from a place of alignment instead of fear; creating even greater outcomes.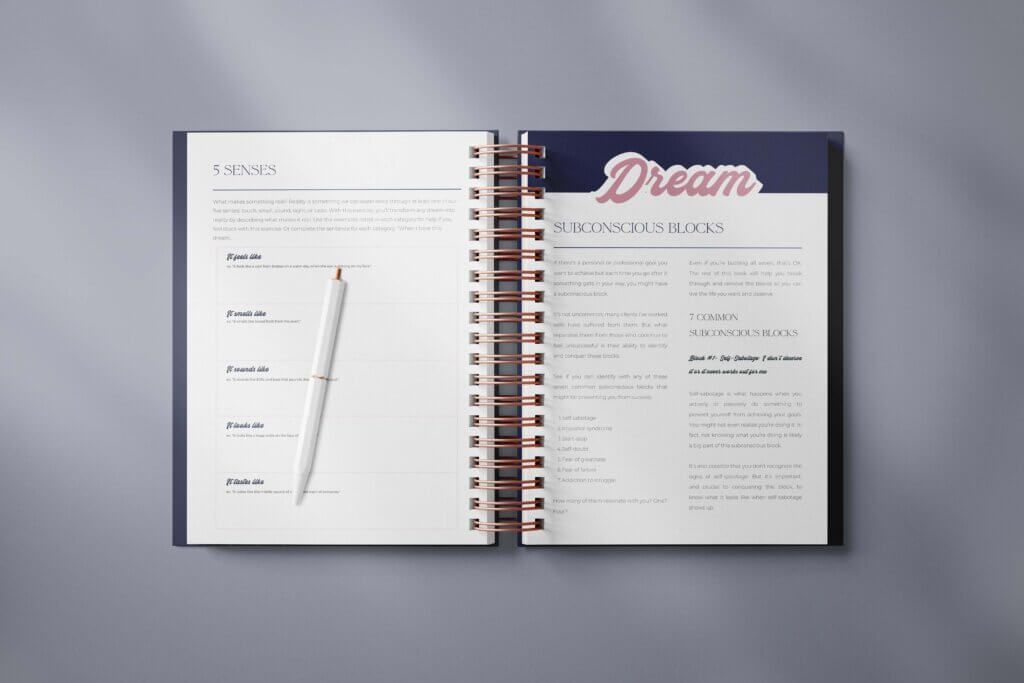 How This Journal Works
This journal is split into three sections: Dream, Decide, and Do. Each section has a purpose. Each section is a step in the process of creating the life you desire.
Dream
In this section, you'll get crystal clear on your desires. You'll establish the beliefs that form the foundation of your dream as well as shift any limiting beliefs or subconscious blocks standing in the way of that dream. Once you understand how to do these exercises you can do them over and over again for anything you choose to create in your life.
Decide
In this section, you'll learn how to create power statements. With these statements, you'll commit to your dreams like you never have before. You will learn how to manifest faster and you'll even discover how to create your own manifestation process.
Do
This final section is set up like a traditional planner. You'll follow a 40-day reprogramming guide to take action in one specific area of your life: health, wealth, or relationships. Come back to it again to expand the other areas until your life is full and bursting with abundance.
If you're looking for a sidekick to help you achieve your 2021 Q4 goals, then this journal is for you. Click here to pre-order your Dream, Decide, Do journal! *Journals are expected to ship by Oct. 31st, 2021*