Did you know that I can remember the exact moment I decided to become more confident in myself? Before then I was extremely shy, self-conscious, and felt out of place in my surroundings — and I know you know how that feels. This is why today I'm telling you the whole story and how to become more confident & overcome imposter's syndrome.
People used to call me "stick legs", because I had very, very skinny, bony legs. I remember I was 15, laying on my bed looking at my skinny "stick legs", and for the first time I thought to myself, "I have beautiful legs". I can remember that moment so clearly. It was the moment that I decided that I wasn't going to allow anybody else to define who I was and I was going to define it for myself.
From there it took me several more years to become the fully confident person that I am now, and I still struggle with some things these days because in all reality you're always on the journey. It's never perfect, and we're human, so there's always progress to be made. All that being said, I have discovered a few confidence boosters that have helped me in my life and business.
How to Become More Confident & Overcome Imposter's Syndrome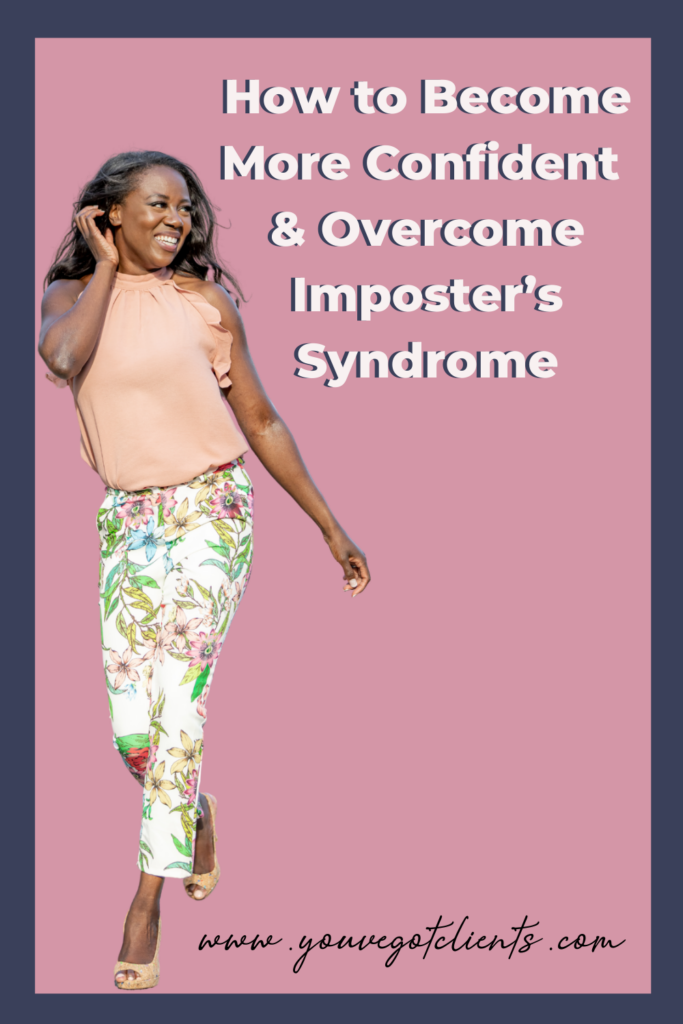 The first thing I would advise on how to become more confident & overcome Imposter's Syndrome is to love on yourself.
Look at yourself, love on your facial features, your body, your everything. Just look at yourself and tell yourself that you are beautiful (because you are, and you are a perfect creation).
Back in the day, I used to be self-conscious around guys, and I was painfully shy. When I went to college I made the switch from glasses to contacts, and immediately I started feeling more confident in myself and my appearance. I had an attitude in high school about it, I didn't want to be seen as only getting contacts to look better — but when I went to college I felt like it was time to do what made me feel the eBay about myself.
Shortly after, I remember one day where I was sitting outside of Walmart waiting for my cab to take me back to campus. This guy walked by, and I remember thinking, "I'm just going to smile at him and see what happens." I took a deep breath and just gave him a genuine, nice smile, and I caught his eye. He looked at me and he smiled back. After that? Oh man, nobody could tell me nothing.
I felt so super confident. I used to affirm myself (I still do), telling myself, "You look great, you look beautiful. You're smart, you're confident, you're intelligent."
Speaking life over myself, and helped me to build my confidence from the inside out.
When you constantly love on yourself and celebrate all of the beautiful traits that make you who you are, you're nurturing that confidence inside of you. You're convincing yourself of a better reality all the time.
After that, the next thing I would recommend for how to become more confident & overcome Imposter's Syndrome is to step outside of your comfort zone.
When you take a little walk on the wild side you jolt yourself out of your everyday routine. You remove yourself from your safe haven of insecurities, and you challenge yourself.
When you prove to yourself that there is really nothing you can not do, that instills credibility within yourself. This also goes hand-in-hand with imposter's syndrome. We all know that imposter's syndrome creeps up when you feel as though you're underqualified or don't have the right to show up in a certain space or in a certain way. When you step out of your comfort zone and try new things you gain more and more proof for yourself to know that you have every right to go after the life you want.
Once you start validating yourself and lifting yourself up, now it's time to surround yourself with others that do the same. My next tip for how to become more confident & overcome imposter's syndrome is to surround yourself with people who uplift you. Of course, you 100% have control over your emotions and what you choose to believe about what people say, but it's that much easier when you can believe the words of your peers rather than combatting them all the time.
It doesn't feel good for ANYONE to be treated below their worth. Spoiler alert: your friends shouldn't be lovingly making fun of you all the time. They shouldn't be scoffing at your dreams, or just "telling you the hard truth because they love you".
Real love and real support feels pure, genuine, and feels warm, not conflicting.
To boost your confidence, I recommend surrounding yourself with people who make you feel good, who you enjoy hanging out with, who you have a positive time with.
The next few are going to lead heavier on The Imposter's Syndrome because I know that many coaches struggle with this, and it can be a hard thing to overcome.
Imposter's Syndrome is the feeling that you shouldn't be there. When you feel like you're not qualified because of whatever number of reasons you tell yourself. But the thing is, you're probably more qualified than anyone else to do what you do.
You might be feeling like a fraud or imposter for a couple of reasons. Maybe you lack the same education or credentials that you think you should have. Or you think you don't have as much experience or the right kind, or call yourself a true professional. Here's the thing quick, you're not pretending anything.
If you don't have the degree or certification, are you calling yourself a doctor? A lawyer? A psychiatrist? No, you're calling yourself a coach, a mentor, a consultant. You're not lying, or scheming, or trying to pull the wool over anyone's eyes. You're just trying to help people and run your business.
Proving that your imposter's syndrome is actually the fraud in your life. It's your insecurities and fears lying to you, and keeping you away from greatness. These nasty little internal voices get to the best of us, which is why I have a few specific steps to help overcome them.
How to Become More Confident & Overcome Imposter's Syndrome Step 1: Release the stress and the pressure from feeling like you have to be on this pedestal.
Everybody is figuring it out, and learning along the way. There is no shame in not being perfect. In all honesty, it makes you more relatable and easier to listen to.
The best thing about coaching is that your clients are hiring you for your specific style, knowledge, and tactics. They aren't paying for any old "professional" who's clean-cut and recites statistics. No, they want real, authentic, genuine help from you. Release the pressure to appear above your clients, and let them know that you understand them because at one point you were just like them. When you let any kind of act go, it's pretty hard to be a fraud when you're just being yourself.
How to Become More Confident & Overcome Imposter's Syndrome Step 2: You are not the message, but you are the messenger.
Listen, whether you show up or not, speak up or not, take a risk, or not — the message is still going to get out there. Someone's going to say it, so why not you? Why should you, who is the best possible person for the job, shrink back and let the light shine on someone else? Just because you feel like you don't belong. What if your clients get bad information from an actual fraud? What would happen then?
When I realized that I am the messenger, not the message it truly helped me distinguish what I was called to do. It made my duty far more important than my insecurities.
How to Become More Confident & Overcome Imposter's Syndrome Step 3: Improve your skills.
If you really feel like you don't belong, or are a fraud of some kind, then get to work and practice. Fine-tune your craft, educate yourself, learn new skills, get more experience, and prove to yourself that you belong. This goes hand in hand with stepping outside of your comfort level. You have to practice being more confident. You have to do things that challenge and stretch you into that new level.
You have every right to be confident and to feel validated in your work. The more you practice believing in yourself, the sooner that will become your reality.
When you get a dose of that divine confidence it's only natural to want to share your message with the world, and want your voice to be heard. You have so much knowledge to share after all. This is why I created a course to help you reach more people with your message, get notoriety for your unique style, and stand out to your potential clients.
Introducing NOTABLY YOU …because people buy from people, not businesses.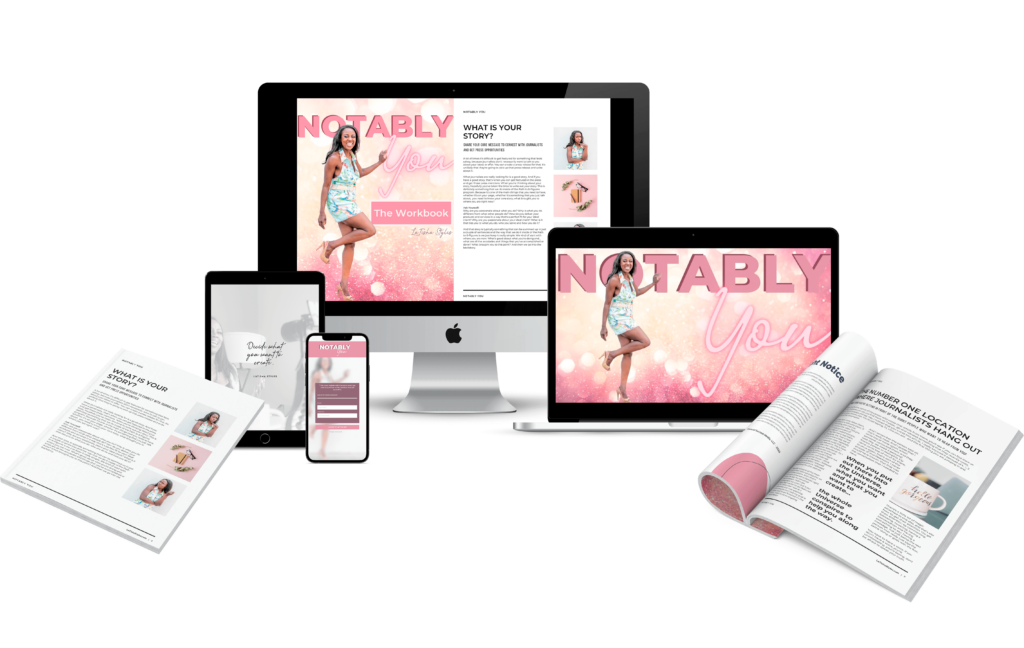 What would it feel like to see your work and message in the press? To have brands like Forbes, Business Insider, and The Huffington Post ask YOU for interviews? Not because you released a new product, but because you and your message are news-worthy?
When you establish a strong personal brand and you confidently show up in the world, things like this do happen! I know from experience and I've actually done it! In my NOTABLY YOU course I walk you through all the steps on how to develop your pitch, where to find the press, and how to present yourself in a way that grabs their attention.
By the end of this course, you're going to have people asking how they can know more about you and where they can buy your offers.
NOTABLY YOU Includes:
***All Recordings Of The GET VISIBLE GET CLIENTS CHALLENGE***
As well as…
How to create an influencer ad
The easiest way to get press features… plus a pitch template you can use right now
How to create a pitch deck to get speaking engagements and media features
Email templates you can use to reach out to brands, press, and potential partners
Use this software to supercharge your email so you never miss an opportunity (or have to remember to follow up!)
How to get speaking engagements (free and paid) and when you should go after each one
How to create a television pitch. I'll share the one that I used to get featured on CBS not once but 3 times!
How to create content that gets noticed.
The #1 location journalists hang out, and how to get their attention
This Is So Much More Than A Course. This Is The Foundation For Building A Personal Brand That Will Carry You Through Your Entire Career And Business.
These are strategies you can use over and over again throughout the lifespan of your business.
These are tools you can use as you shift and pivot throughout your business.
You can use these tactics anywhere and they'll last forever.
Click here to learn more about the course and hear about other client's past experiences!