Did you know that you could actually be subconsciously blocking your income and growth? The way we think about money and our worth has so much to do with the results of our reality. Mindset really is everything, and today I'm going to teach you how to overcome these blocks. These are the 5 ways you are blocking your money.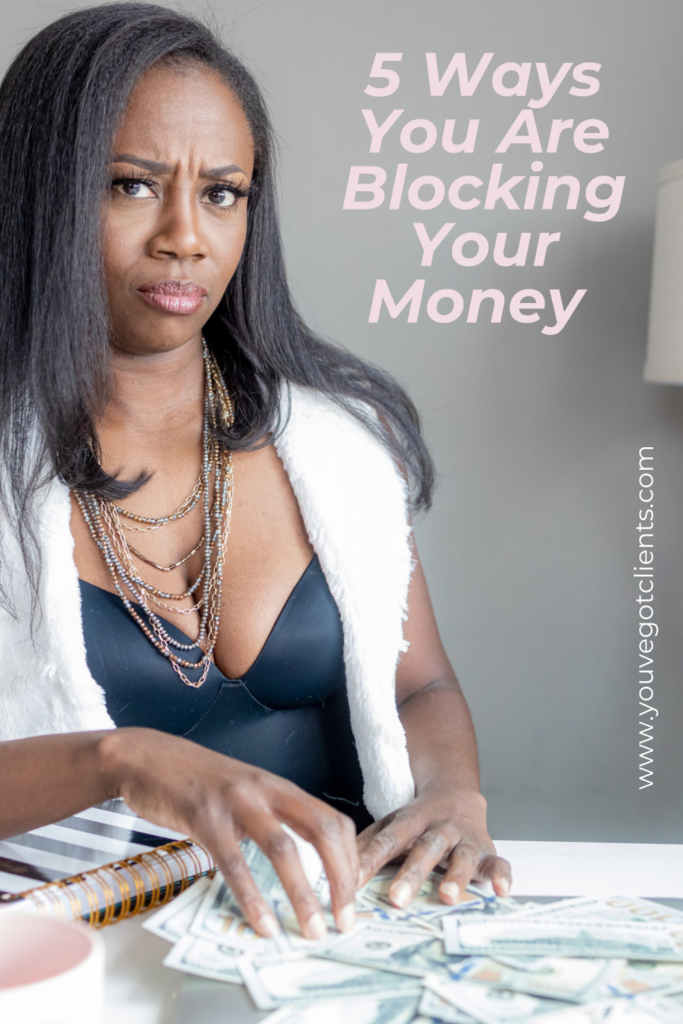 I know so much about money blocks because I suffered from them myself and they really held me back in those first couple of years of business. In 2016 I generated $65,000, my first full year of business. Then in 2017, I hit $68,000. Your first few years are supposed to experience the most growth, and I was staying stagnant. $68,000 was also not the kind of income I wanted to live off of. I was doing all the right things in the sense of strategy and the tactics I needed to grow, but nothing was sticking. The problem was the I was subconsciously hindering myself from growing past that $60,000 number.
After discovering this and really looking inward, I started this journey to figure out what was blocking my money. It took nearly a full year of research and soul-searching, but since then I have been able to scale my business to multiple 6-figures, hitting 7-figures this year. In my coaching practice, I have then found that most people struggle with the same blocks I did, which is why I've laid them out for you today. These are the 5 ways you are blocking your money.
The first way is that you don't trust yourself.
It sounded silly to me at the time, but it was true, I didn't trust myself to make money. I was in constant fear that I would make it and then *poof* it would go away.
To help with this fear I started an exercise in my journal where I continuously wrote: 
You are safe, you are loved, you are cared for.
The process of writing out that affirmative statement was something that really helped me to start trusting myself more. I started to realize that the more money I make, the better it gets. The better it gets, the more money I make. It also helps to show yourself the proof that you can handle money. Make a list of all the ways you're responsible, like that you pay bills on time, or you always have "x" amount in your savings. These small mindset shifts can make a huge difference in your mentality around money.
The second way that you're blocking yourself from making money is that you have a fear of failure.
You want perfection too much and perfection is the enemy of progress. If you worry so much about your work being "perfect" or you're scared for other people to see you fail, then your subconscious will always protect you from success. You have convinced yourself that being seen as imperfect is worse than not succeeding, so you will never try. In order to unblock yourself from this, you need to set deadlines for your work and launch whether you think it's perfect or not. Then if you fail, think of it as failing forward and onto the next. You can't take yourself so seriously.
Number three in the 5 ways you are blocking your money is that you won't sell.
I remember I was following someone and every single week she was talking about her offer. She was emailing people about it, doing live streams, and she was saying, "Hey, buy this, buy this, buy this." As soon as she closed the doors for one thing she was opening and selling the next. I remember looking at her and being a little envious honestly and thinking, "Why is she just hammering her audience with offers? She doesn't give people a chance to breathe."
Ding, ding, ding! Hello, money block! The reason I realized that that was the money block was that at one point I thought:
Do I have any feelings of envy?
Am I feeling jealous?
Why am I frustrated?
What are the negative emotions I have and who are they directed towards?
Why are the actions of other people making me feel this way?
Once I evaluated those feelings, I realized, "Oh, I was frustrated and feeling a little bit of envy and jealousy towards this person because they're doing what I feel like I'm too scared to do." I saw that greatness in them, that was reflected in me, but I was blocking it. That's where those feelings of jealousy and envy came up.
Sometimes blocks arise as negative emotions, judgment, envy, etc. When you feel this way, take the opportunity to look inward and see if there's something you could be working through.
This brings us nicely into number four, which is you're comparing yourself.
I lost a lot of time comparing myself to other people. Looking at what other people were doing, scrolling through Instagram and Facebook and watching other people's videos and saying, "oh I wish I could do that" or "I wish I had done that," or "why are they getting the attention that I feel like I should be getting?" Comparison is the thief of joy period. There's no reason to compare yourself because you, you don't even know what's behind the scenes of their life.
You don't know if you're on chapter two and they happen to be on chapter seven. You're on the outside and you're looking in and you only know what they happen to share on Facebook, Instagram, or whatever.
I recommend unfollowing people and brands that make you feel self-conscious or hinder you from taking action. Cut your social media time in half or even more. Start taking real action every single day, and challenge yourself to just go for it.
Lastly for the 5 ways you are blocking your money, is you're not actually committed.
Commitment comes in different levels. For somebody who is working full time and want to start their business, their commitment might come in the form of waking up an hour early. Someone else's commitment might come in the form of waking up two hours early. Another person's commitment might come in the form of not going out with friends and working all day Saturday. Once again, you can't compare yourself, you just have to figure out what commitment looks like to you.
You know when you're not committed. When you're setting the bar too low, or allowing yourself to get distracted. We all know what it feels like to really want something and to be willing to do whatever it takes to get it. Is that how you feel about your business and income right now? What will it take to get you there?
Just start by committing to your growth a little bit every day. Then really make your actions intentional and take the time to think about why you are doing the things you do. Make yourself the priority of your life.
There you have it, 5 ways you are blocking your money. Can you relate to any of these? If you're looking to kick these blocks to the curb and start selling like crazy then I want you to join me in the 10K Sales Sprint! Learn how to make ALL the sales you want in 21 days! 
During this 21 day sprint, you'll learn how to…
Find the sales trigger words that your ideal clients need to hear in order to take action
Craft an offer that appeals only to your audience and leaves the competition in the dust (competition won't matter when you know how to do this)
Transition into the sale without alerting buyer defenses. (If your buyers clam up when you move into the sale, then you're missing this transition!)
How to close with ease and focus… even when the prospect tries to distract you!
By the end of the $10K Sales Sprint, you will have the confidence to make irresistible offers, and the skills to close sales.
Here's how it works…
Each day you will have one assignment. These are the same assignments I give to my private clients who pay thousands to work with me.
I've chosen only the most effective steps that each of my successful clients takes.
Enrollment is now open, and it's time you started making the kind of money you were destined to! 
There's still time to make this the year you finally reach those income goals.
Are you ready?
Click here to sign up for the 10K Sales Sprint!